The "Typewriter Database" is the biggest source of typewriter serial numbers on the Internet today. As far as we know, it's even the most complete collection of serial numbers ever. But when you see the number of given brand names, it's still only a beginning.
This Database is also a collection of typewriter photo galleries from the collections of enthusiasts all over the world. These galleries are linked to manufacturers and not only serve as a valuable additional resource for research about various machines, but also are fun to page through and see what collectors have in their typewriter collection.
Continental and Erika Updated! Fri, 11 Aug 2023
Reviewing Source #25 and updated/expanded the Continental age list with new and better info. The Erika part of the S&N age list also updated and clarified to show proper serial ranges.

Optima Age List Updated Sun, 06 Aug 2023
Typewriter Hunter Otto K. sent me a copy of Source #25 - which was used by Dirk in a lot of pages, including the Optima age list, but not a document I previously had access to. I studied it this weekend, hacking through the bits of German to gain context, and then discovered that Dirk had apparently only read half the article from "Schreibmaschinen Und Bureau-Zeitung"'s 1999 issue. Otto had pointed out that the article had more info, but he didn't let on how much more, for Optima, anyway. I'm still not all the way through it myself, but I've got Optima updated except for the Electronic Wedges. Looks like Dirk had compiled the Robotron part of that source in the Robotron age list, but there's still the Optima part to go. Probably be some changes to Erika soon too.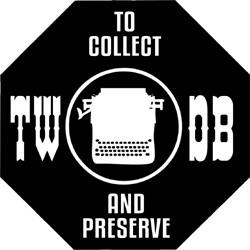 Hello, fellow Typewriter Hunters! We've started a Patreon page as a way to allow you, our fellow typewriter lovers, to help make the TWDB even better. A small monthly pledge helps pay the bills that keep The Typewriter Database online. Please sign up now.
Thank you!
T. Munk
Archivist, The Typewriter Database

Become a Patron!
Most Recently Edited Typewriter Galleries see more »
---