The "Typewriter Database" is the biggest source of typewriter serial numbers on the Internet today. As far as we know, it's even the most complete collection of serial numbers ever. But when you see the number of given brand names, it's still only a beginning.
This Database is also a collection of typewriter photo galleries from the collections of enthusiasts all over the world. These galleries are linked to manufacturers and not only serve as a valuable additional resource for research about various machines, but also are fun to page through and see what collectors have in their typewriter collection.
Whoah, hit the bandwidth limit again :P Fri, 16 Nov 2018
Well, we broke through our previous bandwidth limit again, so I had to kick it up again - I guess we're getting more and more popular! :D

Fonts are a bit bigger Fri, 02 Nov 2018
There were some folks who had an issue reading the previous body copy font size, so we've kicked that up a bit. I'm pondering the size of the menu fonts, but honestly, the compactness of the font is kind of necessary to make the menus work on phones. Still looking at similarly compact fonts to see if we can find something we like better. (:
Also, I think I've finally got the Hunter Scores updating nightly again.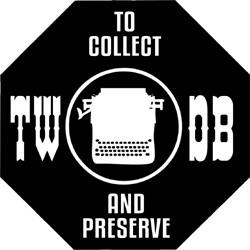 Hello, fellow Typewriter Hunters! We've started a Patreon page as a way to allow you, our fellow typewriter lovers, to help make the TWDB even better. A small monthly pledge helps pay the bills that keep The Typewriter Database online. Please sign up now.
Thank you!
T. Munk
Archivist, The Typewriter Database

Become a Patron!
Most Recently Edited Typewriter Galleries see more »
---