The Typewriter Database
The "Typewriter Database" is the biggest source of typewriter serial numbers on the Internet today. As far as we know, it's even the most complete collection of serial numbers ever. But when you see the number of given brand names, it's still only a beginning.
This Database is also a collection of typewriter photo galleries from the collections of enthusiasts all over the world. These galleries are linked to manufacturers and not only serve as a valuable additional resource for research about various machines, but also are fun to page through and see what collectors have in their typewriter collection.
Sun, 21 Oct 2018
TWDB Version Epsilon Has Arrived
Well, as you may have noticed, we're now in Version Epsilon. Welcome!
Basically, the entire site has been rebuilt from scratch, and the mobile version and desktop version (Beta & Gamma) are now united, so now you can log in and do Typewriter Hunter stuff on your mobile browser. Most likely I'll write some blog articles explaining why certain teased features (re: "Ephemera" and "Shops") didn't quite make it into this release, but suffice to say much of it got built and then I had more thoughts about the lack of focus for the features in relation to the core mission and decided to push 'em off for later - maybe make 'em a Patreon goal reward once I've re-thought them to the point where they are certain to maintain focus on the mission.. (:
PS: Yes, I know about the random Error 500 that happens every once in awhile. working on tracking that error down.

Tue, 25 Sep 2018
10,000th Typewriter Gallery Uploaded!
...and it is fitting that #10k was a Sholes & Glidden :D
Full Story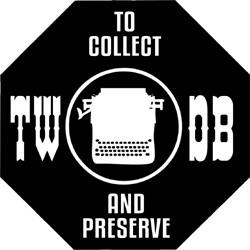 Hello, fellow Typewriter Hunters! We've started a Patreon page as a way to allow you, our fellow typewriter lovers, to help make the TWDB even better. A small monthly pledge helps pay the bills that keep The Typewriter Database online. Please sign up now.
Thank you!
T. Munk
Archivist, The Typewriter Database
Become a Patron!
Most Recently Edited Typewriter Galleries see more »
---