The "Typewriter Database" is the biggest source of typewriter serial numbers on the Internet today. As far as we know, it's even the most complete collection of serial numbers ever. But when you see the number of given brand names, it's still only a beginning.
This Database is also a collection of typewriter photo galleries from the collections of enthusiasts all over the world. These galleries are linked to manufacturers and not only serve as a valuable additional resource for research about various machines, but also are fun to page through and see what collectors have in their typewriter collection.
Voss page updated! Sun, 13 Sep 2020
The Voss galleries were a bit of a mess, undoubtedly because Voss model names are fairly obscure and are not usually marked on the machine. I myself was pretty fuzzy on the topic, so before cleaning them up, I had to do a crash course on Georg Sommereger's 2012 research on the company, and look up the only published age list in Berghagen 1962 and work out the technical notes in German therein. Those sources suggested that there was no Model 51 (they're just Model 50's made in 1951) and no Model "De Luxe" (those are all S, ST or STD 24's or 32's). I have reorganized the Vossen accordingly and then discovered some new info from having the galleries reorganized and added that stuff to the page as well. It should be fairly easy to figure out your Voss model from the age list now.
Full Story
Burroughs Age List now available Sat, 12 Sep 2020
The Burroughs typewriter age list turned up, so all the Burroughses with serial numbers have been dated. Date your own here!
Full Story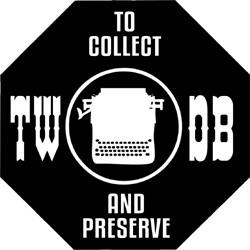 Hello, fellow Typewriter Hunters! We've started a Patreon page as a way to allow you, our fellow typewriter lovers, to help make the TWDB even better. A small monthly pledge helps pay the bills that keep The Typewriter Database online. Please sign up now.
Thank you!
T. Munk
Archivist, The Typewriter Database

Become a Patron!
Most Recently Edited Typewriter Galleries see more »
---