The "Typewriter Database" is the biggest source of typewriter serial numbers on the Internet today. As far as we know, it's even the most complete collection of serial numbers ever. But when you see the number of given brand names, it's still only a beginning.
This Database is also a collection of typewriter photo galleries from the collections of enthusiasts all over the world. These galleries are linked to manufacturers and not only serve as a valuable additional resource for research about various machines, but also are fun to page through and see what collectors have in their typewriter collection.
Typewriter Typeface Font Search By Models made more obvious Sat, 20 Jun 2020
A couple people have asked me recently if I could add the ability to display typefaces by particular typewriter model, and this confused me because I thought you already could...
Full Story
Olympia Serial Number Page Updated... Fri, 12 Jun 2020
New info on Olympia Typewriter Paint and plastic color changes has been uncovered!
Full Story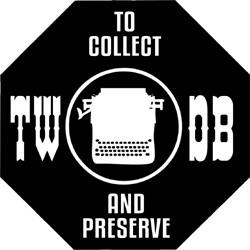 Hello, fellow Typewriter Hunters! We've started a Patreon page as a way to allow you, our fellow typewriter lovers, to help make the TWDB even better. A small monthly pledge helps pay the bills that keep The Typewriter Database online. Please sign up now.
Thank you!
T. Munk
Archivist, The Typewriter Database

Become a Patron!
Most Recently Edited Typewriter Galleries see more »
---