The "Typewriter Database" is the biggest source of typewriter serial numbers on the Internet today. As far as we know, it's even the most complete collection of serial numbers ever. But when you see the number of given brand names, it's still only a beginning.
This Database is also a collection of typewriter photo galleries from the collections of enthusiasts all over the world. These galleries are linked to manufacturers and not only serve as a valuable additional resource for research about various machines, but also are fun to page through and see what collectors have in their typewriter collection.
Created Aztec age list. Sat, 30 Apr 2022
We've got enough Aztec labeled machines in the galleries now to gain a clear picture of the production of the last of the East German typewriters imported into the US as "Aztec" from 1960 through 1965. It's a part of the story of the last of the Gromas, Rheinmetalls and classic post-war Eikas.
Full Story
SSL/DNS Issues this morning. Wed, 20 Apr 2022
Yep, remember that DNS problem we had with Enom a couple months ago? Well that prompted me to switch the DNS provider to Google, but they didn't copy all of the records correctly, so when it came time for SSL certificate renewal, it failed. I've fixed that now, but it meant scary messages when accessing the site this morning. Sorry about that (: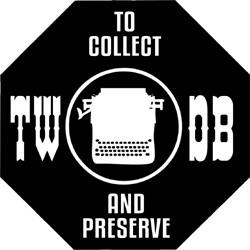 Hello, fellow Typewriter Hunters! We've started a Patreon page as a way to allow you, our fellow typewriter lovers, to help make the TWDB even better. A small monthly pledge helps pay the bills that keep The Typewriter Database online. Please sign up now.
Thank you!
T. Munk
Archivist, The Typewriter Database

Become a Patron!
Most Recently Edited Typewriter Galleries see more »
---