1937 Remington Noiseless 10 #X408172
Status: My Collection
Created: 03-27-2020 at 03:58PM
Last Edit: 04-27-2020 at 11:09PM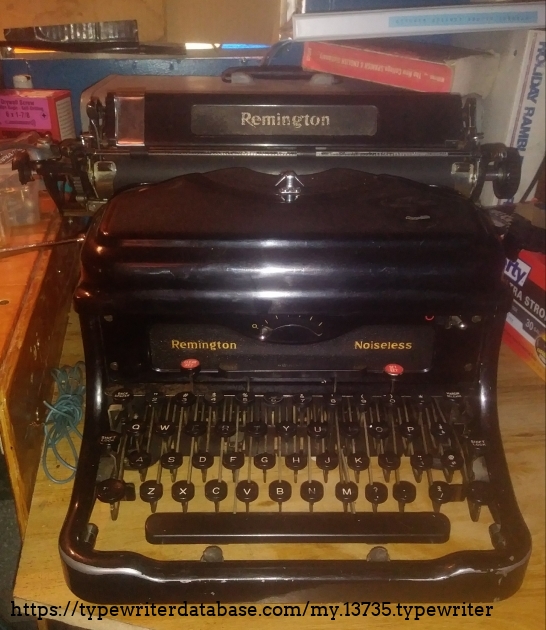 Description:
Genuine Chowderhead Noiseless. Built during the Remington-Rand strike of 1936-37, which was a particularly violent episode of American labor history. James Rand Jr, leader of the company, employed a famous and dastardly strikebreaker and thug called Chowderhead Cohen, a fascinating specimen of his type. I wish I could post a certain image of him but haven't got permission for the copyright holders. The whole thing is one fascinating story after another, I have been researching the whole Noiseless aspect of the strike, and the history of the Noiseless works, which still exist in Middletown, Connecticut. The facility has been rehabilitated in recent years and houses, among other business, THREE small breweries (technically two-- one of them makes cider, but alcoholic nonetheless).
The Noiseless principal fascinates me, its such a novel and effective mechanism, it is NOT noiseless but makes a different and far more tolerable noise than a standard machine. It doesn't have the taptaptap clattering racket of a normal machine, but makes a soft thudding sound. It still rattles the desk like nothing else I've used, it has a longer carriage and is a massive machine anyway so all that weight advancing and the motion of the typing does vibrate the desk. It is very nice to have a quieter typewriter for my own head's sake but another product of the Noiseless mechanism is the even printwork. It types evenly, no matter if the force put on the keys varies, by virtue of one of the workings of the Noiseless patented design. Even if I very lightly hit the key, it prints the same (to a reasonable extent) if I hit it hard. It has 10 to the inch type which I normally wouldn't like, I type masses of drivel and like to fit as much on a page as possible-- it can be tedious grabbing a new sheet every few minutes, filing them, etc. It is however my most-used typewriter, by far. I am very fond of the "feel" of this typewriter, it seems to work well for me, very comfortable to use, and effective. I rarely have any trouble with it at all-- though for a couple weeks at one point I was pulling my hair out trying to get a couple big problems fixed. I did in the end, am a more effective typewriterer when it comes to repairs. Yes, typewriterer: somebody who does typewriter things. I know there are better terms, but I like this one and use it in my typewriter drivel. I LIKE problems in my machines, every time I fix something I learn more about them. Its a complicated typewriter, too, the Noiseless mechanism is thrice as complex as a standard machine. Not at all like my blind Fox, which is very simple compared to my Noiseless. Since I've solved the issues, as long as its clean, its a brilliant typing machine. It is perfect for correspondence, because the larger (compared to the others I own) pica type, and its a pretty, pretty type design.only trouble I have is the left knob is broken, its missing one of the small springs in the arms for the bale, which serves to push the rollers harder onto the paper. The bale rollers, but not the other rollers, need to be replaced, but will work better once I find that spring. I have found a couple that do fit, but aren't strong enough, not enough tension, to work. It isn't a huge problem but I have been on a quest to find one. The type fades toward the top of the characters, I think I know how to fix that and will next time I clean it. The carriage weighs a TON and is hard to shift, but there is an adjustment provided in the compesator springs.
Some of you typewriterers out there have been in correspondence about the Chowderhead saga, I am putting that project on hold for now, it very quickly grew to almost as large as Chowderhead himself, I'm trying to do a huge mess of home repairs while I've time off, so additional (to my general drivelings) work is on hold for now. I promise to finish the story eventually. I have been in correspondence with some labor history folks as well. Its a fascinating story and research has dug up some great history. I am myself pro-union and have been my entire life, grew up in a Teamster house and all. When I found out about the Rem-Rand strike, I immediately looked up the serial number. If the charts posted here are correct, its almost certain mine was made in the last week of January, 1937-- a few months before the end of the strike. This has serious connotations for me, much of what I write about us labor-related, so to be typing with a [strikebreaking worker] was horrifying. But my attitude did change as I started looking into the story. I feel very lucky to have a tangible piece of such an interesting bit of history, especially labor history. I do keep an eye out for other Noiseless typewriters for sale, and check serial numbers to see if it was made between May, 1936, and April, 1937. I don't want another #10 Noiseless, Unless of course it has a Spanish keyboard, which is true about any model typewriter; I need a Spanish-language typewriter! If you have a wrecked or parts machine that has the Spanish keys, get in contact, I can always change the "arms" (don't know what they're called in a Noiseless) out with mine. But I am interested in other Noiseless models. Here is my wish-list, in order of wantedness:
1) Original (before Remington bought the company in 1924) Noiseless Portable (has metal platen, because it apparently does not make a difference with noise-- though the portable models had a different variation on the Noiseless principal from my heavy standard desk model, I do think that is true. The platen on my Chowderhead Noiseless is very, very hard, and it makes no effect on noise. I have no idea if its supposed to be hard or soft, but the printwork is perfectly fine with it like that, so I'm not going to bother. I never, ever use a "backing sheet", not for anything, or have any other problems, so it must be ok to be that hardened. It might've come that way; I've been trying to look that up but havent found anything yet)
2) Noiseless 7
3) Original Noiseless of any model
4) Canadian Noiseless, any model
IF YOU HAVE A SPANISH KEYBOARD #10 OR ANY OTHER NOISELESS MODEL, REGARDLESS OF CONDITION, OR JUST THE SPECIFIC PARTS, CONTACT ME PLEASE. IF I WAS MODIFYING MY CHOWDERHEAD 10, IT WOULD HAVE TO BE THE SAME FONT & PICA SIZE
Do you have any Noiseless 10 parts, like that spring I mentioned, and a new knob? If you think you might have a spring, contact me, and I'll give dimensions.
Typeface Specimen: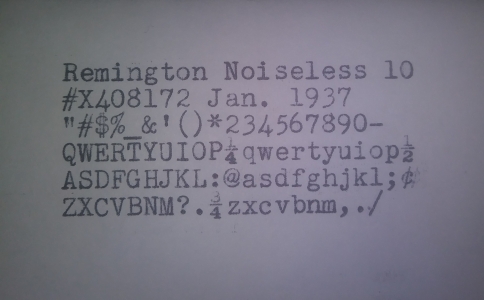 Photos: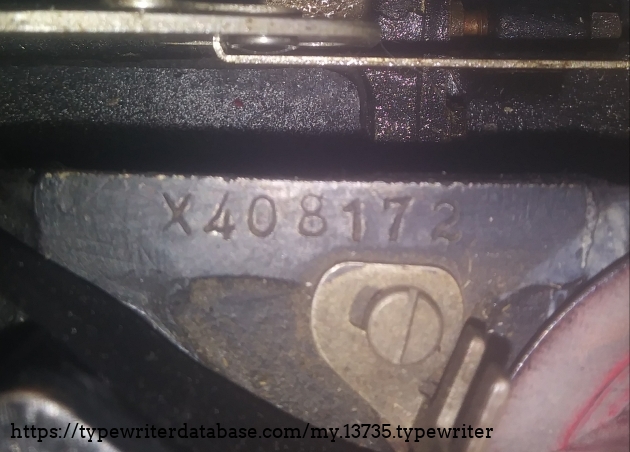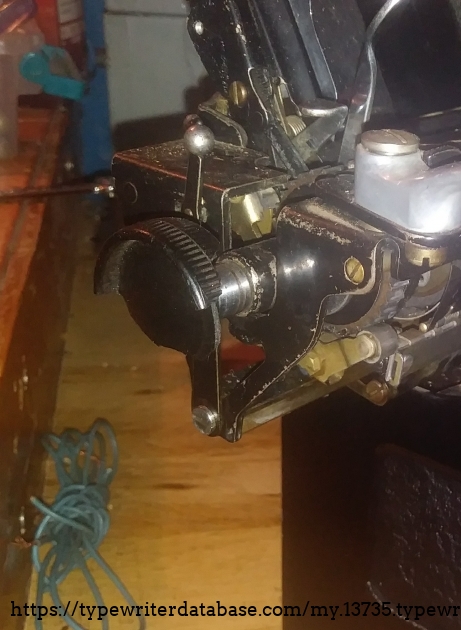 My poor knob!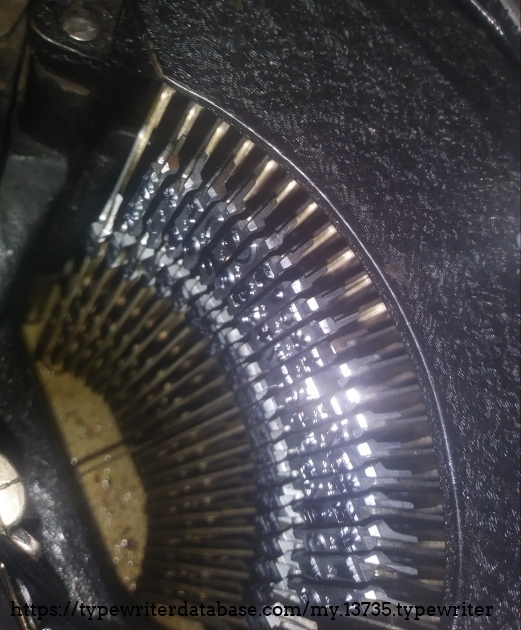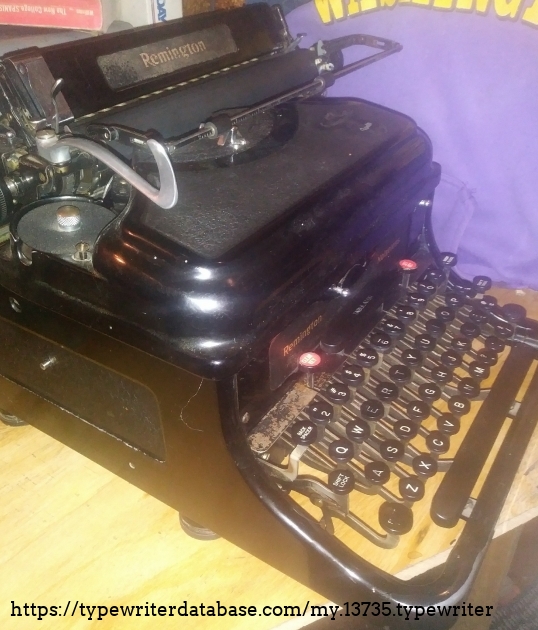 It has "red eyes" like used to happen in old photos.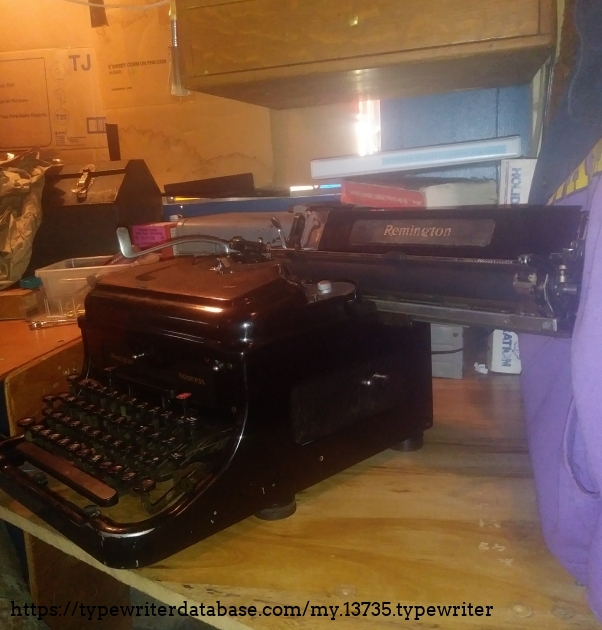 Barely fits in my typing area. It'll be even tighter once I get my KMM-14 in here. I keep finding these massive typewriters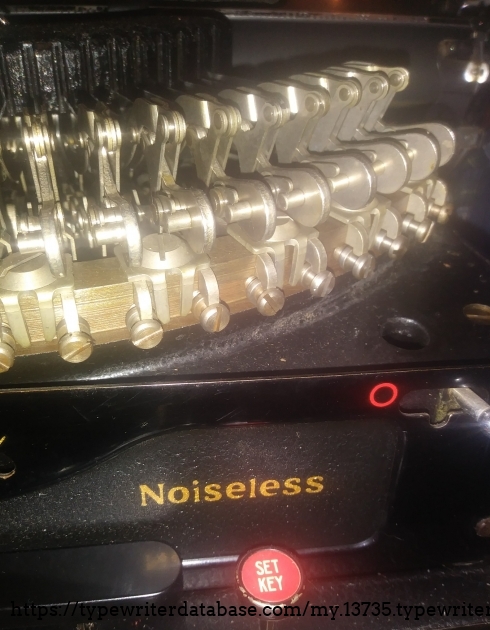 Part of that brilliant Noiseless mechanism. I think,this is the prettiest photo of the typewriter.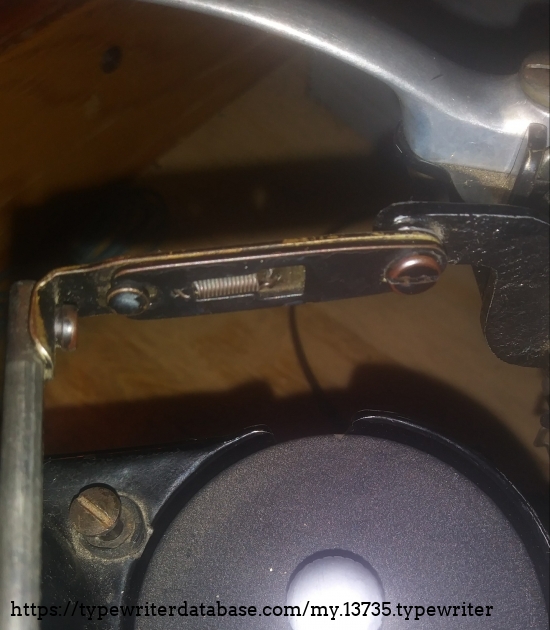 The very small spring that pulls in this slot to push the rollers. I am missing the one at the other end. I've asked a number of sources, including industrial spring suppliers. It has very little effect on the printing, a very very very tiny bit, but I know its there, and it'll drive me crazy until I find another.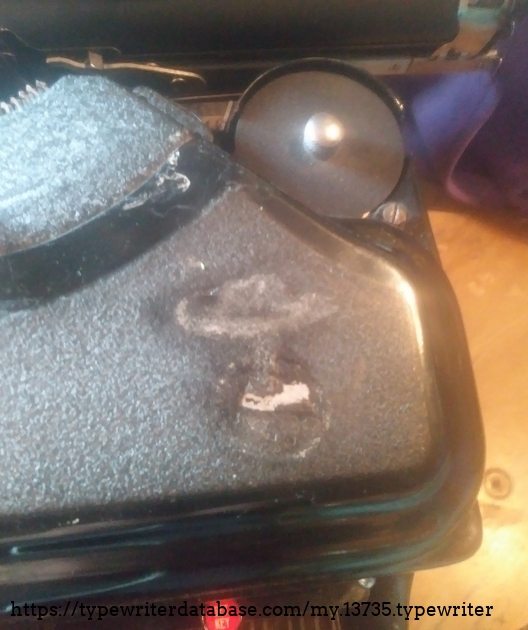 Looks like a mushroom cloud.
Hunter: Trevor London (NoiselessBastard)
Trevor London's Typewriter Galleries [ My Collection ] [ My Sightings ]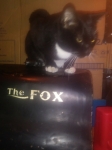 Status: Typewriter Hunter
Points: 121
The status of my posted collection is changing as I progress on the machines. Also I do own several other typewriters I haven't listed, there is a Royal P, QDL, etc.
There are a few things I adore about typewriters, a couple being you don't have to plug it in and another and equally importa t one, TYPEWRITERS DONT HAVE AUTOCORRECT OR PREDICTIVE TEXT. I have to LOOK UP IN A BOOK when I can't spell something, which can't be bad for the poor old brain.
I'm a Fox, Noiseless enthusiast. I have always liked typewriters since I took a Royal apart when I was very young. I have been in possession of at least one typewriter every year since about 1989. Over the years I've successfully cleaned and oiled machines, I had a typewriter maintenance book so I knew how to do some things, but this was before the internet... The same story with another similarly obscure hobby, I collect Sturmey Archer paraphernalia, but the hard part without the internet was finding parts. I've always known what I was doing there, I learned from The Wizard, the Original Bikesmith, a great man called Val Kleitz of Seattle. I was laid off back in November and have had time to indulge in the typewritery, before November I had been working 56 to 70 hour 7-day weeks in a vegetable factory for a number of years. All that overtime I put in, it all came in very handy when I collected my unemployment. I'm enrolled in a vocational training program, was waiting for Summer quarter so I didnt have to look for work, and now the coronavirus has that on hold, so I don't have to work... I've been writing a book for years, and now I have time. I often spend 6 or more hours a day typing, sometimes from when I wake up until I go to bed. My typewriter desk is within reach of both my bed and my couch.
I was using a very worn out Royal 10 and the Remington Mark II in my galleries, so a few years ago I started looking for replacements. I found the Noiseless first. It basically needed only modest cleaning and lubrication, though at a point things started to go wrong. I was able to figure it out and fix it which gained a huge amount of typewriter repair confidence. Another factor in my sudden obsession with typewriters was when I bought the Fox. I've read every word on Fox, including a brilliant book available on the internet, I'm over the moon about that typewriter. I am certain I will be able to make it work. I can see what they meant with "Light Running Fox" and as much as I type, it'll be a great for my fingers. Typing for me is very therapeutic, and in moderation, has been very healthy. Its kept me from going spare during coronavirus but is becoming to become apparent that it might be on the obsessive side... So I've forced myself to limit typing to 4 hours a day. Seems to be working.
I am completely insane and my book is partially about insanity. I wear that badge with pride, too. It has been liberating to be in control of my sanity, and the last months, since November, have been the most productive of my life. I'd put the book on hold-- partly because the Royal 10 was complete and utter junk and wasn't worth dragging out, it was frustrating... I think if I knew then what I do now about typewriters I would've been able to fix it. But I didn't like it anyway. I dont like Royals, or Underwoods. That is to say that I like EVERY typewriter, but examples like a KMM or Underwood 5 are more boring. I have one of both and had a KMM years ago (which I destroyed) and they are great machines but I have a very small home, and I'm concentrating on weird typewriters. I have become interested in Noiseless typewriters because of all the internet stuff I've found on the unique design and history. I've been reading everything about typewriters, finding service manuals-- I have my copied Sturmey Archer manuals in binders and now I've got typewriter manuals! I don't have the Bible series yet, not yet. I haven't needed them, I've been able to figure it all out.
I'm ready to take on the Fox. Its a simple typewriter, compared to a KMM or something like that. A year ago I would be daft to attempt it, ive had nightmares after I spent a evening screwing up some poor typewriter. I should say that I did not wreck EVERY machine that I owned, but when I go to the great bichrome ribbon in the sky, I'll have to answer for all the machines I abused. I recently was digging in an old tool box and found a random typewriter part that must've been in there for 20 years. I know how to do it right, now. I've a great archivist and internet community to thank for making this easy for me.

Typewriter Wishlist:
1) Oliver
2) Fox folding portable
3) Spanish keyboard Noiseless 7
4) Original Noiseless Portable
5) more Foxes
6) Spanish Keyboard Hermes
7) good typewriter of any type with italics
8) "Flatbed" Royal
9) another Oliver
10) One Each of every Noiseless model, starting with the pre-Remington years.
I am thinking about purchasing a clear-cabinet convict typewriter, it and a Selectric-- I think a Selectric II, I think those are marvellous and a work of art in engineering, the state of the art, the pinnacle in typewriter design. Apart from those two I am not at all interested in electric typewriters. Maybe a Burroughs electric.
I wanted to add: I mentioned my "good fortune" of being laid off back in November, and how things are going well. I feel entirely guilty, I know there are a lot of people suffering right now and I dont think this is even the beginning of coronavirus. I remind myself every day that I am very, very lucky. Things generally go to crap in my life, and I expect to have some sort of collapse of my good fortune, but the trick now is to get ready. Talking what they used to call "bollocks" right now I think... This is a website about typewriters. But I do want the world to know how much it kills me to know what's happening to good people when I've got it made for months. All I want to do is read, research, and write, and I think with coronavirus I've finally found my notch on the starwheel. I do have one feeling I can control, and that's to make the MOST of it, read research write as a hobby can do nothing but good if I can focus it in the fight direction. Typewriters and my book are on their targets. I've finally had a chance to work on this thing. It does kill me that I'm happy and in my element and my friends are suffering.
This is the most sophisticated form of social media i engage in, I don't do facebook and the like AT ALL. This all isn't going to be seen by only a few eyes, not thousands it I had a facebook. That's the way I want it.