0 Typewriter Galleries » Hunter: Christopher Cottle
View: tpv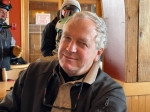 330 Points, Typewriter Hunter

I have owned a 1952 Royal HHE since 1967. It was purchased (in Montreal) by my parents for my Grade 9 typing class. Only one male in the class; however, I learned to touch type along with 28 grade 9 girls. I no longer use my physics or intergral calculus but I use my typing every day. The HH has crossed Canada several times along with the solid oak 1950s centre lift typing desk which was also bought for me. $20 for the desk and typewriter and that included delivery. In September 2022, on a whim, I decided to clean the machine that I have had for 53 years, for the first time since 1967 and now it is all back to full working condition. I enjoyed the process so I decided to look on the internet and I bought a 1922 Royal Model 10 on eBay. Not working; however, seemed that the body shape was in good shape, along with 100 years of dirt and probably at least 70 years of office smoke. I was able to get it fully working and polished and my wife wanted it as a show piece on the book shelves. Next, I bought a 1948 Royal Quiet De Luxe two tone (Dreyfuss tuxedo model) that may not need much work; however, I love the shape and the blend of black and grey. I understand that they were only built in 1948 and then they switched to grey only in 1949, although with the same design. It may not need much tinkering but will definetly need a lot of cleaning. Love to tinker.. Then, I bought a 1932 Royal Model O that likely will need some work beyond cleaning. That will hopefully be the last time I pay shipping for a typewriter. Riiiggghhhtttttt. Love to tinker.
That was September 2022 ... any chance I have been bitten by the "bug".
It is now January 2023 and I currently have about 20 machines inculding a Royal Standard Model 1 / two Oliver No 5 Batwings / Corona Foldable Model 3 / Blickensderfer Model 9 / 1898 Blickensderfer Model 7 (QWERTY) and a collection of Royal QDLs. All need major cleaning and hours to get fully working. Not rare but distinctive and affordable. I am tinkering away. Yes, I was bitten.
---
---