1966 Royal Custom Ultronic #RC-US7750324
Status: My Collection
Hunter: Lupo Cuore (WolvenHeart)
Created: 08-30-2022 at 02:52PM
Last Edit: 10-02-2022 at 12:53PM
Description:
An eBay purchase, this typewriter was made between 1966 and 1968. The reason for the brief run is despite its good looks, this machine was a disaster for Royal - it had so many problems that they did a crash redesign on it. I've linked a couple of Federal Trade Commission documents that mention this specific model and its problems. That's never a good sign. They rushed it to market to become their first portable electric machine - 7 or so years after SCM came out with their first portable electrics; thus SCM came to dominate the portable electric market.

I am pretty sure that this machine is actually in the serial number ranges of the Royalites.. the FTC documents say that it was an attempt to electrify the Royalite. The escapement is not like a Royal standard or standard electric, but very much like a Royalite's (I had to do some repairs on receipt which is how I discovered that). And all the documentation shows that these were made between 1966 and 1968 and the serial number fits squarely in the Royalite range for that time period. As there is nothing to indicate where it was made, it could well be made in Holland even though usually that means it's made in the USA, so for now it's safe to assume that even though it is an electrified version of a Holland-made series of machines, and the serial number sequence fits the Royalites, the machine was made in the USA.

This is probably an earlier Custom Ultronic, because it doesn't have the indicator lights on it. I do love the design and colors on this machine - that green and faux woodgrain is so late 60's. This machine was reconditioned by Royal at their Springfield, MO plant (probably rebuilt into the latest standard that was supposed to fix some of the problems it had on introduction). I'm still working on getting it fully operational. It has no quiet return spring (and considering it doesn't have the hole in the loose dog that the tech manual says it should have, I suspect it never did) so its return is rather noisy, and it needs a ring and cylinder adjustment, but all in good time. It types okay in caps! :D

EDIT: Found corroborating evidence for my Royalite theory and posted the serial number pic at Te'd's request.
Typeface Specimen:

Photos: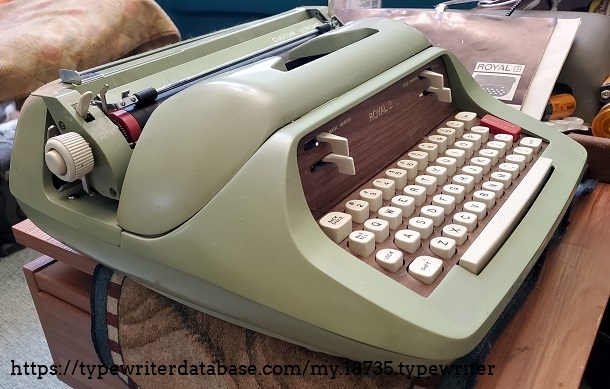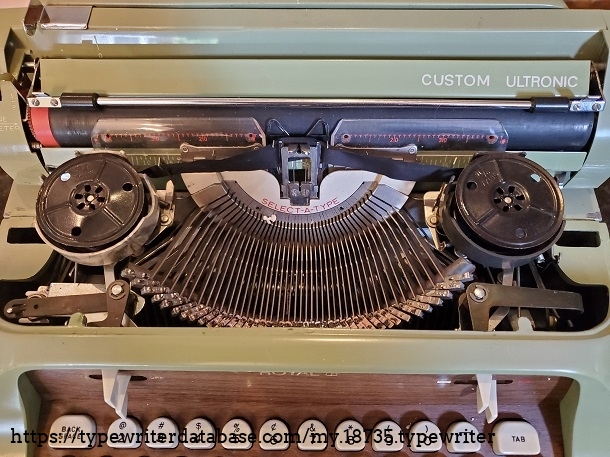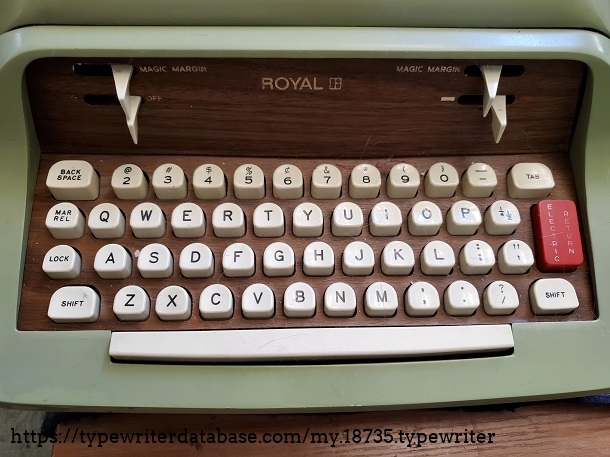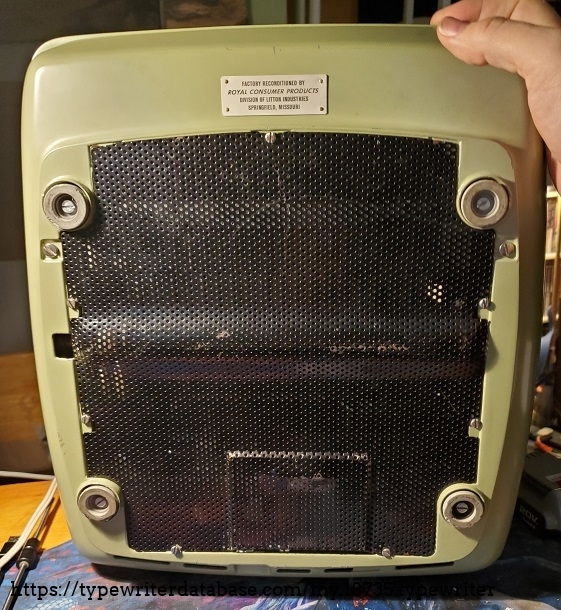 Note the metal plate stating this one's been reconditioned by Royal.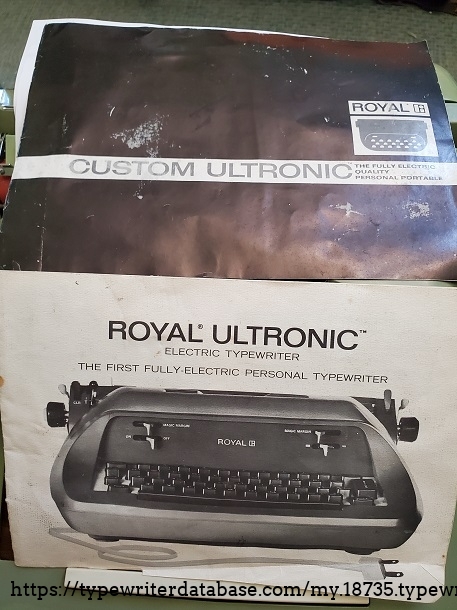 So this came with two manuals from Royal - the base model one and then a Custom Ultronic one for the extra features. I get a laugh out of the slogans - the base says "The First Fully Electric Personal Typewriter" (I call BS by the way), but the Custom manual says "The First Fully Electric QUALITY Portable" - are you saying the base one isn't quality, Royal? Maybe that's why this model flopped.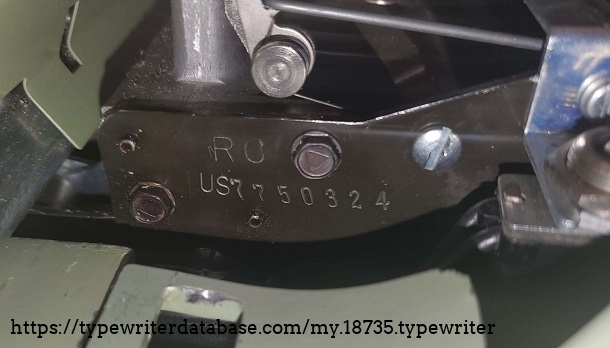 The serial # including the RC for Reconditioned..
Hunter: Lupo Cuore (WolvenHeart)
Lupo Cuore's Typewriter Galleries [ My Collection ] [ My Sightings ]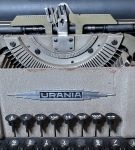 Status: Typewriter Hunter
Points: 747
New collector with a penchant for offbeat models/brands and, conversely, the mundane models many overlook, if I have a personal connection or just find them interesting. Finding that collecting typewriters is like eating potato chips, you can't have just one! Also restorer of mechanical calcs, Vintage audio, and vintage computers.
---