1918 Adler 16 #120472
Status: My Collection
Hunter: Heiko Stolten (Heiko)
Created: 05-16-2019 at 04:56AM
Last Edit: 09-02-2020 at 04:27AM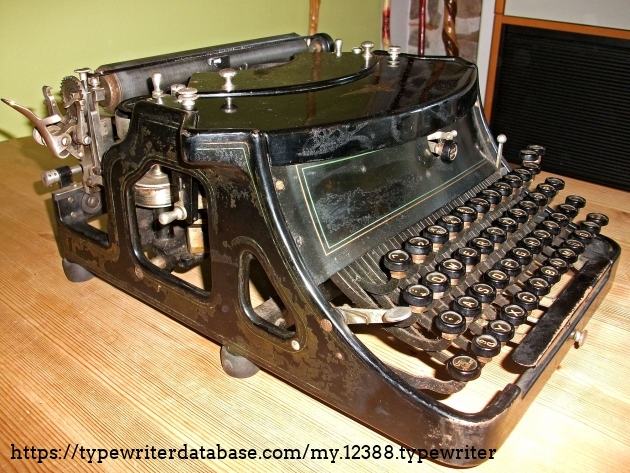 Description:
A very rare Adler Modell 16 typewriter with exchangeable typeset. Maybe the rarest german typewriter ever. Last week (may 2019) I had the luck to find this gem. I can't say how lucky I am. Someone told me that there are only three known Model 16 typewriter. But now there are four. The same modell as the modell 15. The different is:the exchangeable typeset.
You can change the typeset within 30 seconds to an other typeface. Very cool this thing. As I bought this typewriter I did'nt know how rare it is. I'm only looking for a sparepart machine for my Adler Modell 15, and the modell 16 I thought was perfekt for this idea.
In the next weeks I place some pics here after cleaning the modell 16, because I must find a way to polish the paintwork without to destroy the artwork. The paintwork is crusty, because a long time ago, moisture has fallen under the clear coat.
I'm looking for a way to solve the problem.
05. June 2019: I have fixed the problem. I cleaned the coat with a mix of typewriter oil and spirit. Thogether on a cleaning rag, going softly round in circles - and it works fine.
Typeface Specimen: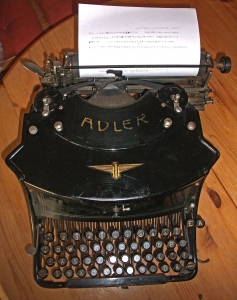 Photos: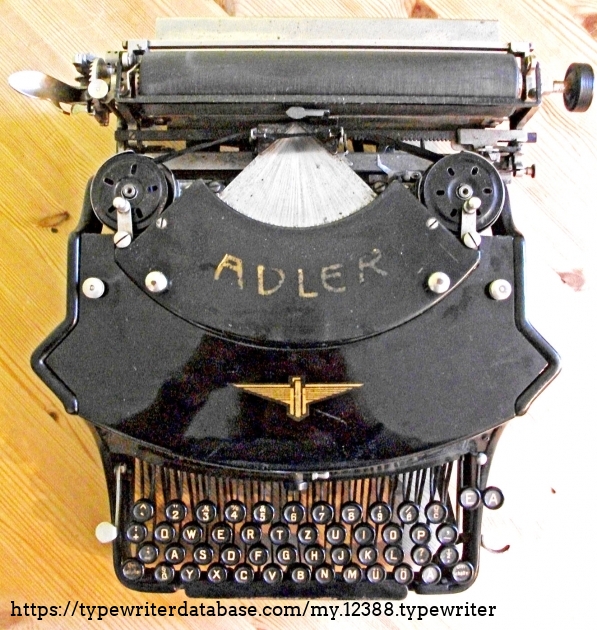 First photo from the top.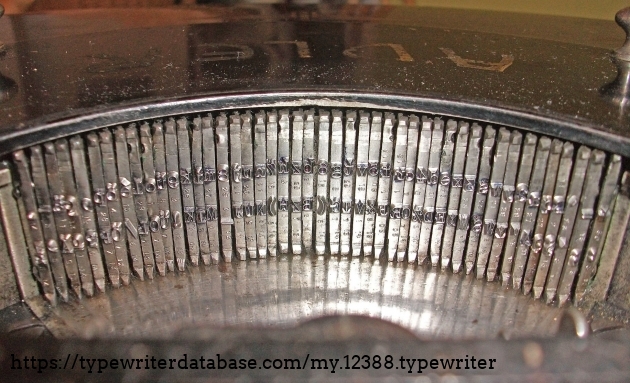 Her teeth. Only pica font.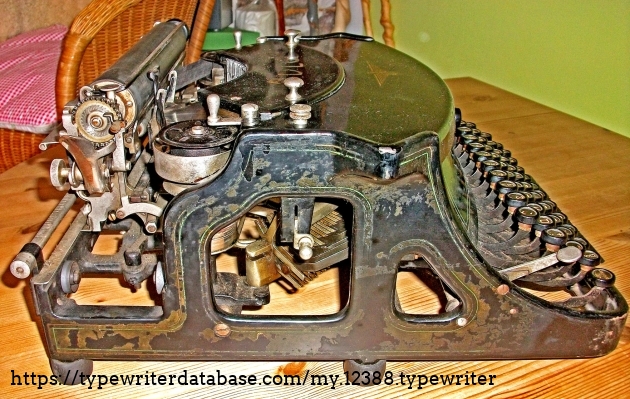 Original condition. First foto from the left side.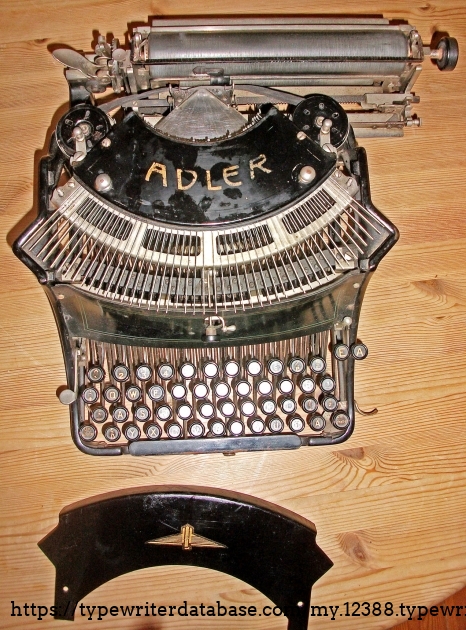 The first look inside her. Dusty and very oily. The previous owner confused her with an oil rig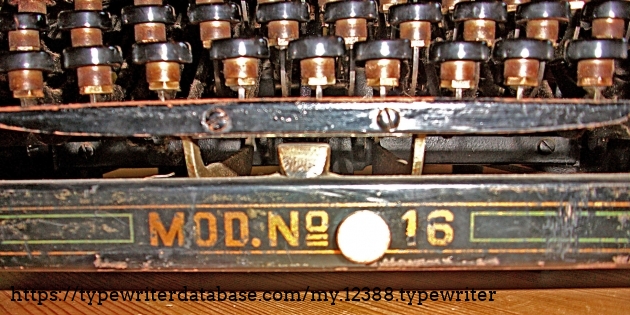 Her identy card shows, she is a very rare model 16.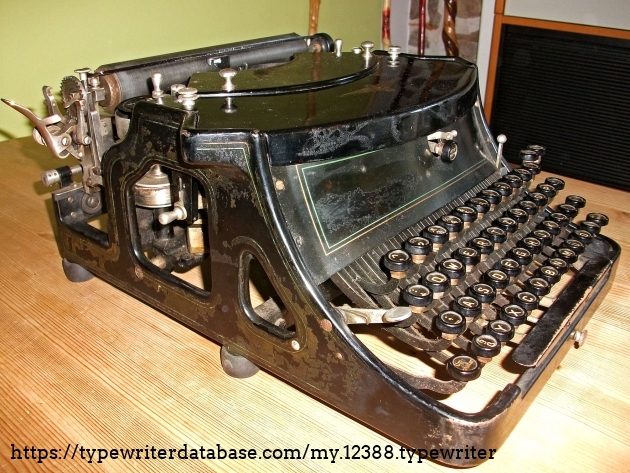 Now it's time to go into the workshop for cleaning and polish.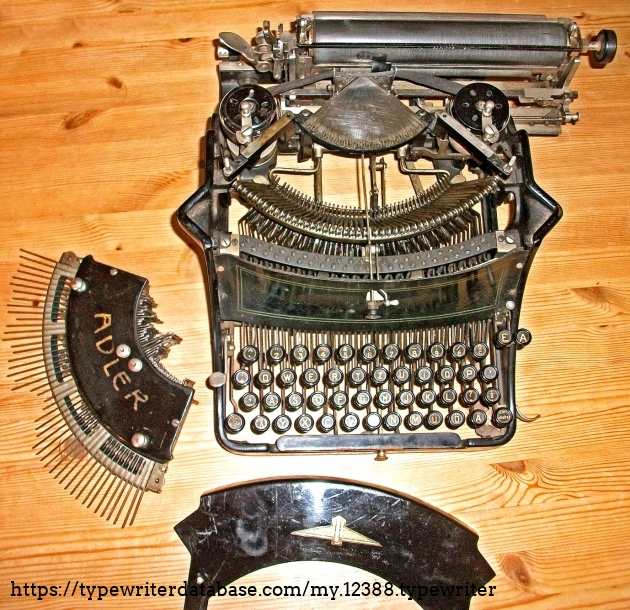 It takes only a few seconds to remove the complete typeface.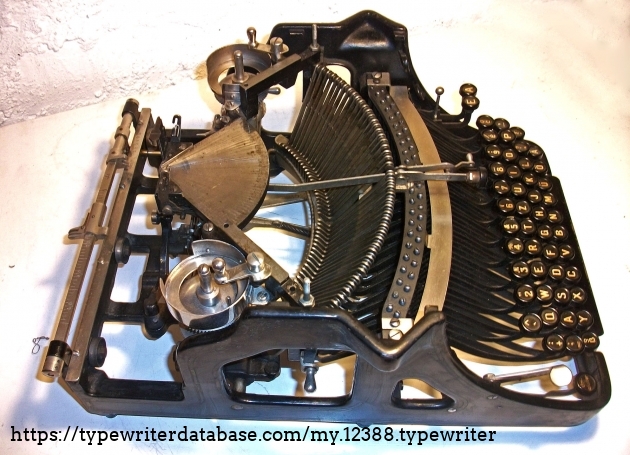 After cleaning her inside. There was a lot of oil everywhere.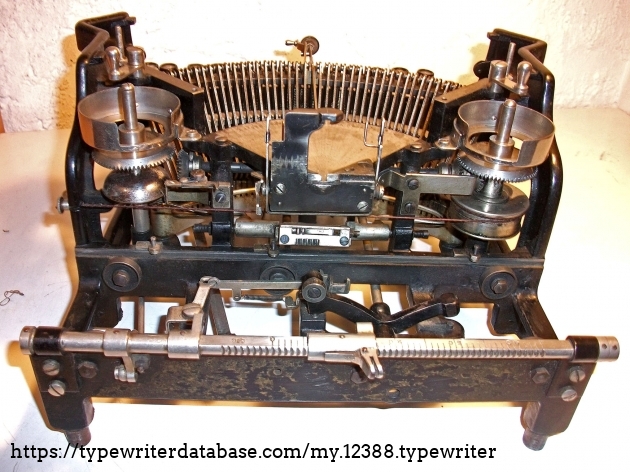 Slowly the shine and glitter comes back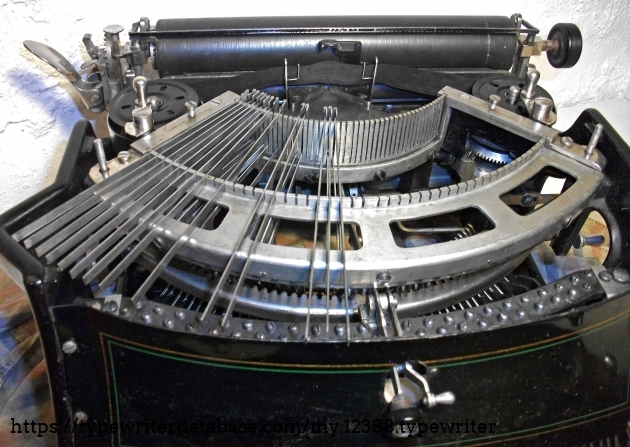 Steb by step the types returned into the machine.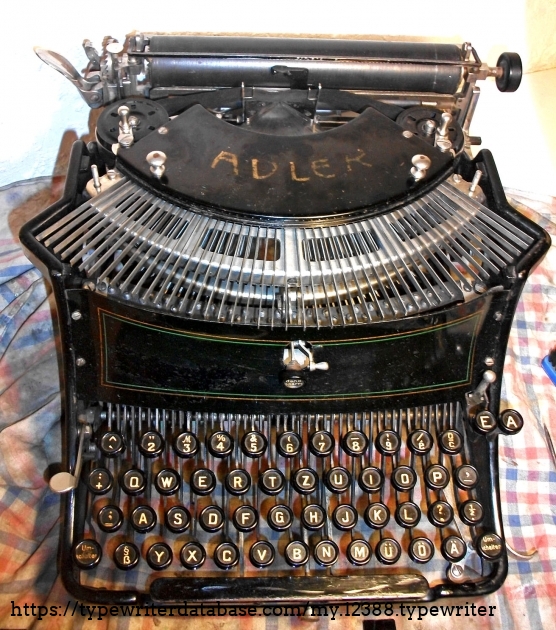 Now it takes only a few secondes an two skrews to finish the work.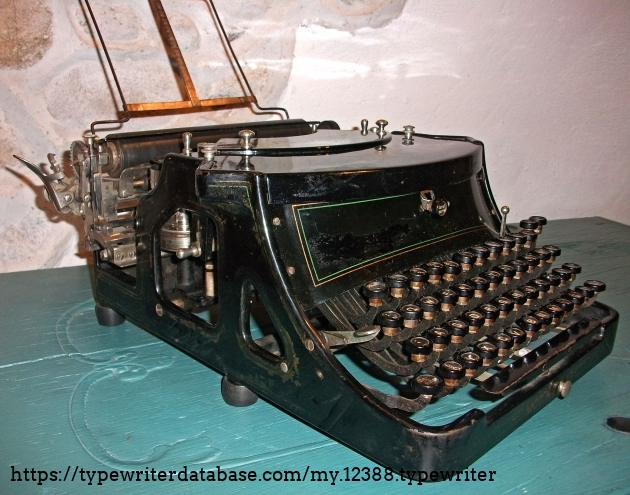 Ready for takeoff!! Typing is now possibile.. I'm proud of my pretty baby.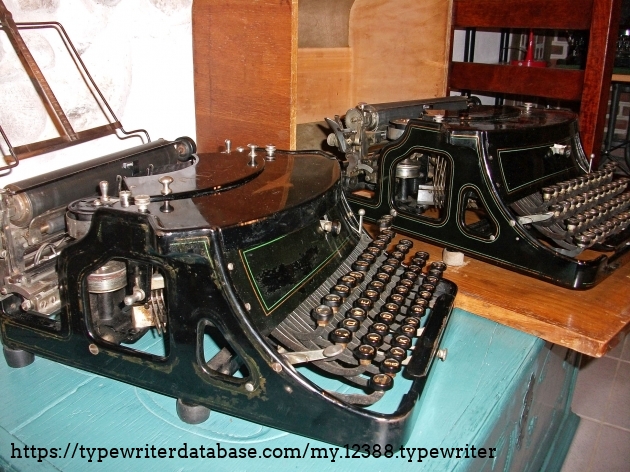 Togehther with her sister, the 1918 Adler modell 15 in the background.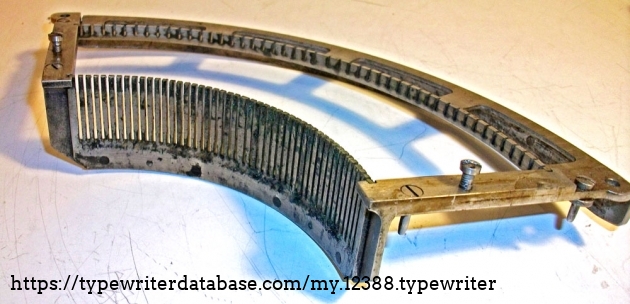 The type comb before cleaning. much old oil and dust between the slots.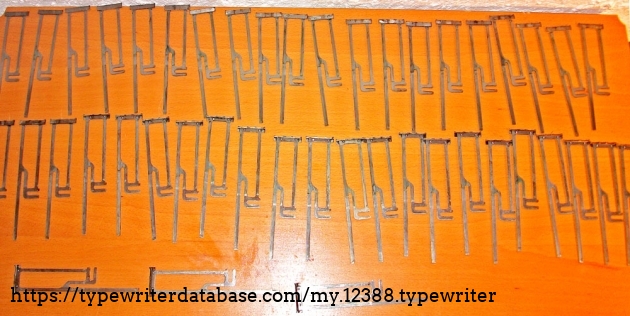 The same thing! All types are surrounded by old oil. After cleaning all types I must throw away my cleaning rags.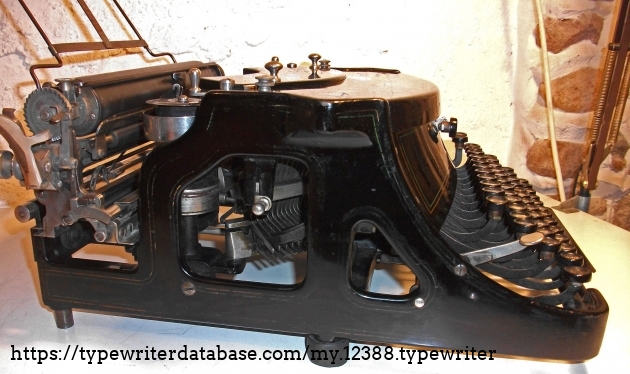 After cleaning wit a mix of spirit an typewriter oil. Oops, she lost one of her 4 rubber feet. He was still hiding in the workshop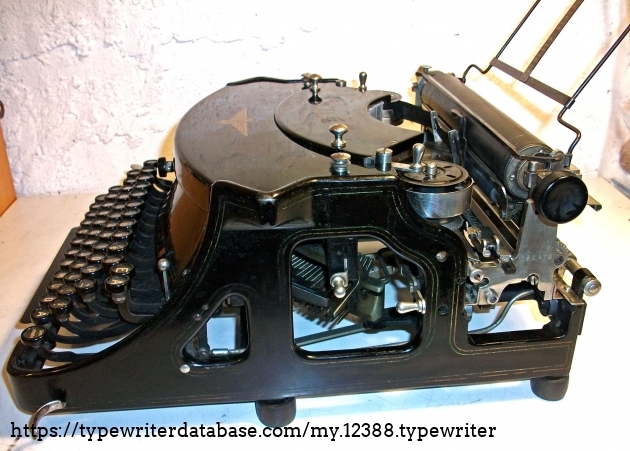 She looks very well now.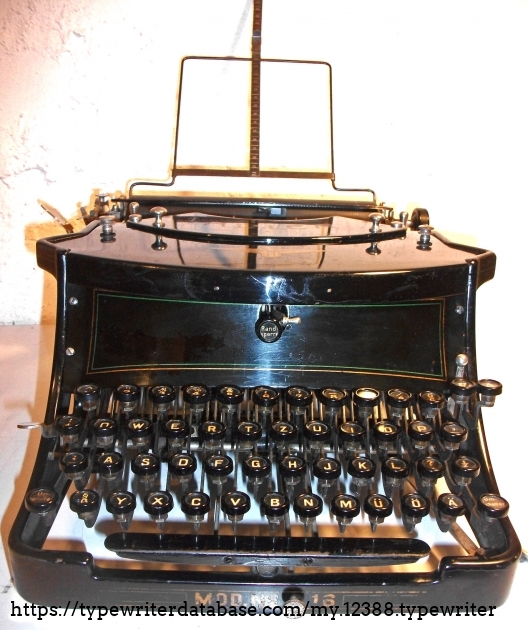 Finally, she got a paper holder. After this photo she gets her silver ribbon spools and a original wood case. Perfet!
Hunter: Heiko Stolten (Heiko)
Heiko Stolten's Typewriter Galleries [ My Collection ] [ My Sightings ]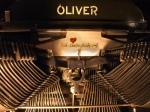 Status: Typewriter Hunter
Points: 526
I'm from northern Germany and I like the old typewriters. I fell in love with typewriters when I was 58 (2017). My first keyboard was an PC in the mid 1980 years. Typewriters looks like very oldschool for me at this time. My first typewriter I got in 2017, a Torpedo Model. 6. This Torpedo was faulty and not usable. I gave it away as a gift to a lover of old things.
But from this day I love typewriters, and I learn by my self to repair an clean old typewriters. Some days later I got a 1938 Olympia Simlex as a gift. This was the first typewriter that disconnect me from the fear and my own believing that I have two left hands. This was my first typewriter I repair. My number one. The Olypia Simplex have a special memory for me and I don't stop writing on it.

After the Simplex I got my first Adler Modell 7. And from this moment I cant stop loving typewriters. The best I can do is ... to buy a cheap dirty typewriter, to clean, polish and repair it. and than I do the best I can do with a typewriter. I write on it.

Some peope can't belive that I use my typewriters for writing. I don't like it when typewriters must sit and wait into a private museum without any movement. My machines are still alive.

Ich wohne in Norddeutschland, bin ein waschechter Hamburger und ich mag meine alten Schreibmaschinen. Manche finden mich verschroben, weil ich tatsaechlich mit meinen alten Damen schreibe. Ich mag es nicht, wenn Schreibmaschinen unbenutzt in Vitrinen stehen. Meine Schreibmaschinen leben und sie duerfen arbeiten. Meine Favoriten sind die Vorkriegsmaschinen von Adler, weil sie so ein schoenes Jugendstil Design haben: Modell 7, Modell 15, Modell 16 und die Klein Adler 1. Aber ich mag ebenso einige Maschinen der 1940er bis 1960er Jahre.
Als einer der glaubte zwei linke Handwerkerhaende zu haben, mache ich mich mittlerweile als Schreibmaschinen-Mechaniker und Reiniger ganz gut, wie ich finde. Ich Mag besonders Schreibmaschinen mit besonderen Schriften. Und so liebe ich auch meine Plastik-Privileg 207S mit Schreibschrift genau so wie meine Adler 7 mit Frakturschrift.

My favorite typewriters are: Adler 7 / Klein Adler 1 / Adler Modell 15 / Continental Standard/ the Hermes Baby, /Oliver, and some Olympia's (SM 1, 2, 3 + 4)
A special typeface make every typewriter magic for me. I love typefaces like: Italic, Perl, Fraktur, big typeface and Script. So I like my very young plastik-typewriter, a Privileg, with a very nice schript typeface.
---
RESEARCH NOTE: When researching the Adler 16 on a computer with lots of screen real estate, you may find that launching the Adler Serial Number page and the Adler 16 By Model/Year/Serial page in new browser windows can give you interesting perspectives on changes throughout the model series.
---