1913 Oliver 5 #456883
Status: My Collection
Hunter: Christopher Cottle (chriscottle1953)
Created: 02-02-2023 at 09:29AM
Last Edit: 02-02-2023 at 09:45AM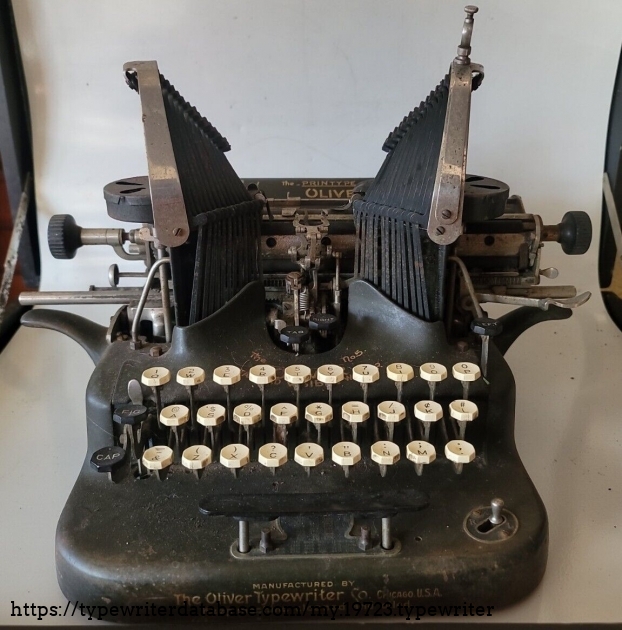 Description:
A 1913 Oliver Model 5 Printype. My 2nd Oliver 5. The first Oliver 5 (my first deeper cleaning/restoration), also a 1913: however, I did a "70%" cleaning with no polishing of the unpainted metal.. I was not really sure what I was doing and I was more concerned with getting it back together. A BIG thank-you to the VINTAGE TYPE on YouTube. During this cleaning, I also took off the whole upper mechanism and plan on doing a more thorough cleaning and hand polishing of the unpainted metal. I noted that one of the teeth of the escapement has a fractured "gear tooth" ... at least I know that is an issue and I will eventually try to get part. All other parts appear to be there. It should be noted that the serial number was located on the right side. On my other 1913 Oliver Model 5 it was on the left side as is indicated as the usual position of the serial number. Thus there was a different "casting".
Typeface Specimen:

Photos: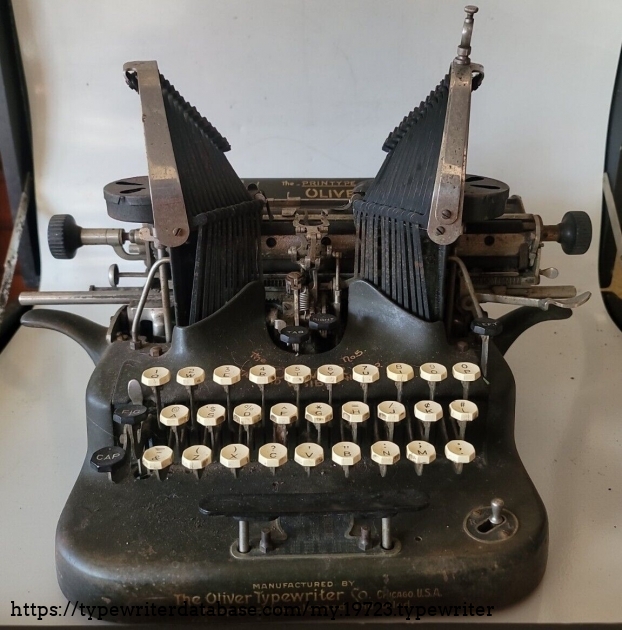 eBay Photo Pre-Restoration 1913 Oliver 5 Printype - front view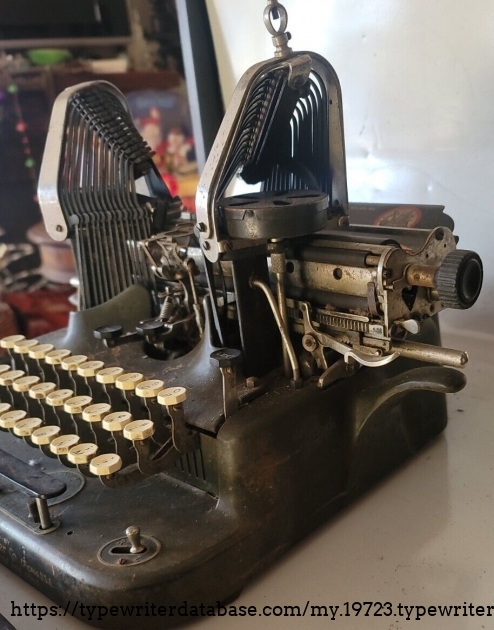 eBay Photo 1913 Oliver 5 Printype - right view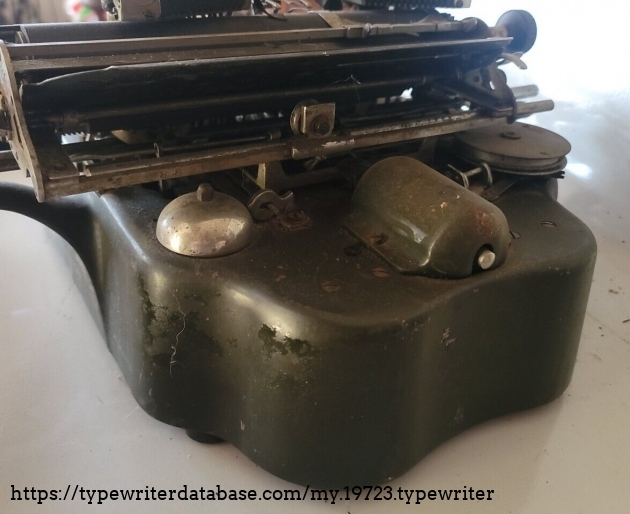 eBay photo Pre-Restoration 1913 Oliver 5 Printype - rear view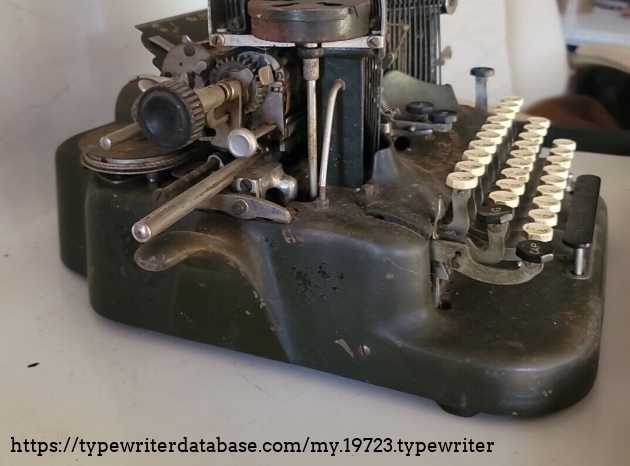 eBay Photo Pre-Restoration Photo 1913 Oliver 5 Printype left side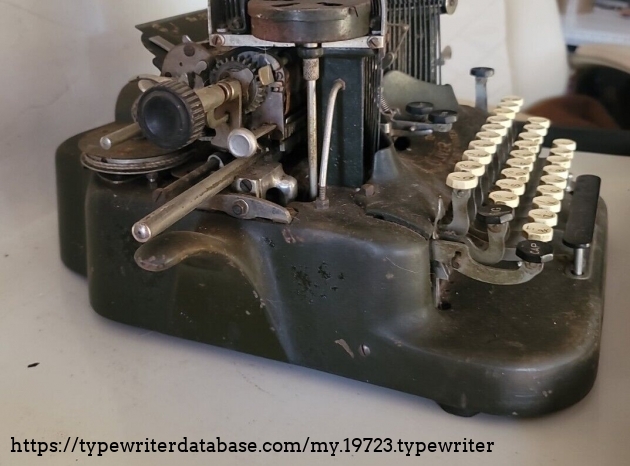 eBay Photo Pre-Restoration 1913 Oliver 5 Printype -left side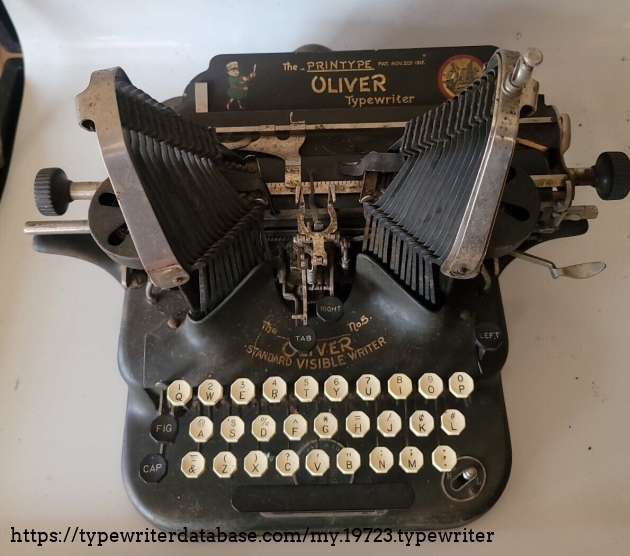 eBay photo Pre-Restoration Photo 1913 Oliver 5 Printype - top view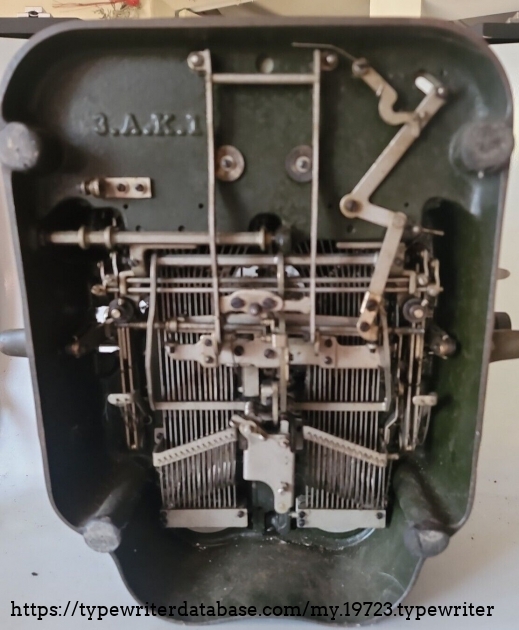 eBay photo Pre-Restoration 1913 Oliver 5 Printype - under view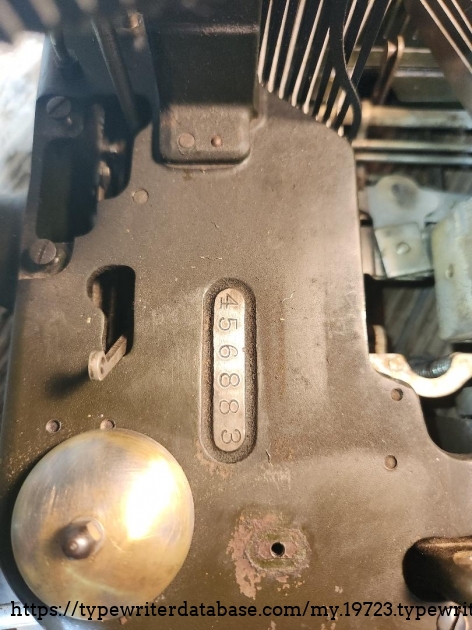 Restoration Photo 1913 Oliver 5 Printype - serial number (right side)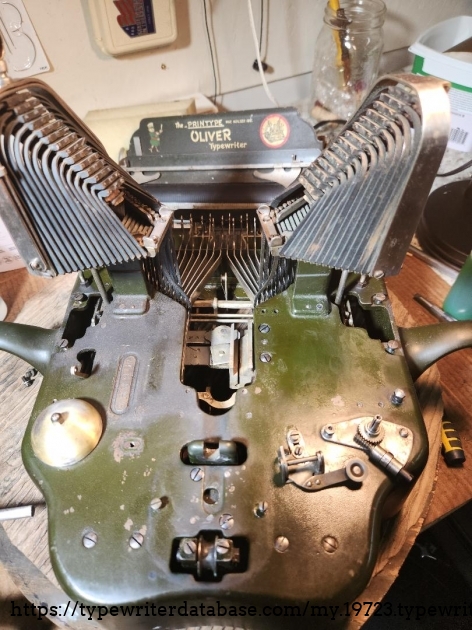 Restoration Photo 1913 Oliver 5 Printype - rear view with mechanism removed ... right side cleaned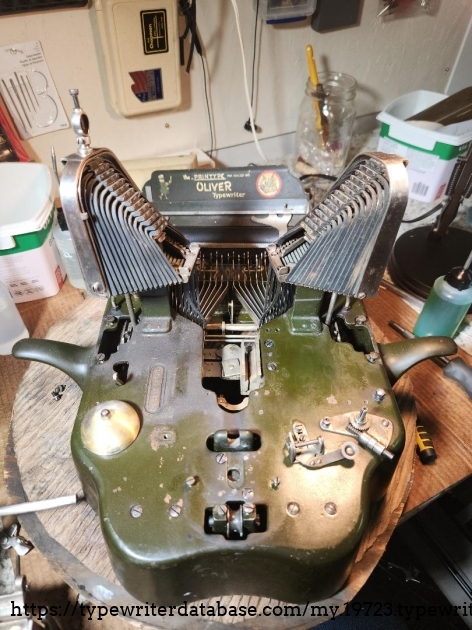 Restoration Photo 1913 Oliver 5 Printype - rear view wide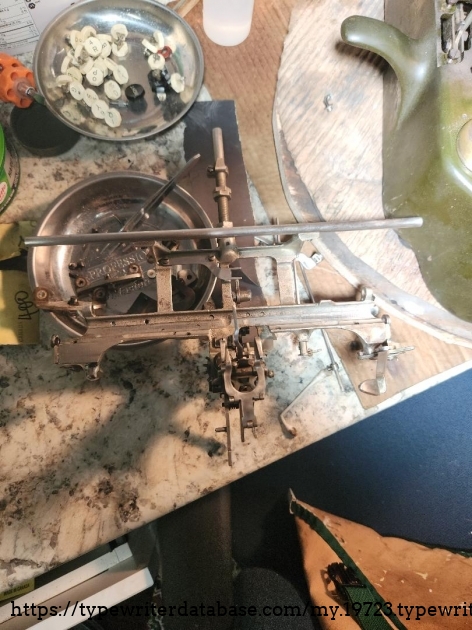 Restoration Photo 1913 Oliver 5 Printype - mechanism off of the base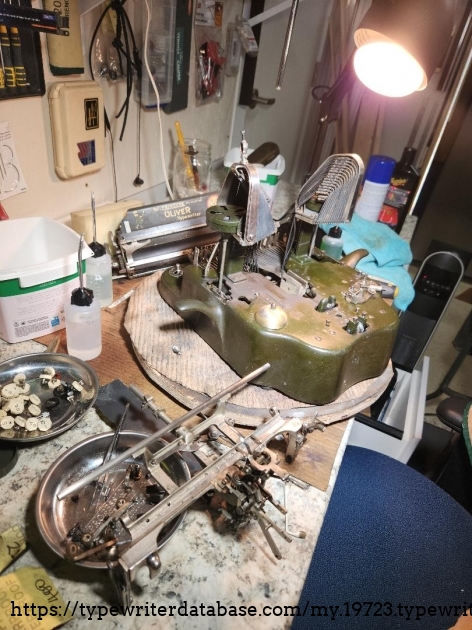 Restoration Photo 1913 Oliver 5 Printype - wider view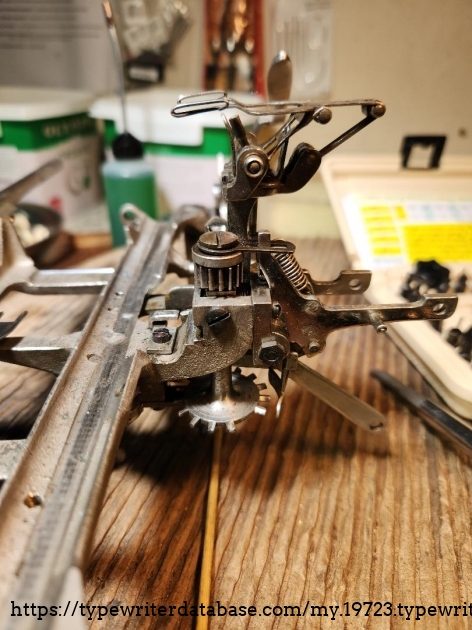 Restoration Photo 1913 Oliver 5 Printype - escapement tooth fracture
Hunter: Christopher Cottle (chriscottle1953)
Christopher Cottle's Typewriter Galleries [ My Collection ] [ My Sightings ]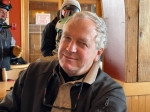 Status: Typewriter Hunter
Points: 1119
I have owned a 1952 Royal HHE since 1967. It was purchased (in Montreal) by my parents for my Grade 9 typing class. Only one other male in the class; however, I learned to touch type along with 28 grade 9 girls. I no longer use my physics or intergral calculus but I use my typing every day. The HHE has crossed Canada several times along with the solid oak 1950s centre lift typing desk which was also bought for me. $20 for the desk and typewriter and that included delivery. In September 2022, on a whim, I decided to clean the machine that I have had for 53 years, for the first time since 1967 and now it is all back to full working condition. I enjoyed the process so I decided to look on the internet and I bought a 1922 Royal Model 10 on eBay. Not working; however, seemed that the body was in good shape, along with 100 years of dirt and probably at least 70 years of office smoke. I was able to get it fully working and polished and my wife wanted it as a show piece on the book shelves. Next, I bought a 1948 Royal Quiet De Luxe two tone (Dreyfuss tuxedo model) that may not need much work; however, I love the shape and the blend of black and grey. I understand that they were only built in 1948 and then they switched to grey only in 1949, although with the same Dreyfuss design. It may not need much tinkering but will definetly need a lot of cleaning. Love to tinker.. Then, I bought a 1932 Royal Model O that likely will need some work beyond cleaning. That will hopefully be the last time I pay shipping for a typewriter. Riiiggghhhtttttt. Love to tinker.
That was September 2022 ... any chance I have been bitten by the "bug".
It is now August 2023 ... just acquiring a 1894 Blickensderfer No 5. It is coming with a case that appears to be in good condition and an extra element. I paid way too much for this when one considers Customs, Shipping Charges and Delivery Company charges for managing the Customs Fees ($75 Cdn for the latter). Que Sera Sera. I currently have over 35 machines inculding a Royal Standard Model 1 / two Oliver No 5 Batwings / two Corona Foldable Model 3s / Blickensderfer Model 9 (Pharmacy Keyboard/Typeball) / 1898 Blickensderfer Model 7 (QWERTY) / 1894 Blickensderfer 5 (DIATENSOR) a dual pane Royal 10, a single pane Royal 10 and a collection of Royal QDLs. Most need major cleaning and hours to get fully working. I organized the Courtenay LIbrary Type-In. It was a success with over 120 people attending in 3 hours. I had a display of 100 Year Old machines to view then another two machines from each decade from 1940s to 1980s for people to type on. The Library provided post cards with the Typewriter Manifesto that people could type on and the library would mail to them. I had two tables for people to bring their own typewriters and just type away. No one did that; however, I did have 5 people drop off typewriters that they no longer wanted. Two of them with 1920s/ 1930s portables in excellent shape. My typewriters are not rare but are distinctive and affordable. I am tinkering away. Yes, I was bitten and it is time to slow down.
So I am the decision to focus on a particular make of typewriters - Blickensderfers. In early Sept 2023, I started the Facebook Blickensderfer Typewriter Group. In middle Sept 2023, I made a trip from Vancouver Island to Albany, Oregon to visit Robert Blickensderfer, who was 94 at that time. He had made the decision to downsize his collection of Blickensderfers that he has collected over the last 30-40 years. I purchased 7 various Blickensderfers and increased my collection from 3 to 10 and there is another on its way. Still have a bug but much more focused.
I also "designed" a home made typebar bender. I put it on a number of the Facebook groups for comments and the returns were very favourable. A number of people want to buy them so I am creating a little side business. go figure.
---