11 Typewriter Galleries » Hunter: Dallas Kirkpatrick
View: tpv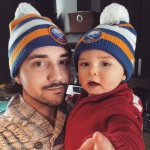 340 Points, Typewriter Hunter

I am a Typewriter Enthusiast from Saskatchewan, Canada!

I fell in love with typewriters around 2015, when I purchased my first (and favourite) typewriter; a mint condition, all original 1933 Imperial Good Companion. I bought it for $60 from a lady whose father used it in Vienna and North Africa during WWII. The stories connected to each machine always fascinate me, and finding old documentation or personal touches added over the years always intrigue me.

Some of my favorite machines to type are my '57 Smith-Corona Silent Super, and my '62 Olivetti Lettera.

Today, I love every aspect of typewriter hunting. I enjoy searching for good deals on specific models that interest me, doing a bunch of research about each typewriter that I get, and cleaning and using every machine that I can! I mostly prefer portables from the 20's to the late 60's.

Typewriters not currently in my collection that I would really like to have include a Hermes 2000/3000, and Olympia SM3.
---
---