1987 Erika 3004 electronic #199940
Status: My Collection
Hunter: Hans Boersma (Java68)
Created: 12-08-2018 at 08:29AM
Last Edit: 09-02-2020 at 03:09AM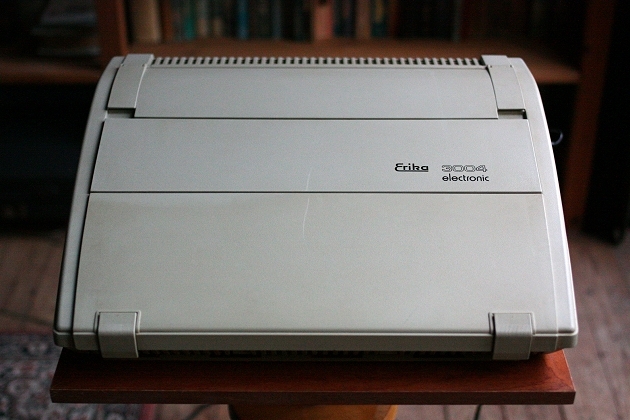 Description:
Built in the former German Democratic Republic (Deutsche Demokratische Republik, DDR) by VEB Robotron-Optima BĂĽromaschinenwerk Erfurt. Dutch keyboard (qwerty), Courier 10 typeface (ten and twelve-pitch), daisy wheel printer. Features like pitch, half-spacing, the three line-spacing settings, the tabulator and margin settings, etcetera, are handled electronically by the onboard Robotron UB8840 microprocessor (Einchipmikrorechner). The UB8840 has a correction memory of 7 kB (20 characters/functions). The machine uses Group 176 ink ribbon cartridges and Group 168 lift-off correction tape. Weight: 7 kg.

Dating this typewriter was easy thanks to mr. Dittmar's excellent website (see links): this is a first-generation machine made in 1987, the year of introduction. The 3004 was in production until after the fall of the Berlin Wall (1989) and the dissolution of the DDR (1990). The last machines left the factory in 1992, in which year the manufacturer, by then called Robotron Erika GmbH, went out of business.

For me typing on an electronic typewriter was a new experience, and it certainly took some getting used to. The typing action, regulated by the UB8840, is very indirect and you can forget about "rhythm-typing". Erika Robotronica has her own rhythm and she will not deviate from it (the Party is always right!). I am not a certified typist, rather a three-and-a-half finger amateur, and as a result my writing speed actually slowed down. Which has its merits, allowing more time to premeditate, but I'm sure this is not the intended effect: the pc-like keyboard enables lightning-speed touch-typing whilst the daisy wheel can machine-gun up to 10 strokes per second. The 3004 is, incidentally, also noisy like a machine gun, but placing it on a pad helps. The print is of course crisp, even and well-aligned, and the built-in correction function is a bliss compared to the various manual correction methods. Another advantage would be the ability to change the typeface by switching daisy wheels, but unfortunately these are now very difficult to come by — at least for Dutch keyboards. On that note, amusing I found Erika's take on the (superfluous) ij character, the Dutch variant of y: after pressing the ij-key the UB8840 orders the i and the j to strike in rapid succession, which order is then promptly executed.

Today electronic typewriters seem oddly more out of date than manual typewriters: compared to a pc they are hopelessly cumbersome and extremely limited in their possibilities, whilst the advantages over manual typewriters now appear minimal. And there are clear disadvantages: you can set tabs and margins as you please, but once you've switched off the power all your personal settings are wiped, so you quickly settle for the factory settings — another example of Erika's repressive tolerance. Nonetheless I suspect that in 1987 she could well hold her own amongst the international competition. This is a quality machine, despite the sturdy but somewhat crude plastic coach work: I found this typewriter to be in perfect working order, not requiring any servicing even though the previous owner, a civil servant, probably last used it in 1997.

Under Windows XP it was still possible to link the 3004 to a pc and use it as a printer, or so I've read; I would have liked that. I would also have liked a beep, or some sort of indication that the bottom of the page is approaching, but perhaps such a feature was not technically or economically viable. For the DDR the production of electronic typewriters must have been a tour-de-force anyway. Plastic for the body work had to be imported, as the local "Plaste" was found to be too weak. Like this one, most machines were exported to acquire badly needed foreign currency to support the defective socialist plan economy. For Western customers the Erika 3004 offered an attractive price-performance ratio. At home it was priced well out of reach of most people: 2,400 M (Mark der DDR), equalling about 3.5 months' wages of an average worker. In the West the Erika 3004 was sold under a plethora of different brands, often by large mail order firms which applied their own: Elite (Kaufhof), Eltron, Hercules (Neckermann), Präsident (Otto), Privileg (Quelle), Selest, Sigma (Metro). It seems that the Optima brand was applied after 1990.

Eventually I began to ignore Erika's regulated rhythm and developed a moderately faster one that yet isn't quite my own: more deliberate and careful — like walking on eggshells. I was then surprised to find myself actually liking this machine. Regrettably, in terms of eco-friendliness the 3004 only scores penalties. It needs electricity of course, though probably not that much. But since Group 176 nylon ribbon is apparently no longer produced the only option is one-time-use carbon ribbon. I can get a mere 10 to 12 pages of text out of one cartridge, which means that even moderate use produces an inelegant amount of plastic waste: not only the ribbon, but the entire cartridge goes in the bin.

I suppose this would be no problem if you don't drive a car (check), fly (check), eat meat (well...) or reproduce (check). On the other hand you might argue that humanity will corrupt the planet beyond recognition anyway, and you would be right — but the personal notion of producing needless long-term waste remains an unpleasant one.

Hans Boersma
Typeface Specimen:

Links:
Photos: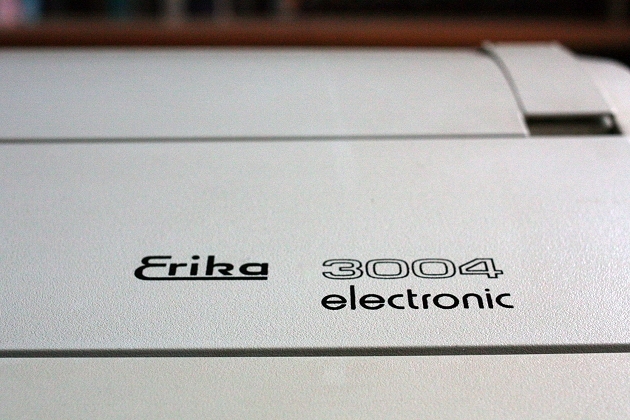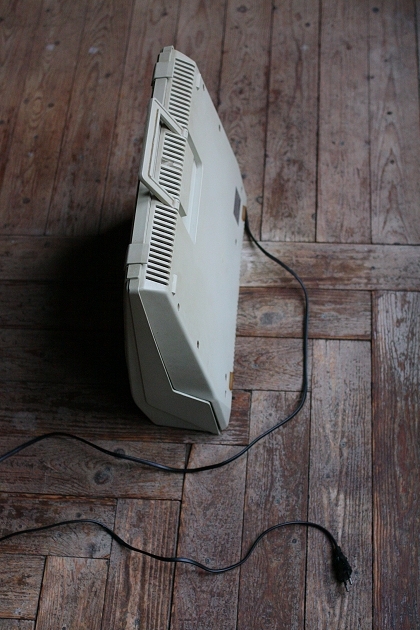 PrĂŞt-Ă -porter. You can take this electric lady anywhere! Well, as long as there are 220 V 50/60 Hz sockets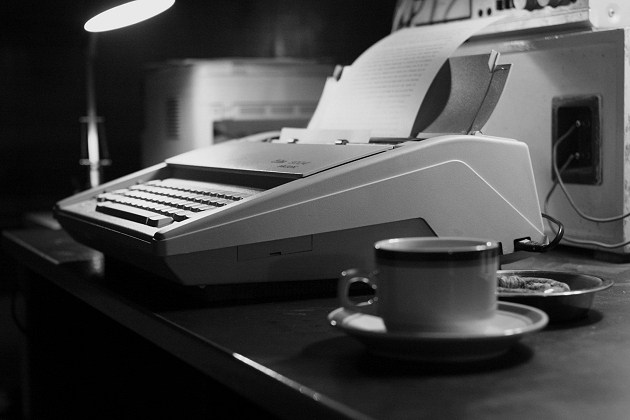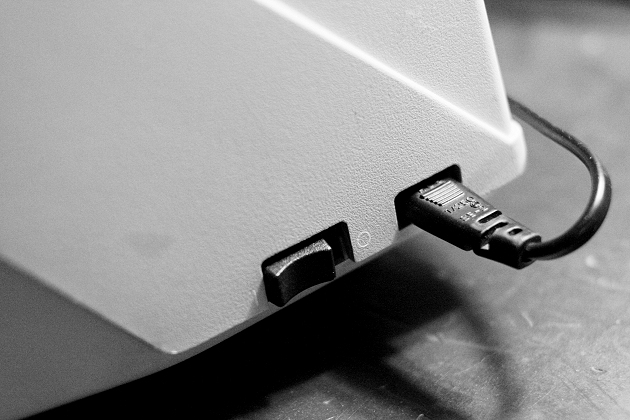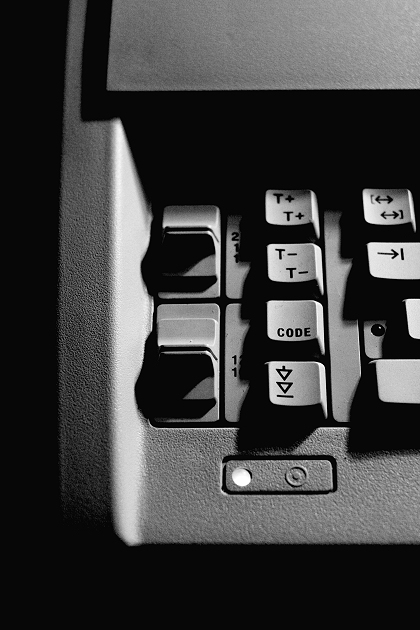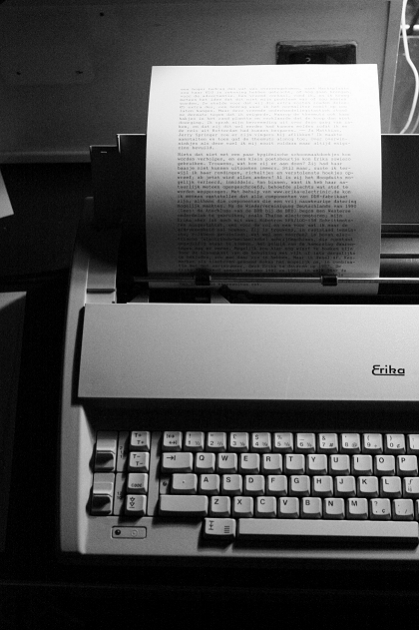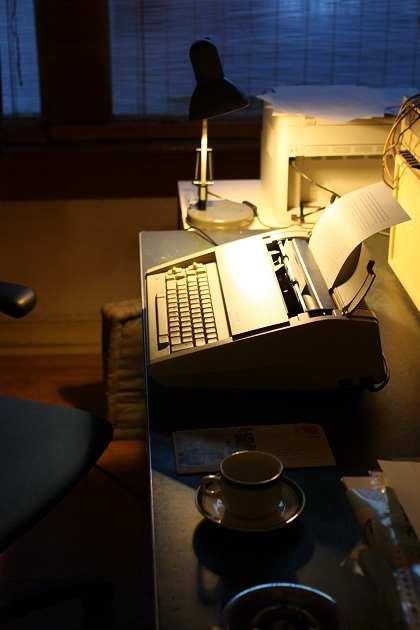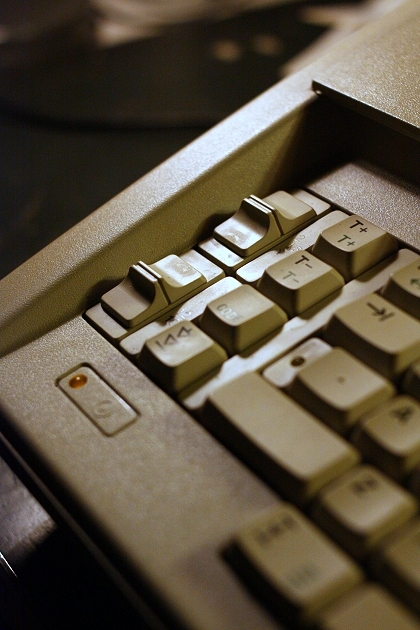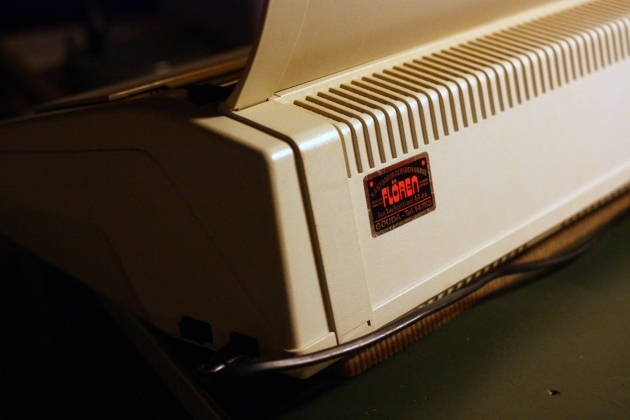 Kantoormachinehandel Flören, Jan Luykenstraat 64-66 Gouda - Tel. 14753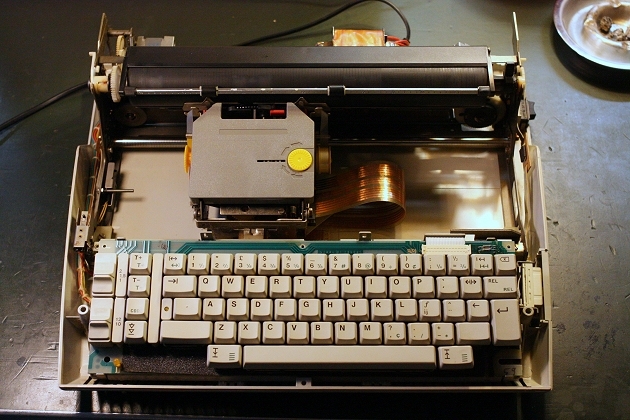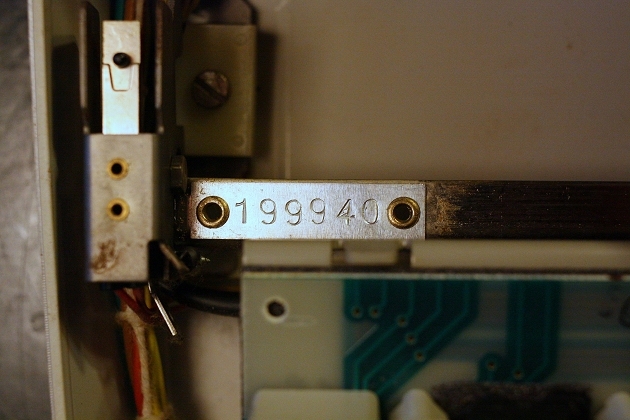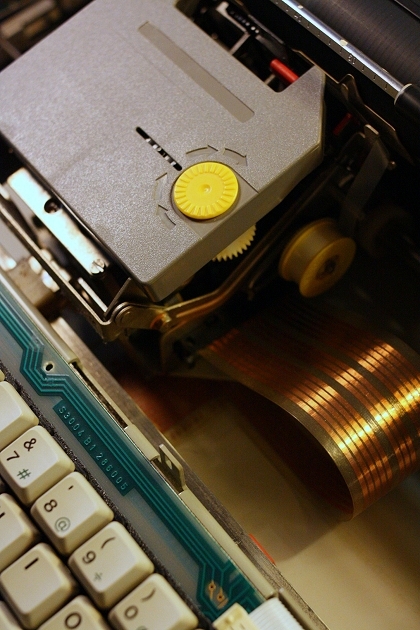 The printer unit with Group 176C (carbon) cartridge (grey). Under the cartridge the small yellow spool of the Group 168 correction tape is visible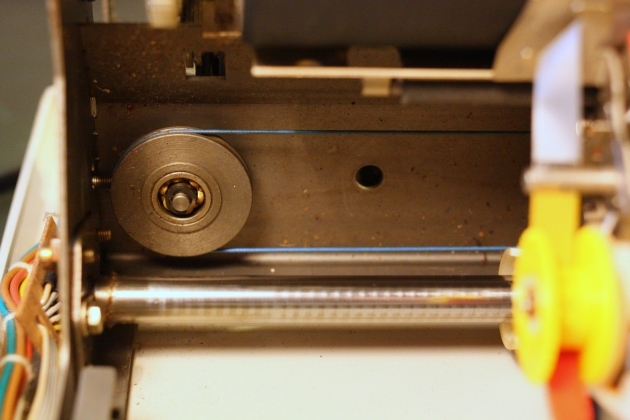 The drawband, or rather draw-snare. On the right hand the other spool of the correction tape is visible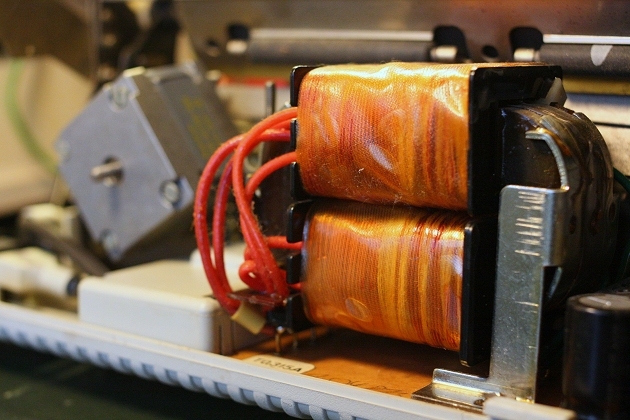 Transformator unit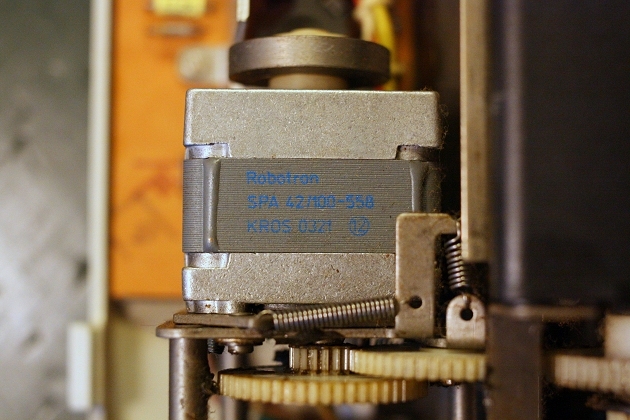 Robotron stepping motor (Schrittmotor) for horizontal movement (printer unit)
Robotron stepping motor (Schrittmotor) for vertical movement (platen)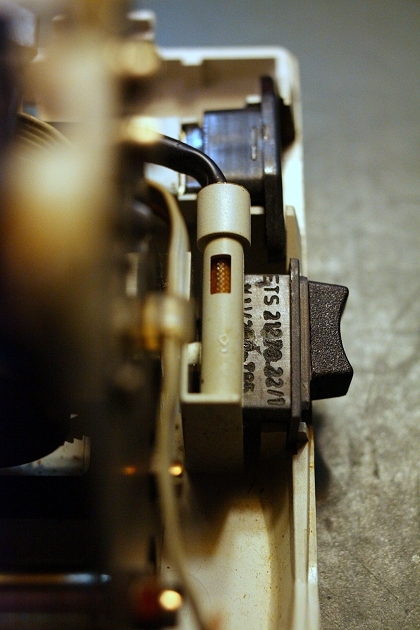 On/off switch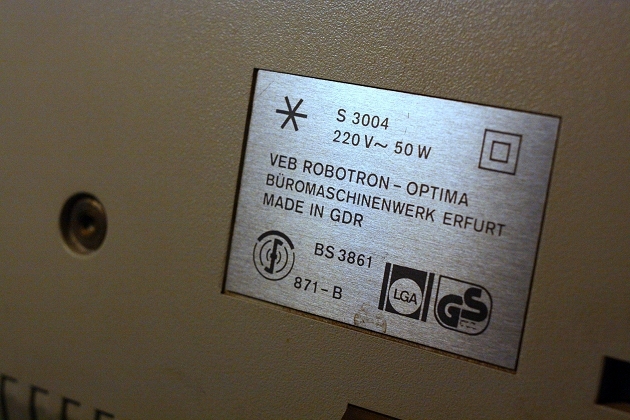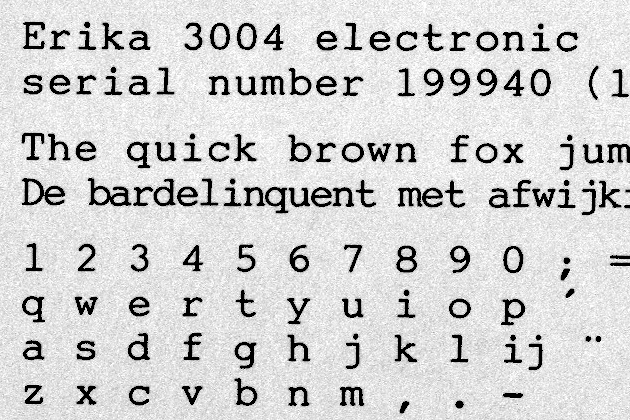 English pangram in 10-pitch, Dutch pangram in 12-pitch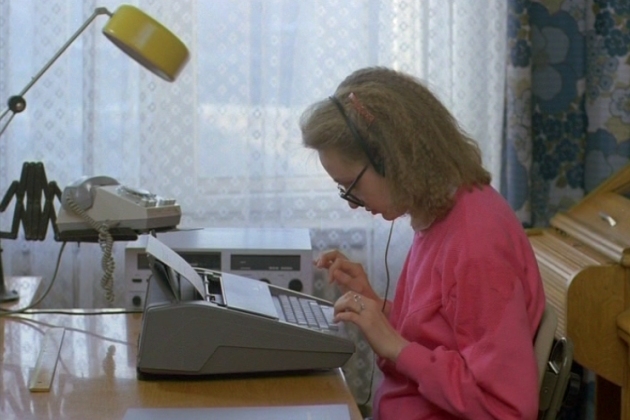 Still from Polizeiruf 110: Katharina (DEFA/Fernsehen der DDR, 1989)
Hunter: Hans Boersma (Java68)
Hans Boersma's Typewriter Galleries [ My Collection ] [ My Sightings ]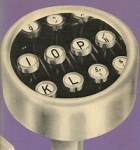 Status: Typewriter Hunter
Points: 580
I'm not really a hunter, or a collector. Well, I try not to be anyway. Typewriters should be used IMHO, and how to choose from an increasingly anonymous multitude? There is much to say for having just one typewriter, and sticking to it. But then again, there are so much beautiful and interesting typewriters out there, all with their own character and historical backgrounds... So I refer to my modest collection as "the machine park" and do my best to keep it from becoming a multitude. I decidedly favour standard-size typewriters: large office workhorses that throw their considerable weight behind your labours. Nicely over-dimensioned machines with a more than agreeable keyboard touch and a business-like appearance, ready for any job. I enjoy looking at "typewriter porn" on sites such as these, which provides an adequate substitute to having a larger collection. So... thank you for showing me yours!
---