197X IBM Selectric Composer #30-5030550
Status: Sightings
Hunter: Clark Hinson (professorc30)
Created: 12-18-2013 at 03:57PM
Last Edit: 08-22-2015 at 11:36AM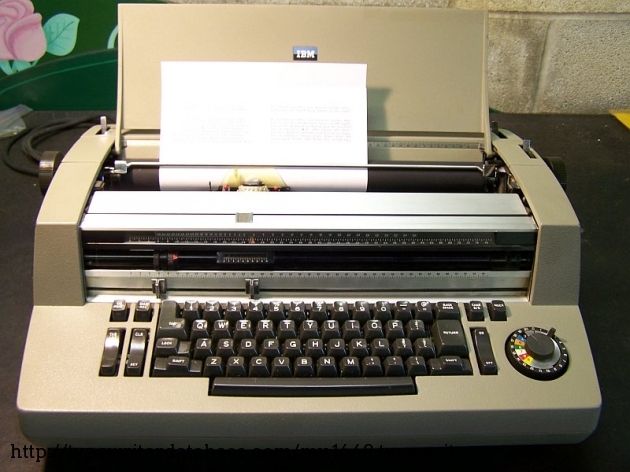 Description:
The IBM Selectric Composer was introduced in 1966. It was a huge leap forward in desktop publishing. It featured proportional spacing that other Selectrics lacked, plus it could justify and it used the interchangeable type element that allowed many different size and type fonts to be printed.

This machine was in storage for many years in a hot outside shed in Florida. The oil and grease turned to a near-solid glue that was almost impossible to remove. Although the machine was in working condition when it was stored, time, dirt, heat and moisture nearly destroyed it.

Like any other Selectric, I first started soaking it to clean and loosen it up. It took many, many hours to get everything cleaned and lubricated again. I found the motor capacitor had swelled and gone bad from age and heat. I ordered a replacement online from an HVAC supplier. Luckily, I had all the manuals to find the specs since I couldn't read what was printed on it. Another gear in the print geartrain had a broken tooth which I replaced from a Selectric II. The leadscrew bias gear was cracked and a replacement couldn't be found. I repaired it the best I could by drilling out some relief holes and compressing the crack together with a hose clamp. I filled the holes with JBWeld and wrapped wire around the gear to help it stay together.

After many hours, it actually works again. What makes this machine special is not only does it have proportional spacing, but it justifies too. In the 1960's, that was a real advantage for publishing. It does all this with purely mechanical functions - no electronics at all!

The errors in the typesample are mine, not the machine.

Model - 6251

SOLD
Typeface Specimen:

Links:
Photos: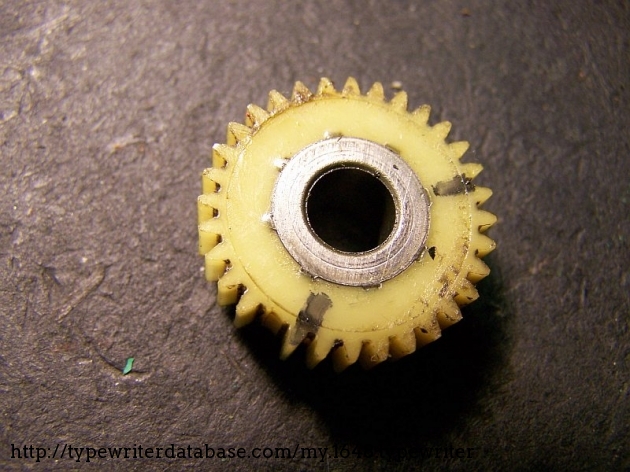 Tooth missing. Replaced with a similar gear from a Selectric II.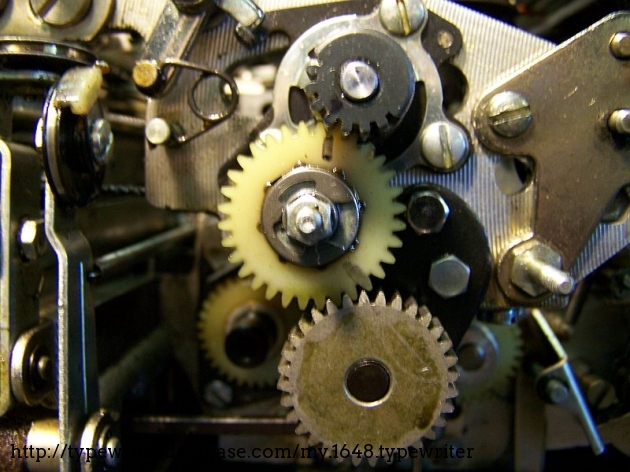 New gear installed.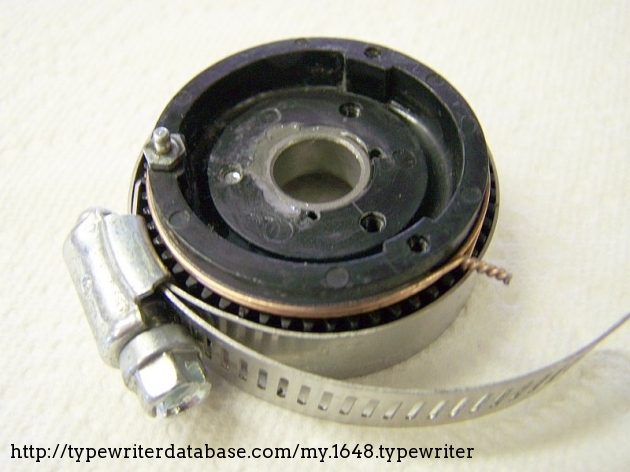 Leadscrew Bias gear during repair.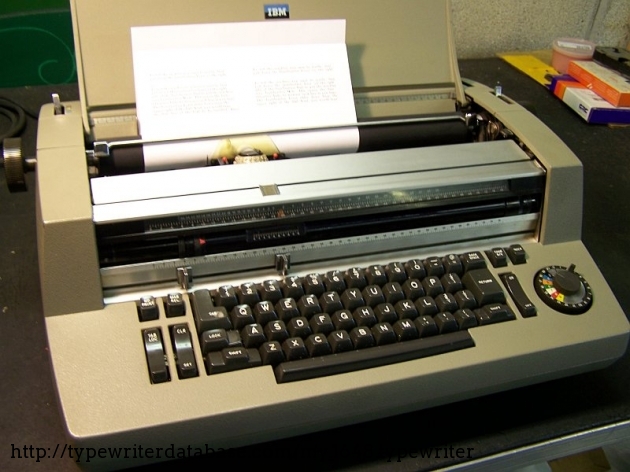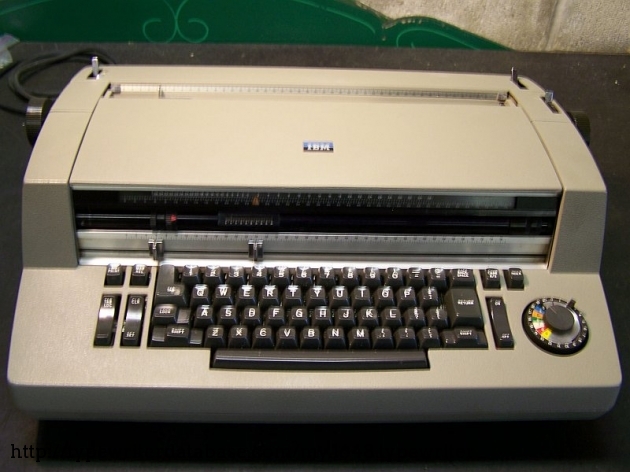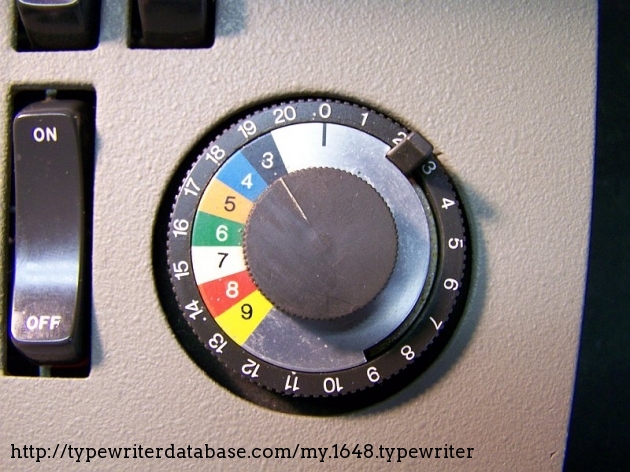 Justification Dial. The center knob changes the width of spaces, the outer knob is set to the number of spaces required.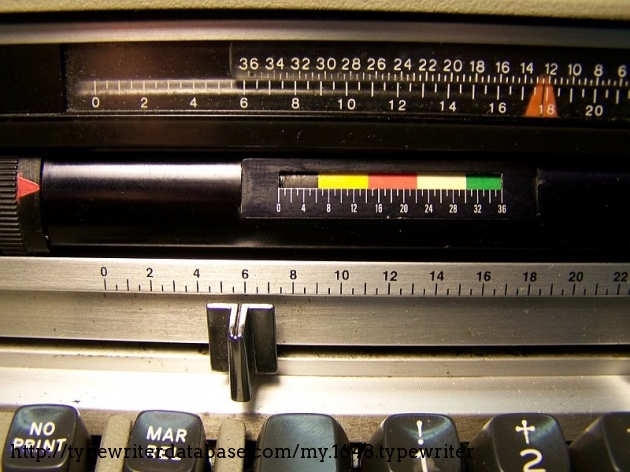 Justification Tube. The colors correspond to the colors on the Justification Dial.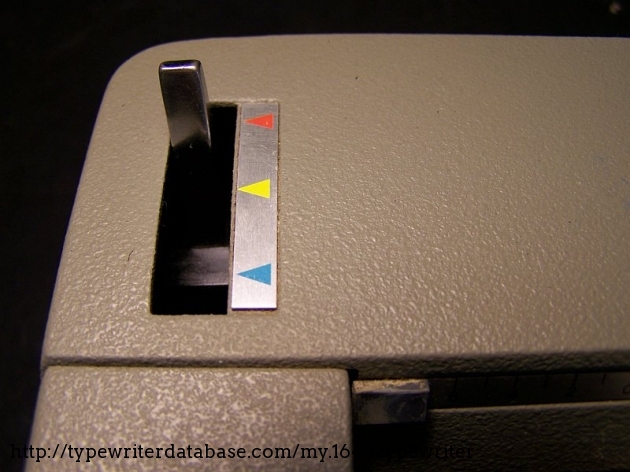 Pitch selector. Three different pitches are selectable. The color of the arrow corresponds to the arrow color on the type element.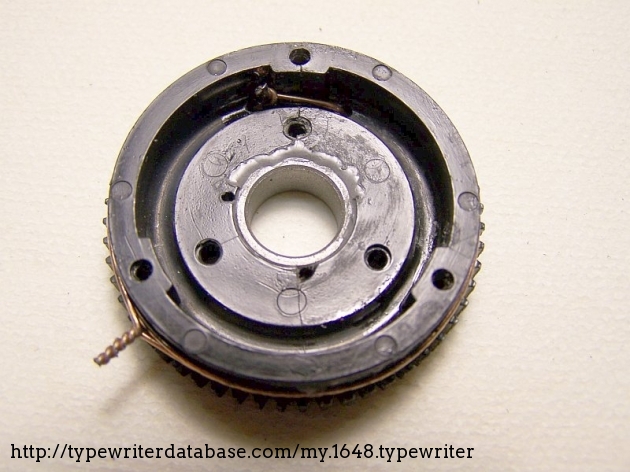 Leadscrew Bias gear after repair. The drilled-out areas were filled with JBWeld. The wire does not interfere with the operation.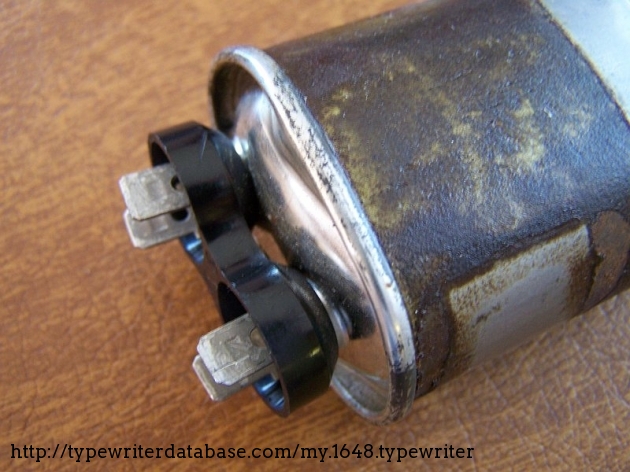 Swollen, bad capacitor. The motor was running slow and got really hot until I replaced it. The brown film on the capacitor is baked-on oil!
Leadscrew Bias Gear before repair. Luckily, there weren't any teeth missing.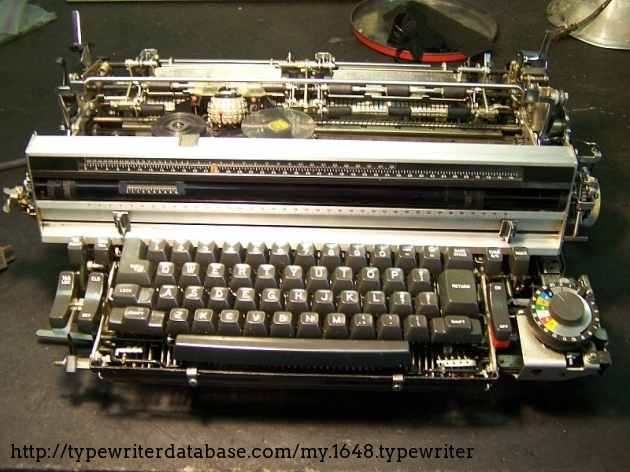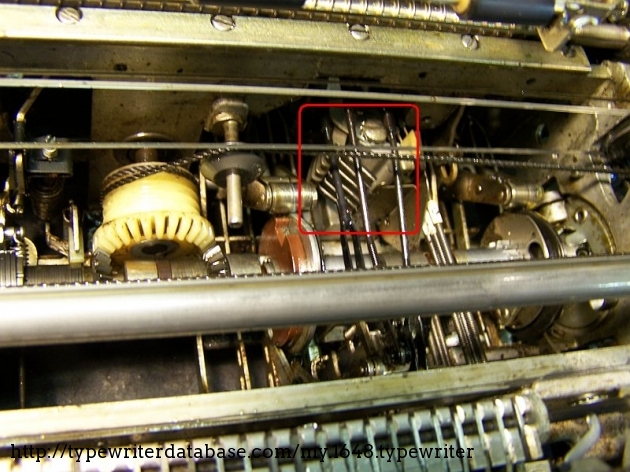 This is the chopper block that allows between 3 and 9 unit spacing for each character or space. It is actuated with 6 small cables from bails on the keyboard.
Rear of the machine with Escapement Geartrain and Pinwheel in the lower left.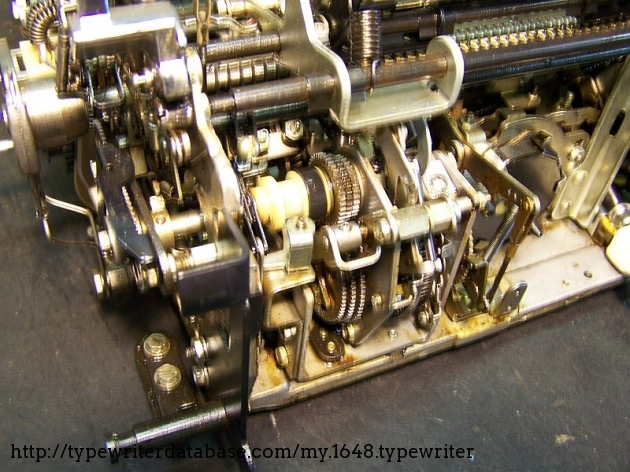 The three sets of incremental-size gears allow the three different escapement pitches. A gear changer engages only one set at a time.
Hunter: Clark Hinson (professorc30)
Clark Hinson's Typewriter Galleries [ My Collection ] [ My Sightings ]

Status: Typewriter Hunter
Points: 557
I love mechanical things and have tinkered with manual and electric typewriters since my teens. I have always been fascinated by the IBM Selectric, but it was later in life that I finally got my hands on one to explore. I learned to repair/restore them and suddenly I have several of them. I don't really consider myself a collector, but rather a restorer. I enjoy bringing old machines back to usable condition and then pass them on to other people to use and enjoy.
---