1971 Consul 221 1 #1 221 117065
Status: My Collection
Hunter: Dan Johnson (rdj)
Created: 04-06-2016 at 01:29PM
Last Edit: 04-06-2016 at 03:21PM
Description:
Mark Peterson highly recommended this model to me as he had picked on up recently at a local (massive) flea market and enjoyed typing on it. Consulting Nick Tauriainen's blog article on it and inspecting the various TWDB galleries for this a similar models made the decision easy.

This typewriter has some nice features and a great feel, and it's in nearly perfect condition. I'm having trouble dating it based on the serial number (see below), and unlike every other 221.1 I've seen so far (and there don't seem to be very many on the 'net), mine does not have the little colored mode indicators above and below the slide switches (which control ribbon color and tab set/clear) on either side of the keyboard.

I was expecting a 221 model, but it turned out to be a 221.1. (Not sure what the difference between them might be: web searching did not turn up an answer to that.) This was purchased over a well-known online auction site, and there was no picture of the rear badge, but the seller turned out to be a typewriter collector herself (not on here: I asked), so it was a worry-free purchase. Indeed, it arrived safely, properly packed, and exactly as described. (Most of the pictures included in this gallery are lifted from her advertisement: she did a nice job showing it off!)

This one is in very close to new condition. It's clean – hardly seems to have been used – and fully operational. The only minor deficiencies are a missing screw on the rear cowling, the return lever is slightly sticky, the margin release button is a bit finicky, and the flip-up paper support's detent spring needs some re-forming. All should be straightforward to correct.

Mark was correct: this is a very comfortable machine to use! The feel of both keyboard and controls are snappy and light, and I anticipate this machine is going to get some use. It has a strong spring, so tabs are gratifyingly responsive.

As others have mentioned, it has an unusual control on the side that releases the platen grip and raises the paper bail. That doesn't necessarily make it easier to load a single sheet but might be useful when loading a extra-thick paper medium. Simply feeding a sheet into it (with 24# paper) does not quite clear the paper rollers unaided, but that's okay. The other controls and movements seem precise enough.

What I did not know and came as a surprise is that this is yet another typewriter with its own implementation of "magic margin": pressing the two front most buttons on the top left or right of the carriage allows shifting the corresponding margin with the carriage. Pressing one of them snaps the margin to the current typing position, much like a Royal Magic Margin or the wonderful Hermes 3000 mechanism. I may be wrong, but I believe I've seen this type of mechanism only on those, this, and a Voss typewriter so far. (Though nothing compares to the H3K's wonderful red margin ribbons built into its paper bail.)

I'm having some difficulty dating this typewriter. According to the serial number database entry, the first digit indicates the year and the next three the model. Looking across all of the Consuls currently in the TWDB, this seems to bear out, with "196x" or "197x" being inferred. The first digit on mine is "1", which seems to indicate 1971. (The literature that came with it is dated 1968.)

Here's my difficulty: looking at 20 or so typewriters here across several Consul models, the last 6 digits of the serial number seem to increase (in nearly all cases) with the year of manufacture. Mine has "117065", which appears inconsistent with that convention. Here are the other 221(.1)s, for example:

1966 Consul 221 023106
1967 Consul 221 033989
1967 Consul 221 063431
1971 Consul 221 106182
1972 Consul 221 103729
1972 Consul 221 107926

Why is mine:

1971 Consul 221 117065?

The final 6 of other models seem to "behave" in sequence, but we do see some deviations from strictly increasing serial number segments in more recent years:

1973 Consul 203 207269
1975 Consul 224 119189 (Model 224 or 2224?)
1988 Consul 222 407777 (Model 2223)

My typewriter (and its literature) is marked as being made in Czechoslovakia, but perhaps it was made in a factory different than the others and used a different serial number series. Or perhaps the first digit was "set" in error, and mine is a more recently manufactured typewriter.

Insights into these apparent inconsistencies would be welcomed. Meanwhile, this one is a keeper!!
Typeface Specimen:

Links:
Photos: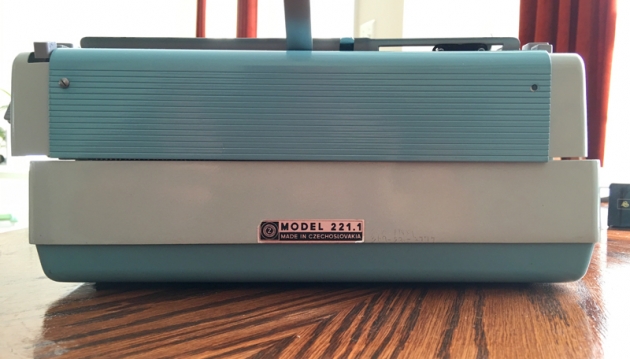 This wasn't in the ad, but it seems to be the only way I could find to identify it as a 221.1 vs. a 221.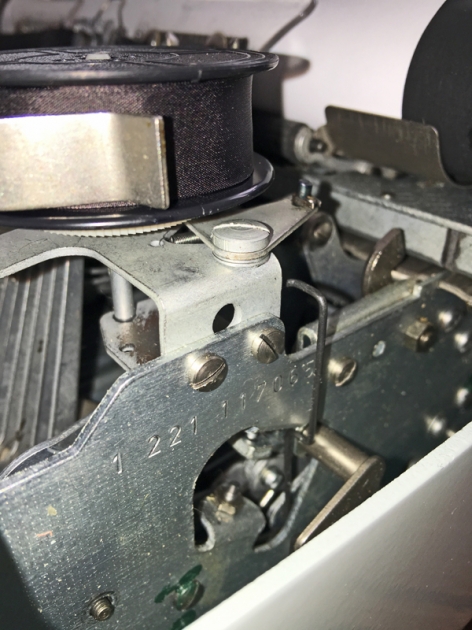 Here's the serial number that makes me question whether this is a 1971 typewriter or was manufactured a few years later.
This photo in the ad indicated the finish was probably in really good shape. (Picture provided by the seller.)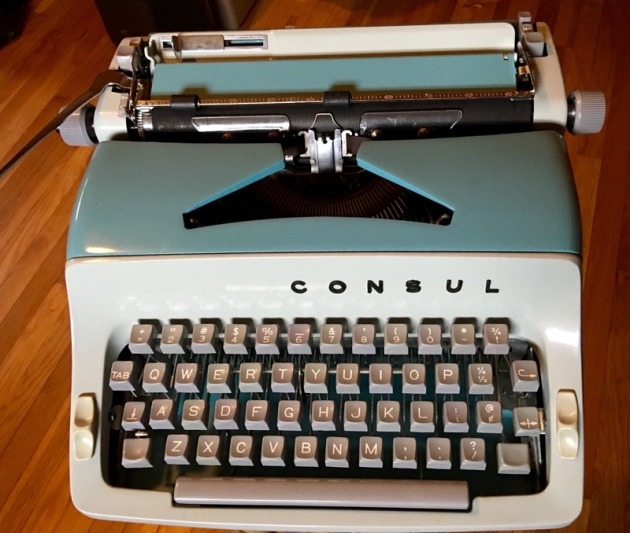 (Picture provided by the seller.)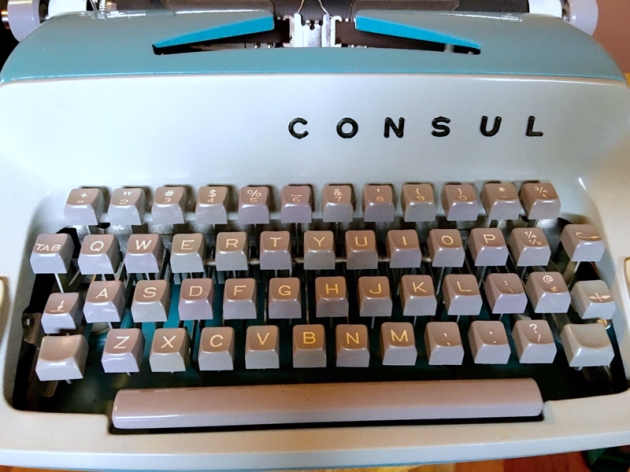 (Picture provided by the seller.)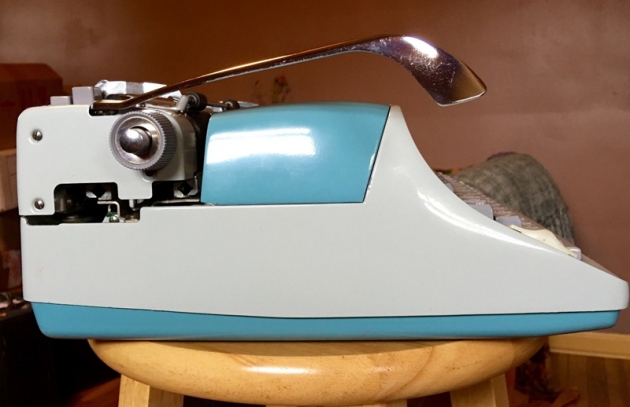 (Picture provided by the seller.)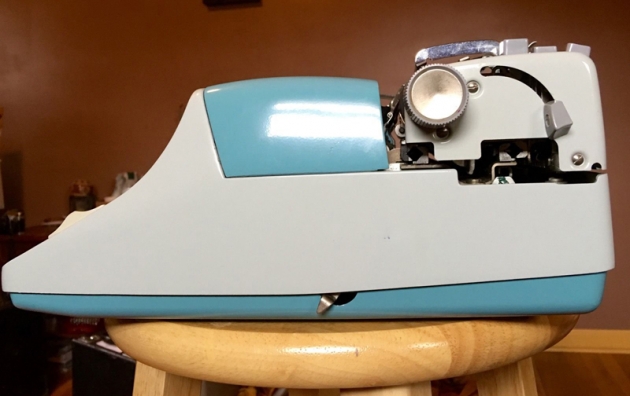 The large lever on the side can facilitate loading paper. (Picture provided by the seller.)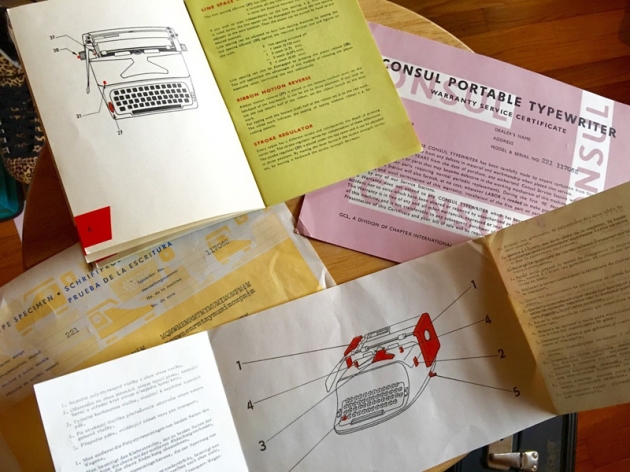 It came with this literature, including the small user's guide and the quality-control "sample type" sheet. (Picture provided by the seller.)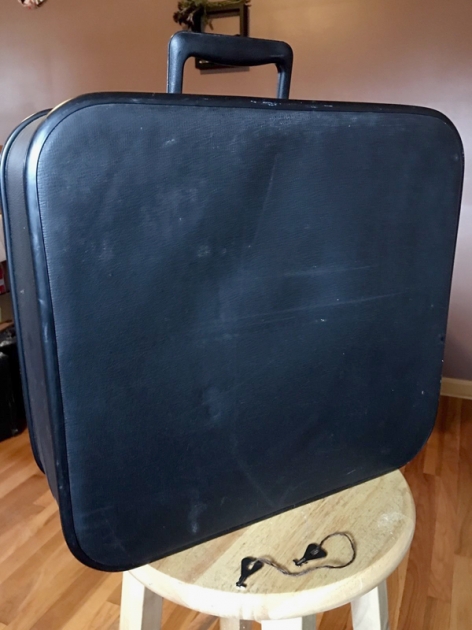 I'm trying to include the cases for these machines, when possible. (Picture provided by the seller.)
Hunter: Dan Johnson (rdj)
Dan Johnson's Typewriter Galleries [ My Collection ] [ My Sightings ]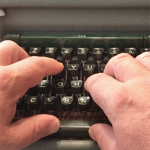 Status: Typewriter Hunter
Points: 935
I have always loved typewriters along with other kinds of well-engineered tools and devices such as slide rules, calculators (particular HP), radios, cameras (particularly Nikons), and microscopes. In addition to appreciating their intrinsic beauty and utility, they represent "things that need to be figured out to be understood". That's how I first learned about computers and programming in the 1970s, by figuring things out for myself. It's activity in which I never seem to tire of engaging.

Although communities have arisen around other collection interests, typewriters have the advantage that those who use them also typically enjoy communicating through words, whether those words are about the machines themselves or their lives, hopes, dreams, or expressions of beauty. There's much to be appreciated here.
---