1970 Hermes 3000 #7059106
Status: My Collection
Created: 11-17-2018 at 04:03PM
Last Edit: 02-27-2019 at 01:44PM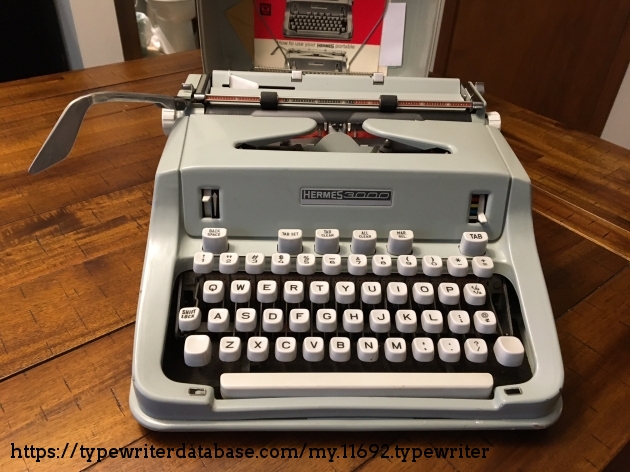 Description:
Ever since a most unusual day in about 1965, I've had a special relationship with the Hermes 3000. I remember going to a store (Easterday Office Machines in Racine, WI) with my dad for the purpose of buying a typewriter. This was surprising because it wasn't so common for 9th graders to use a typewriter for school work, nor was it usual for my dad to select the most expensive version of something that wasn't absolutely needed for serious work. But we bought a series 1 Hermes 3000 which must have been quite expensive. I recall that they had the "new model" (series 2, like this one) but it was costlier still, and I think we both liked the older model better anyway (it seemed endearingly odd, even then), especially if it was less expensive. I used that Hermes for my high school homework, my college research papers and over 100 pages of Master's thesis and incorporated typed text into many new musical scores. And it was what I understood a typewriter to be. But after many moves through all the country's time zones, it was lost somehow. And I've wanted to experience the feel of that machine ever since I realized it was really gone. Because typewriters possess such a quality of permanence, they can function as time machines, triggering normally inaccessible memories for anyone who ever has constructed and expressed creative ideas through a similar machine.

This Series 2 machine came to me in a very pedestrian way (an ad seen on Facebook), but arrived with serious damage. Because it had an unusually beautiful font, I made an effort to keep it and receive an insurance settlement which required an official estimate from a typewriter repair shop, which (to my surprise) I managed to find (Jones Typewriter Co., in St. Louis). Inside the cover, I found the original receipt of purchase by "Miss Althea Karr" (from University Typewriters on Harvard Square) as a brand new machine ("with Director font"*). Miss Karr was a visual artist and educator in Cambridge and Gloucester and also lived for many years in Rockport, MA; she died, at age 94, in 2018. (She had also tagged the case with a large pastel (oil) pencil version of her familiar artist's signature.) By the time I received the insurance settlement, and after paying for the repair work, this machine cost me under $50, which is really about what I could afford (and the reason I don't expect to find an affordable series 1 machine). After almost a half century, it is no longer in "mint" condition. The tab brake makes a slight purring sound, and there are a few dings and some rust on the bottom back (maybe from the many years of salt air on Summer Street in Rockport, MA). But it types a beautiful page and has a unique feel that triggers many memories. It feels like home to me.

* full name of font is "Director Special Pica."
Typeface Specimen: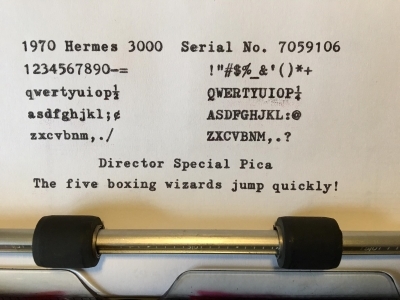 Photos: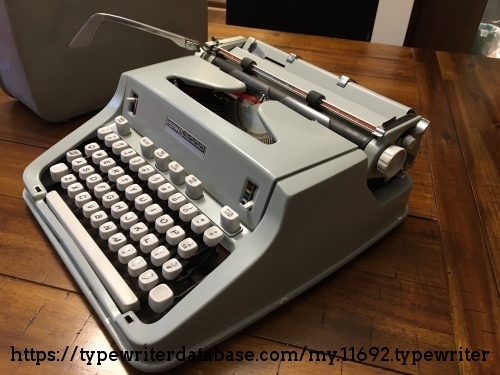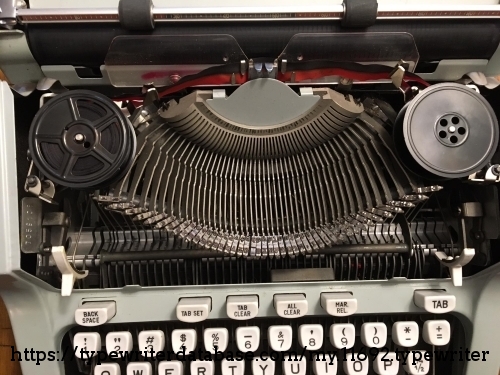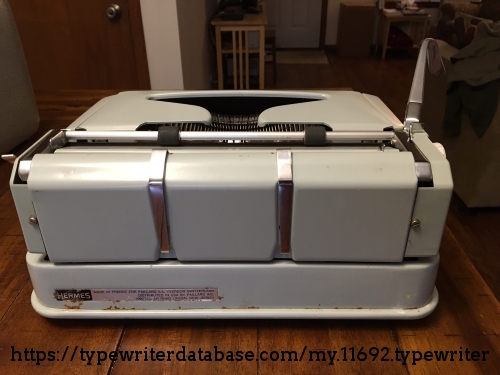 Althea Karr's artist signature in oil pencil on the case
Hunter: Paul Seitz (pstype)
Paul Seitz's Typewriter Galleries [ My Collection ] [ My Sightings ]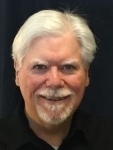 Status: Typewriter Hunter
Points: 234
After too many rapid cross country moves, I realized suddenly that my c. 1964 Hermes 3000 was missing - lost or stolen at some point in a move. I'd bought that machine new from a shop as I entered high school, did all my homework on it, typed all my college research papers and my Master's thesis on it, but gradually used it less and less over the years. Still, the sudden realization that it was gone felt like a really significant loss, which puzzled me. Wondering why I was so moved by the loss of something I hadn't actually used in years, I began to get more and more interested in typewriters and the many layers of stories each seems to accumulate. I started to learn a little - just enough to have a chance to find some good machines that I can afford, as I gradually try to understand the (apparently, important) place of the typewriter in my soul.
---