1960 Voss ST 24 #177472
Status: My Collection
Hunter: Dan Johnson (rdj)
Created: 04-01-2016 at 09:00AM
Last Edit: 09-13-2020 at 01:35PM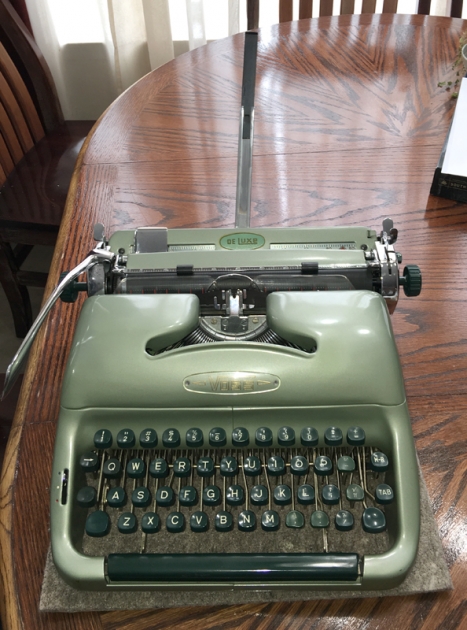 Description:
I was transfixed by the photo of the type bars in the ad that showed this typewriter to have a small-caps typeface. It seemed to be in great shape as well, so I decided to pursue it.

Evidently, this typeface is known as "Double Gothic", but unlike its cousin on Olympia, this one is neither 12 nor 10 pitch but 11, and the characters themselves seem a bit "chunkier", which I like. (Finely-drawn fonts look too "sparse" for good reading to my eye.)

With some excitement, I posted an enlarged area of the type bars onto the Antique Typewriter Collectors group on Facebook where there was much positive and encouraging response. It was only after posting that picture that I noticed it also has math keys, which of course, served to intensify my interest.

This is an awesome typewriter. It arrived clean and completely functional. It's also my only Voss (so far?), and as you may see from some of the other typewriters in my collection, I am particularly glad to this one with specialized math symbols: square root, a few Greek letters, extra math operators like a grade-school "division" symbol, and other operational features that make "typing math" pleasant.

The designers ensured that several other, conventional characters could also be used in math expressions. For example, the slash ('/') is longer than normal, sized perfectly to continue the ascender on the "root" sign and to align perfectly with underscores (shift-6) for top line. The uppercase "I" is an unadorned vertical line – which can be used with the half-line platen advance to draw a solid vertical line, sometimes used as a "such that" symbol in math.

The "tab" setting and clearing control is unusual and convenient. There's a picture of this: an oddly-shaped button extending to the right of the carriage. To set a tab, one rotates the knob towards oneself. To clear, press the button into the carriage. To clear all tabs, position the carriage to the right margin then press and hold the button in while returning the carriage. It took a few minutes to figure this out, but it's probably the most convenient "tab set" mechanism I've used on a typewriter.


[Edit 3/2016 to add:] There is an extra lever beneath the platen knob that temporarily releases the catch on the line advance to allow precise positioning of a strike without disturbing the nominal alignment.

Meanwhile, pulling the platen knob all the way out allows the nominal alignment to be adjusted, and pushing the knob back in locks that positioning. Some other typewriters have momentary-press buttons coaxial with the knob. This Voss seems unusual in that this release is not momentary but remains released until the knob is pushed back into its normal position. (I've added a gallery picture to show these two controls.)

This combination of functionality makes sense for a typewriter being used to type mathematical expressions. The half-line advance is fine for most purposes (simple superscripts, drawing a continuous vertical line with uppercase "I", etc.), but certain complex math expressions with symbols spread horizontally and vertically may be easier to type without the half-line stop getting in the way.

One would expect half-line spacing on a math machine, but this non-momentary release allowing smooth and arbitrary platen movement is the first I've encountered. If only they had come up with a similar release for horizontal movement... (thinking about using capital "I" and hyphens or underscores to "type" square brackets, for example). Perhaps it's there, but I haven't yet discovered it... This is a wonderful machine!

Most of the pictures I've included in this gallery were taken by the seller. The main picture, the picture of the "tab" control, and the typing samples are mine, but the seller did a pretty good job with the rest.

----------------

There's an amusing story behind my acquisition of this machine.

Although its (online) sale could not be "consummated" until 2:30 a.m. local time, I was intent. In the evening hours leading up to that, someone posted a bid. I ordinarily would waited until the end but went ahead and posted an early bid of my own. Despite believing it makes a better world if we try to trust each other to do the right thing, I was concerned that the activity could have been from a "shill bidder", someone with no intention of obtaining the item but rather to nudge (or drive) its price higher.

The mystery bidder struck again shortly thereafter, exceeding my initial high bid. I decided to wait it out and withhold my intentions until the final seconds of the sale period. It was late, but my effort met with success.

I later learned that the "mystery bidder" was a fellow enthusiast who later voiced suspicion that it was me against whom he was competing, and he decided to "back off" on that assumption. What a kindness he did for me! We inhabit a community of truly delightful people. I hope that someday, I can seize the opportunity return the favor.
Typeface Specimen:

Photos:

Here's a quickly-typed sample of some math expressions.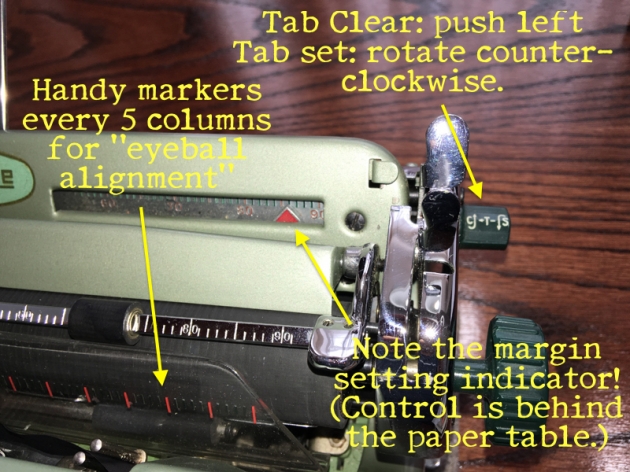 The "tab" set/clear button and various other convenient features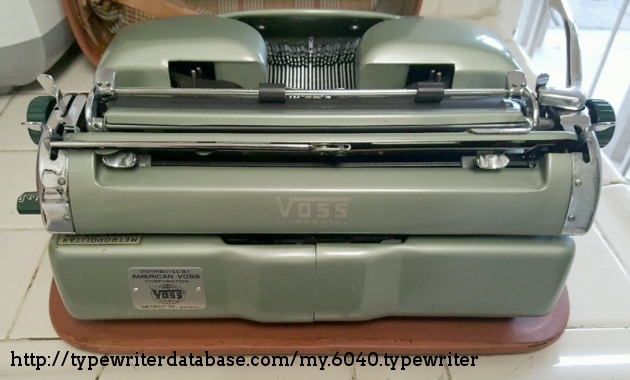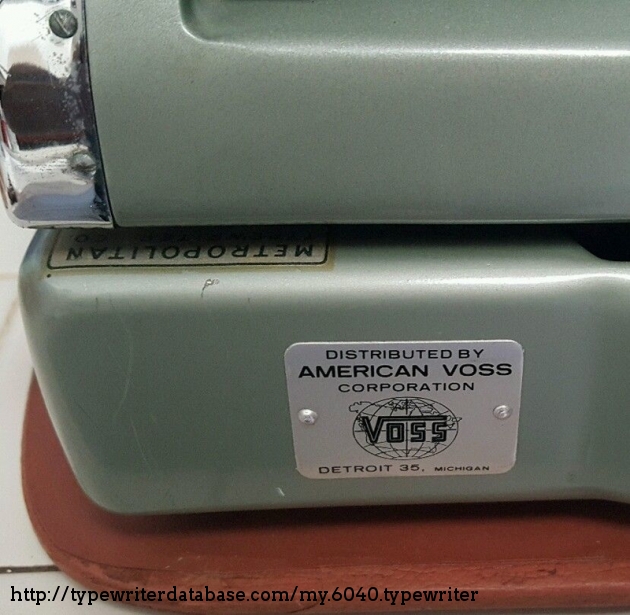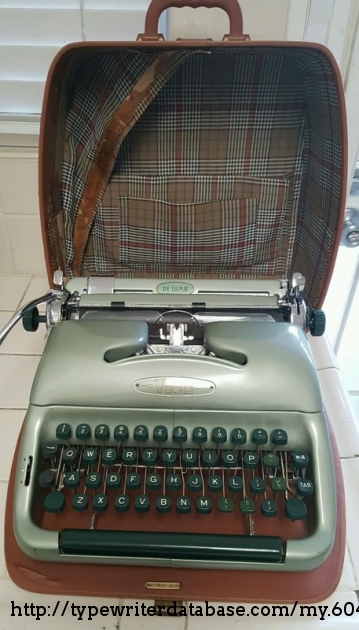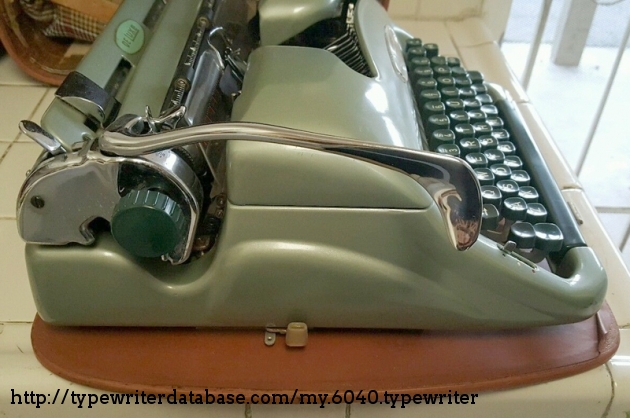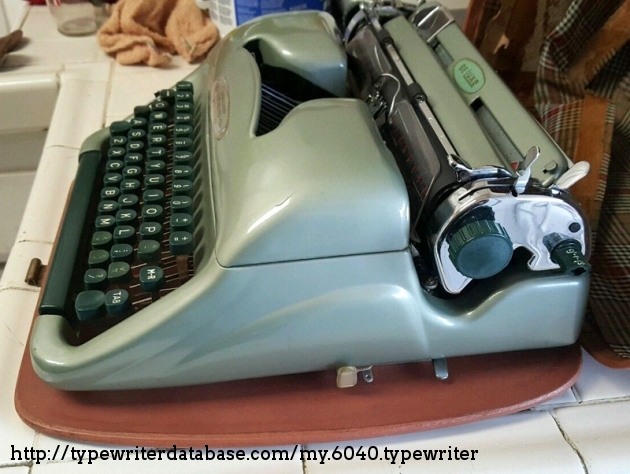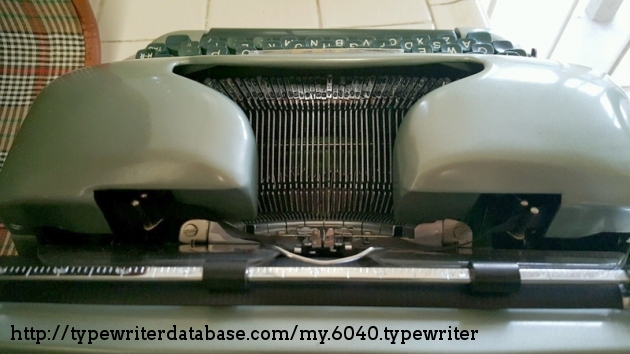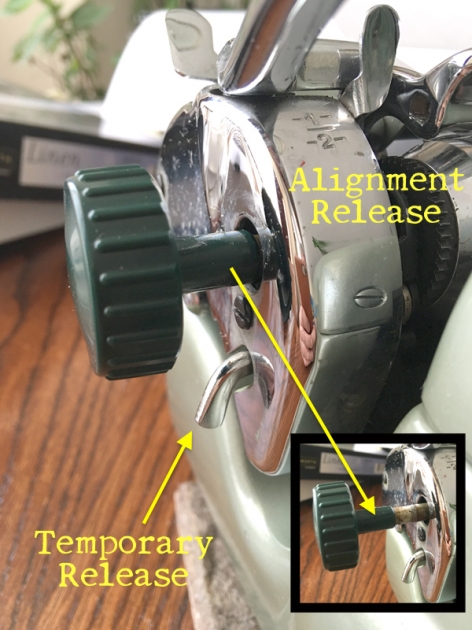 Note the extra lever beneath the platen knob that temporarily releases the line advance catch and also that the conventional release to align the page within the typewriter is not a "momentary" control. (See text.)
Hunter: Dan Johnson (rdj)
Dan Johnson's Typewriter Galleries [ My Collection ] [ My Sightings ]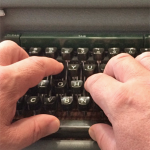 Status: Typewriter Hunter
Points: 935
I have always loved typewriters along with other kinds of well-engineered tools and devices such as slide rules, calculators (particular HP), radios, cameras (particularly Nikons), and microscopes. In addition to appreciating their intrinsic beauty and utility, they represent "things that need to be figured out to be understood". That's how I first learned about computers and programming in the 1970s, by figuring things out for myself. It's activity in which I never seem to tire of engaging.

Although communities have arisen around other collection interests, typewriters have the advantage that those who use them also typically enjoy communicating through words, whether those words are about the machines themselves or their lives, hopes, dreams, or expressions of beauty. There's much to be appreciated here.
---
RESEARCH NOTE: When researching the Voss ST 24 on a computer with lots of screen real estate, you may find that launching the Voss Serial Number page and the Voss ST 24 By Model/Year/Serial page in new browser windows can give you interesting perspectives on changes throughout the model series.
---