1954 Hermes 8 #8005267
Status: My Collection
Hunter: Hans Boersma (Java68)
Created: 11-26-2017 at 07:54AM
Last Edit: 05-23-2022 at 05:11AM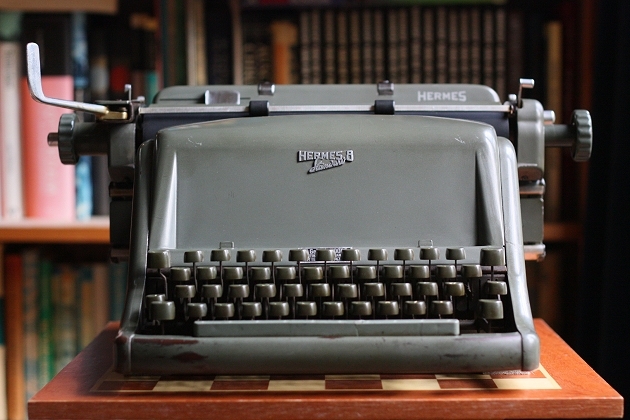 Description:
Built in Switzerland by Paillard S.A., Yverdon.

Dutch keyboard (qwerty), Hermes Director-Elite typeface (thirteen-pitch), three line-spacing settings, three-colour ribbon selector, keyset tabulator, 'magic' margin setting, margin release/typebar unblocking key, paper support. Weight: 10,5 kg.

If I were a typewriter... I would be a Hermes Standard 8.

Douglas Adams ('Hitchhiker's Guide to the Galaxy') had one of these, and when I saw a picture of it I immediately fell for its odd, now retro-futuristic design. The wide-angle lenses that have become standard issue on cameras tend to make it appear more extreme than it actually is, but the design remains remarkable enough. The coach work, with its combination of both curvaceous and boxy shapes that must appear quirky to eye of a present-day designer, reminds me of old Citroëns, in particular the Traction Avant and the 2CV.

There is a gap here, sometimes literally, between what the designer dreamed up and what eventually came rolling off the assembly line. Buxom body panels only go so far and at some point need to be mounted on the inner frame by more mundane and less elegant means: screws, nuts and bolts that require protruding tabs, flanges, rims. Some body parts are not attached to the frame, but to other body parts. There is a certain flimsiness, a certain crudeness about it that makes it hard to believe that the Standard 8 came after the Ambassador (1948) and not before. In fact, Robert Messenger notes in his blog (oztypewriter) that the Standard 8 was designed by Giuseppe Prezioso "in the 1940s", so perhaps its design indeed preceded the Ambassador.

The Standard 8 was in production from 1953 until 1965; in 1963 the Hermes 9 was introduced, which was reportedly the same machine under a new bodywork.

I had set my mind on a machine with the patented Hermes seafoam/mint green colour scheme, but this earlier version is what Lady Fortune was willing to grant me; the Standard 8 is hard to come by, at least over here. On the other hand I'm lucky once again in finding a machine with an unusual typeface — the smallest in my inventory, squeezing thirteen characters in an inch.

This machine was once used in the offices of Gulf Oil in my home town, Rotterdam. It had probably been inactive since the 1970s or '80s and it required a thorough cleaning, quite a bit of lubrication and some careful adjustment of the line lock and ribbon advancing mechanisms. The rubber of its feet had completely dried out and was now rock-hard; I improvised new feet from thick pieces of wool felt, which also provided some welcome sound-dampening — this is not the quietest of writing machines. The almost threadbare spacebar was broken in two, but that was easily fixed with some super glue.

The unusual vertical carriage rail assembly, with ball-bearings, has the smoothest operation I have yet encountered; it even outsmoothes the Facit T2 tube. Also unusual, apparently, is the dual-segment design that should keep the typebars well-aligned. In his article (see links) Will Davis notes that the Hermes Standard 8 has a "quite stiff" key action, but this is not my experience. It should be noted however that the machine he describes is a later version (1965) incorporating a touch regulator; it might also be that mainspring tension plays a role here. As I have found with other machines, lowering the mainspring tension makes for a lighter key touch.

This charming, somewhat ragged Hermes may well be my last acquisition: my dedicated typewriter shelving unit is now full, the machine park complete. With 119,8 kg worth of typewriters I should be able to get some correspondence done.

Hans Boersma
Typeface Specimen:

Links:
Photos: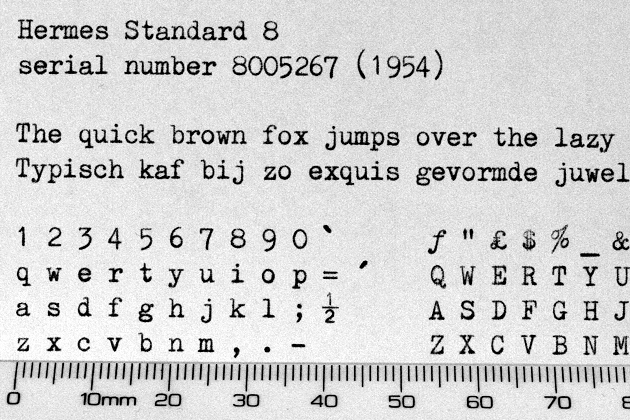 (oztypewriter.blogspot)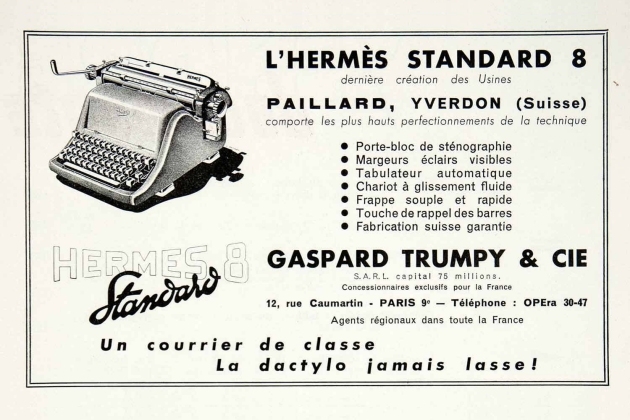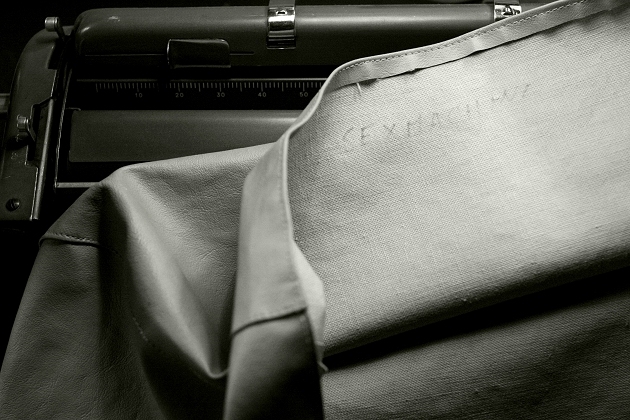 The inside of the imitation leather cover: I'm clearly not the first one to appreciate her curves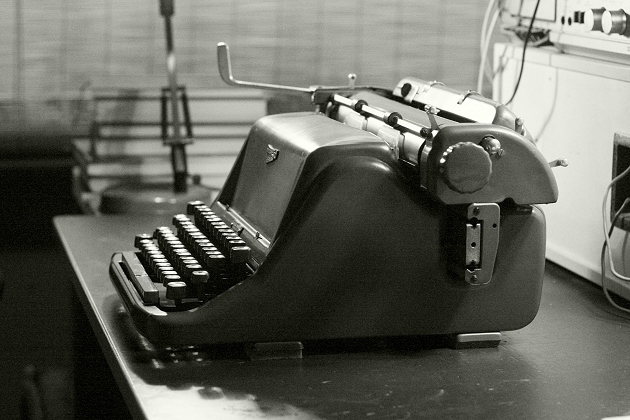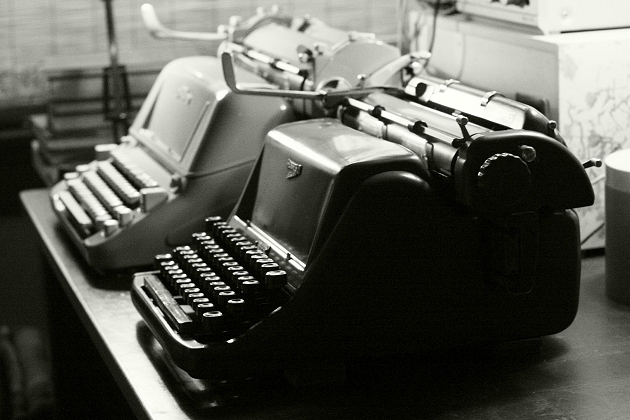 With 1962 Hermes Ambassador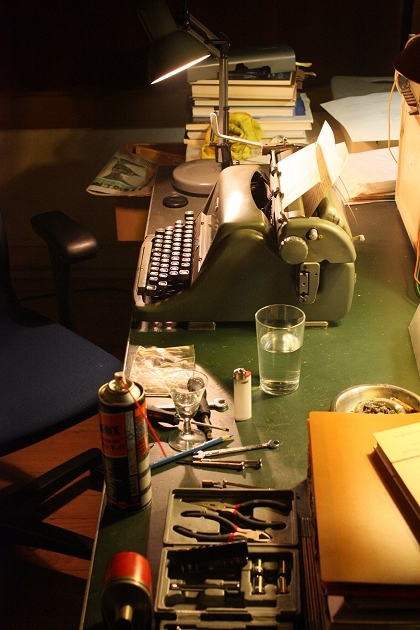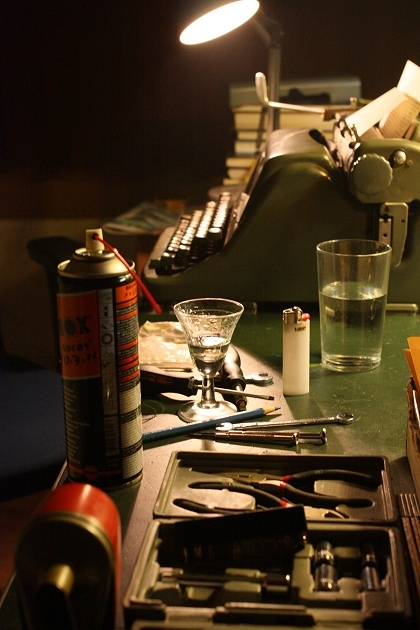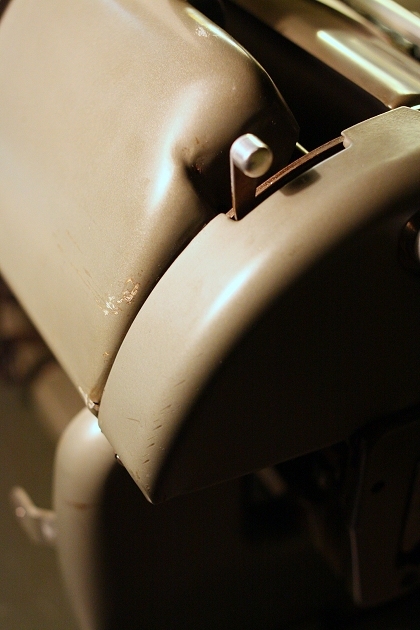 Old-style Citroën bodywork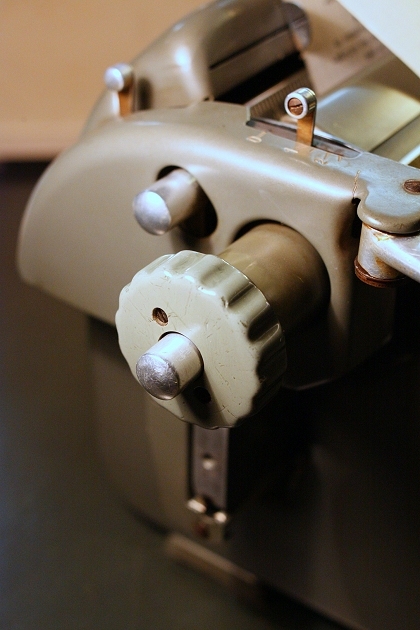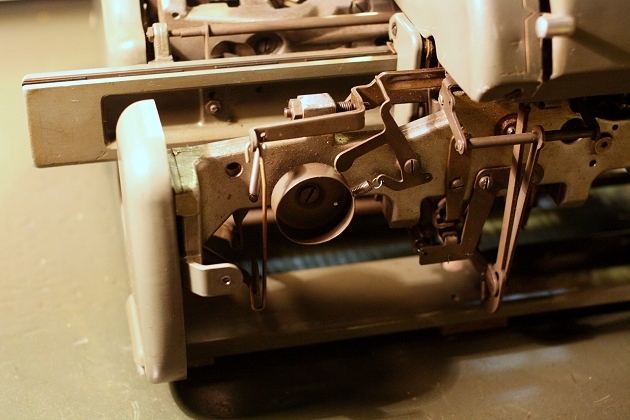 Above the bell the second line lock stop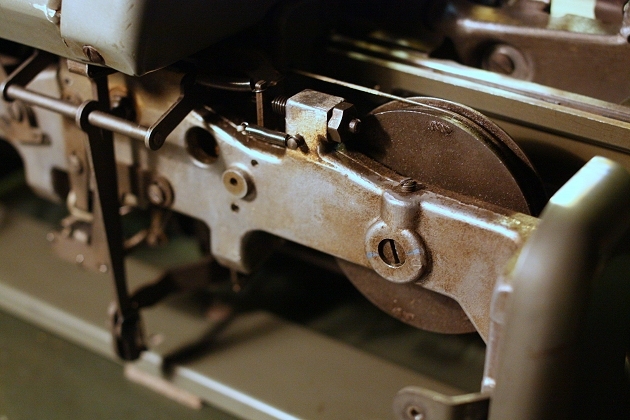 The mainspring wheel, under the carriage. To its left the stop that, together with another one on the other end of the machine, sets the line lock (see next image)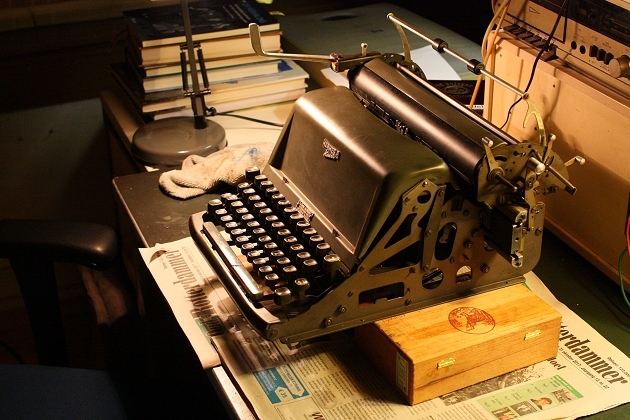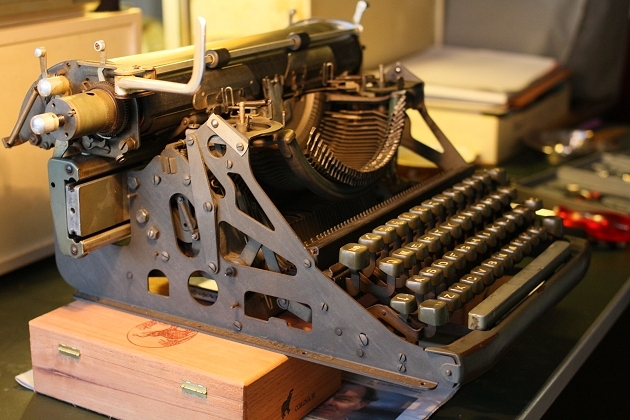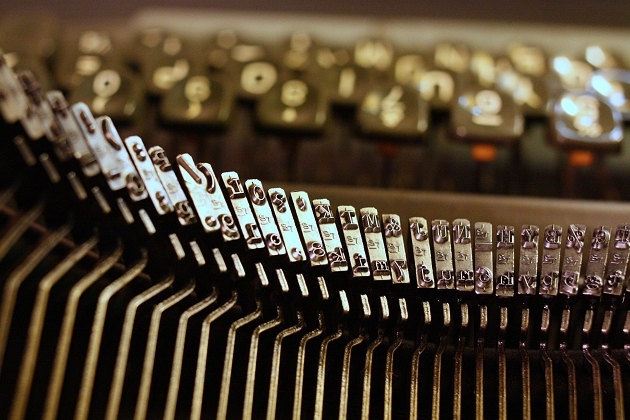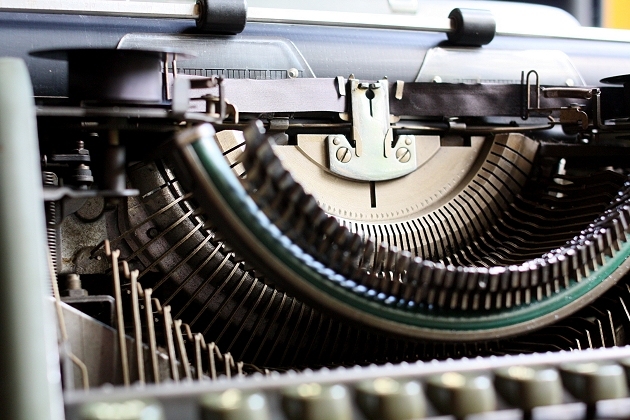 Dual segment: note the second ring with slots for the typebars/typebar levers below the regular one above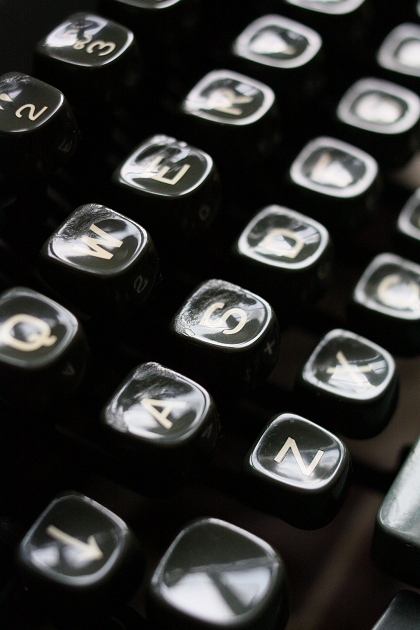 Marks left by secretarial nails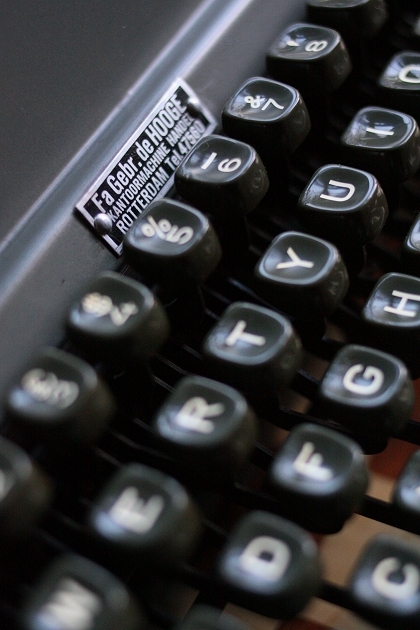 Fa Gebr. de HOOGE KANTOORMACHINEHANDEL ROTTERDAM Tel. 47560 [De Hooge Bros. Co. Office Machines, Rotterdam]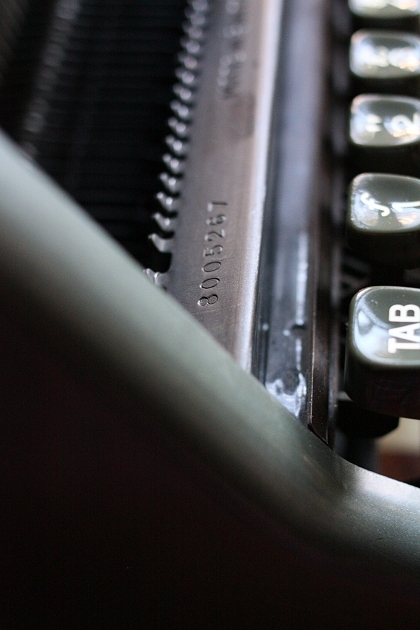 8005267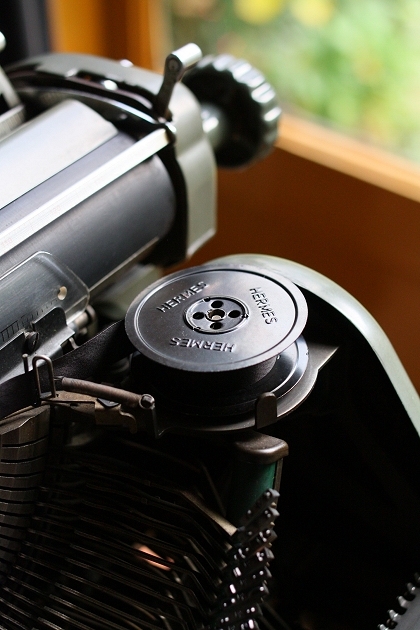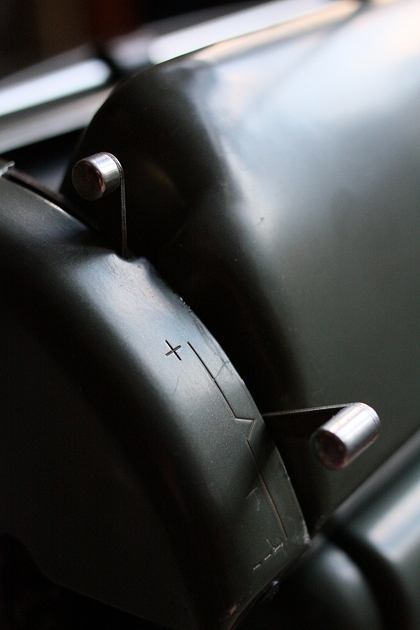 Tabulator setting lever; above it the right hand 'magic' margin setting lever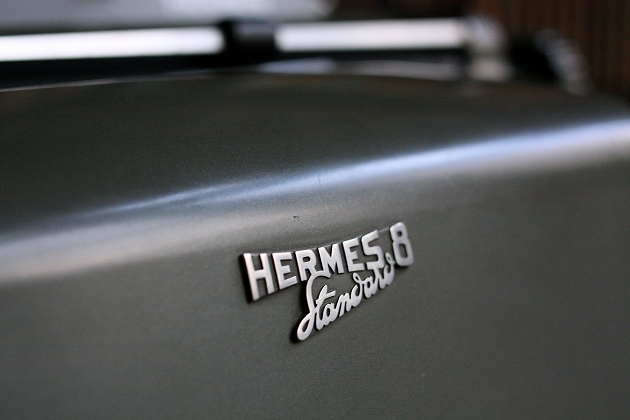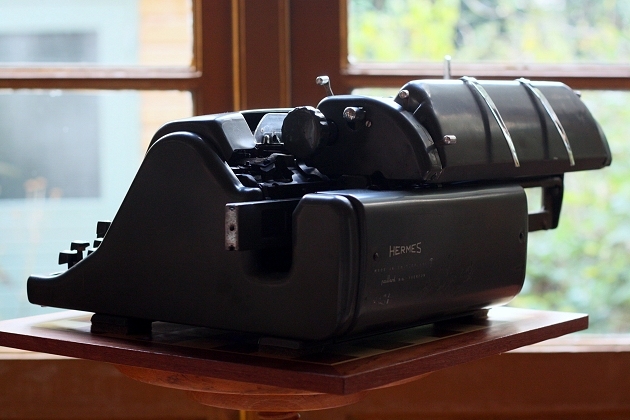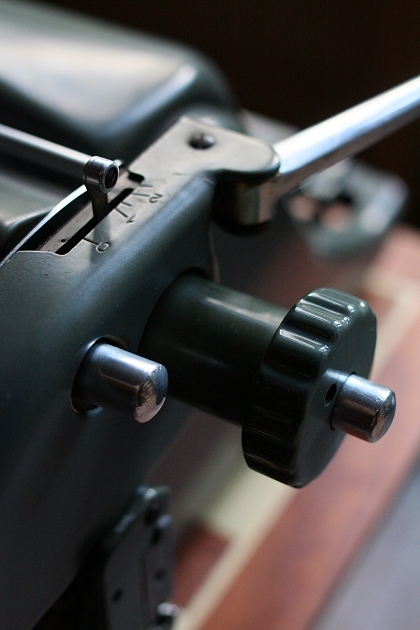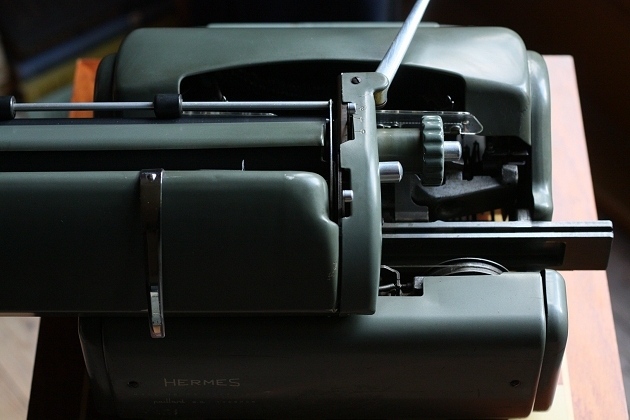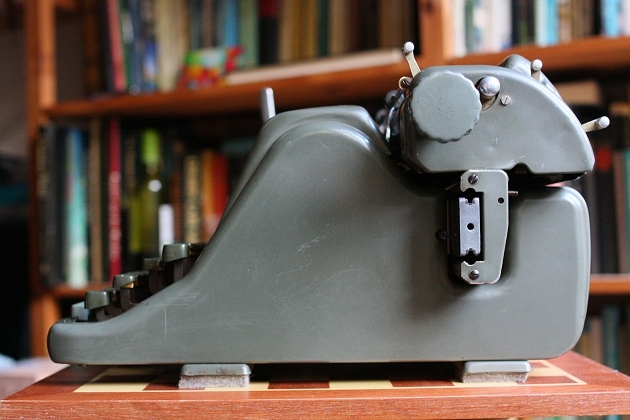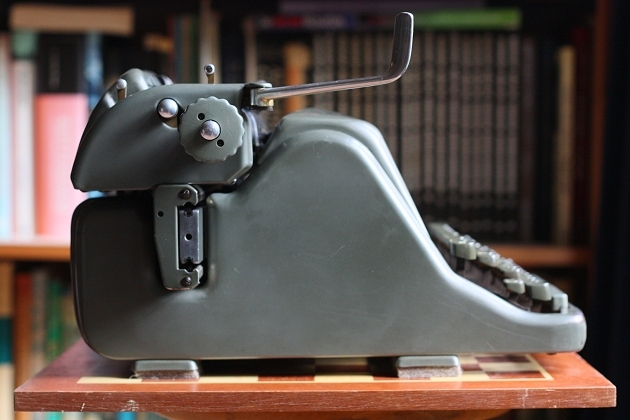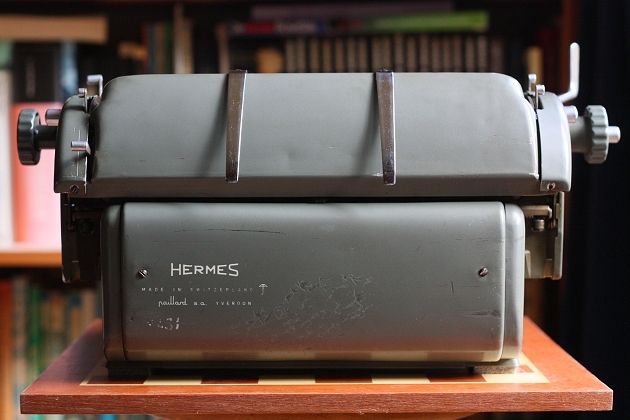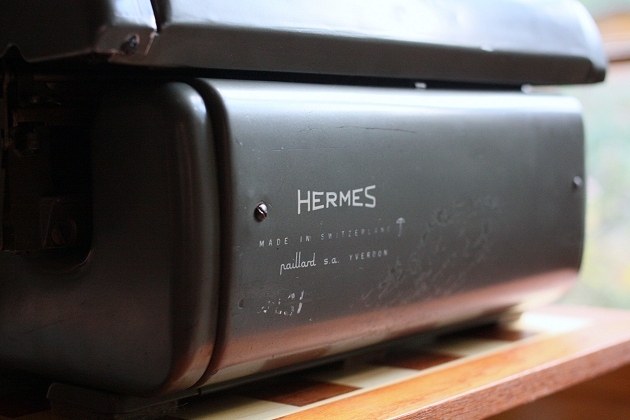 In the lower left corner of the back panel are the remnants of an office/company registration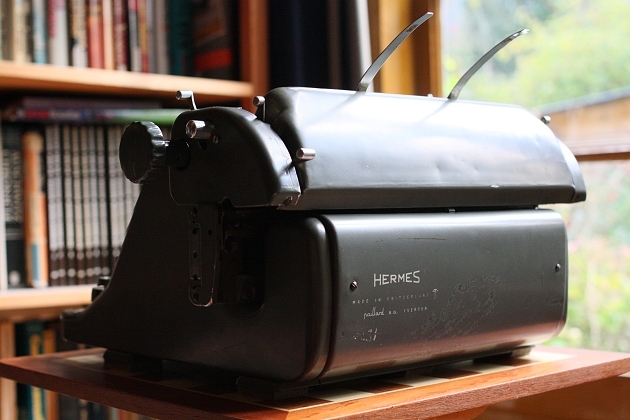 Paper supports extended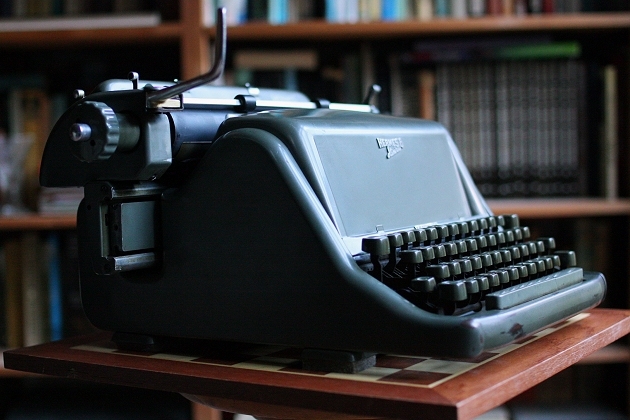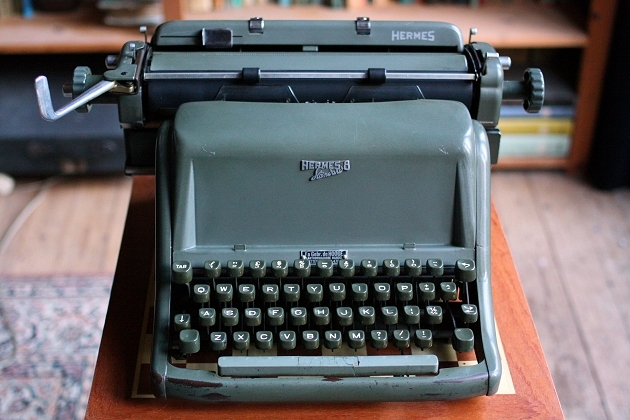 Hunter: Hans Boersma (Java68)
Hans Boersma's Typewriter Galleries [ My Collection ] [ My Sightings ]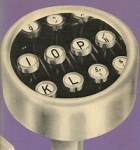 Status: Typewriter Hunter
Points: 580
I'm not really a hunter, or a collector. Well, I try not to be anyway. Typewriters should be used IMHO, and how to choose from an increasingly anonymous multitude? There is much to say for having just one typewriter, and sticking to it. But then again, there are so much beautiful and interesting typewriters out there, all with their own character and historical backgrounds... So I refer to my modest collection as "the machine park" and do my best to keep it from becoming a multitude. I decidedly favour standard-size typewriters: large office workhorses that throw their considerable weight behind your labours. Nicely over-dimensioned machines with a more than agreeable keyboard touch and a business-like appearance, ready for any job. I enjoy looking at "typewriter porn" on sites such as these, which provides an adequate substitute to having a larger collection. So... thank you for showing me yours!
---