1918 Corona 3 #172639
Status: My Collection
Hunter: Dan Johnson (rdj)
Created: 05-26-2014 at 07:59AM
Last Edit: 03-22-2015 at 01:27PM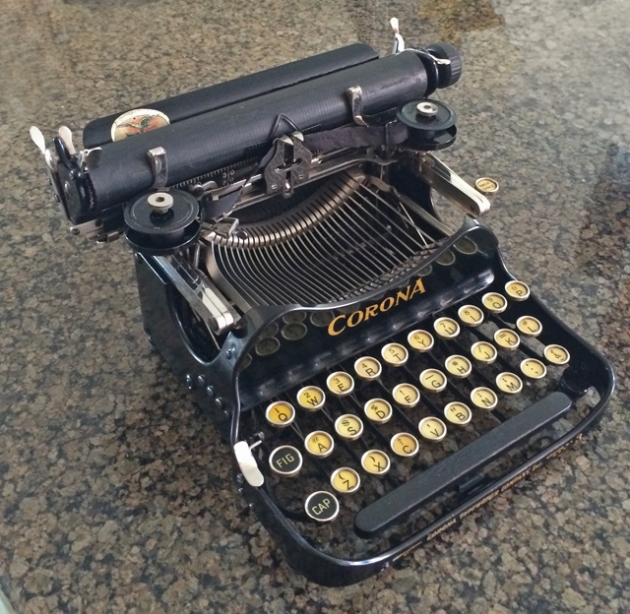 Description:
This is now the eldest machine in my collection. I bought it off eBay within 5 minutes of its being listed, mainly because it carried this in its description: "circa 1913-1917 Corona portable typewriter... is in good condition, and everything works, as far as I can tell. I typed Company notes on it at a State Fair here in Indianapolis, as part of a display for the 150th Field Artillery. Prior to the event I cleaned the item to present well. The typewriter sat on the desk and was purportedly used by the troops (Company Clerks) overseas in WW1."

I was not disappointed! Other than a few typebars sticking, everything on this machine seems to be intact and perfectly functional, and as I do generally prefer smaller typefaces, this one's 12-pitch typeface is appropriate for its size. As is now my custom, I had asked the seller to pack it with crumpled newspaper inside its case as well as outside. This thing is built like a tank, so it might have survived without the internal packing. It is so small that I can hold it up and rotate it in mid-air with one hand.

This has the FIGS and CAPS shift on only one side as most others in the TypewriterDatabase do. This is not a good machine for touch-typing, and I hesitate to "become good" at using it lest my fingers become accustomed to its odd means of typing letters and symbols. Typing on it seems more intimate than most others, perhaps because of its diminutive size, or perhaps because the process must proceed much slower than on traditional keyboards. It's also rewarding to simply sit and gaze at it.

This one may not position my collection anywhere near the "beginnings" of typewriterdom, but it does satisfy my curiosity about these earlier machines. It does cause me to wonder, however, why typewriter manufacturers seem to have abandoned the "folding" configuration. The later, flatter portables do seem easy enough to transport, but there should have been some continued appeal to the more compact width and height of this design. Perhaps the trade-off of added weight in the folding design resulted in its extinction.
Typeface Specimen:

Photos: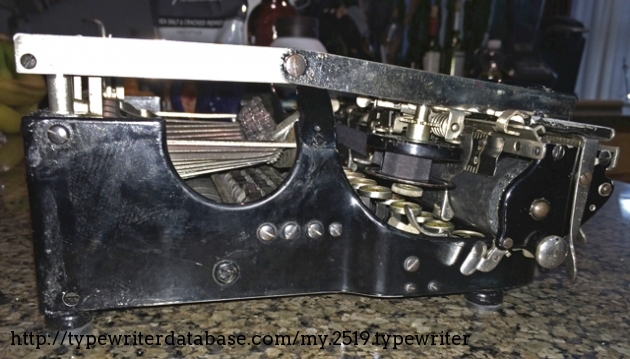 Side view with typewriter "folded" for transport.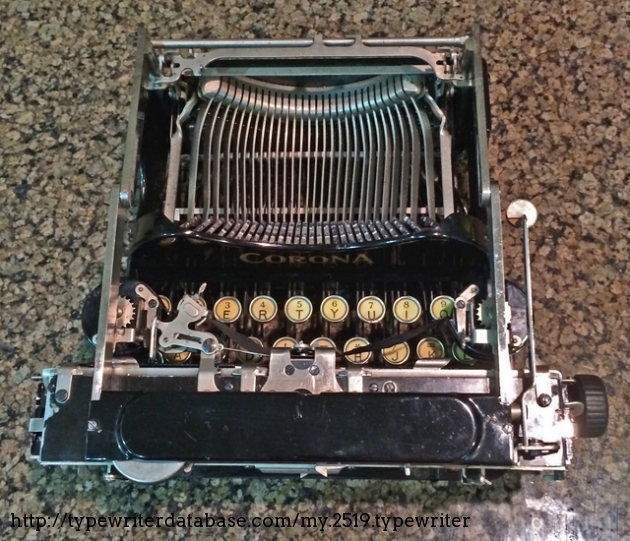 Top view, "folded" for transport. Note the absurdly long "backspace" lever that extends up the right side.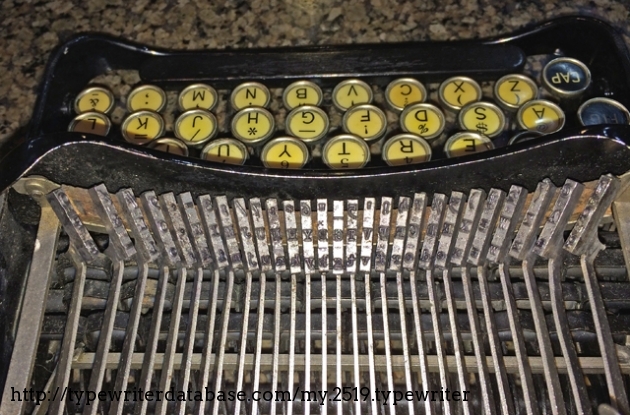 The type slugs have three rather than the conventional two glyphs per typebar. This is a carriage-shift machine, and the magnitude of the shift for "FIGS" makes it look a bit silly when one is actively typing on it!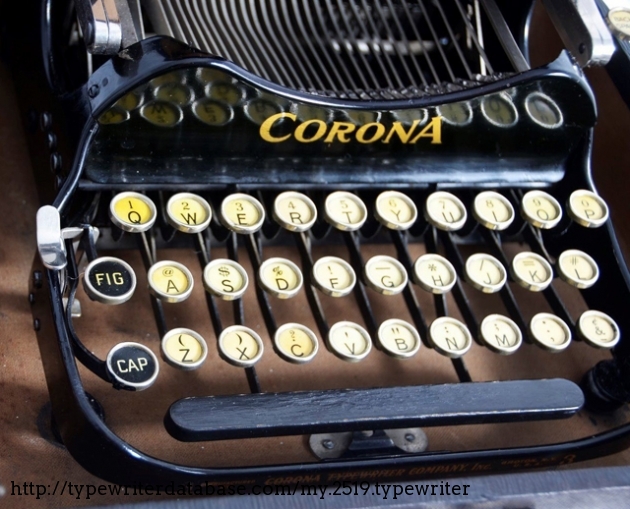 The reflection of the keys is a great way to assess how well the paint job has held up over time.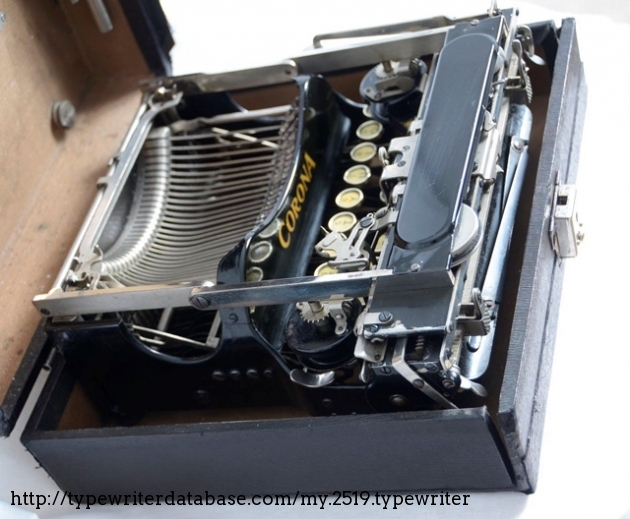 The arms that articulate the folding action are solid and will likely survive a second century.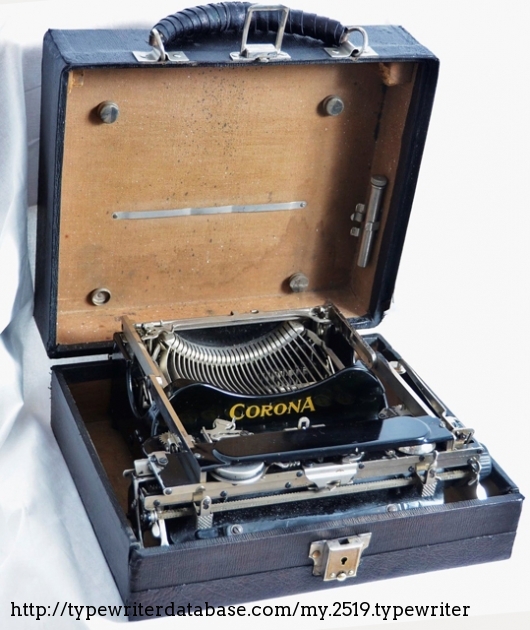 The tube clamped into the lid seems to be an "oil can". I'll post a picture of it so you can see it more clearly.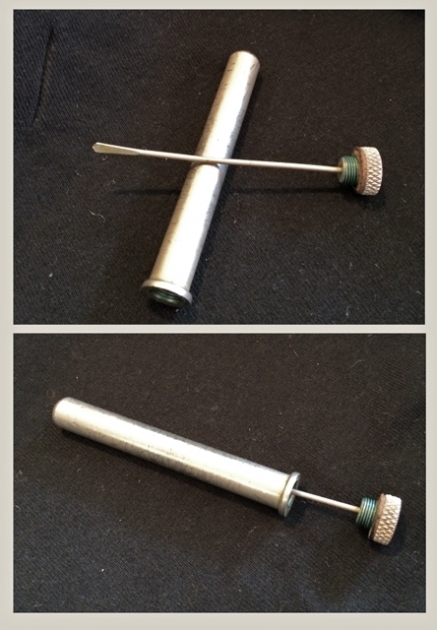 Here are two views of the "oil can" that can be seen clamped into the lid of the case. It should be difficult to over-oil anything using this.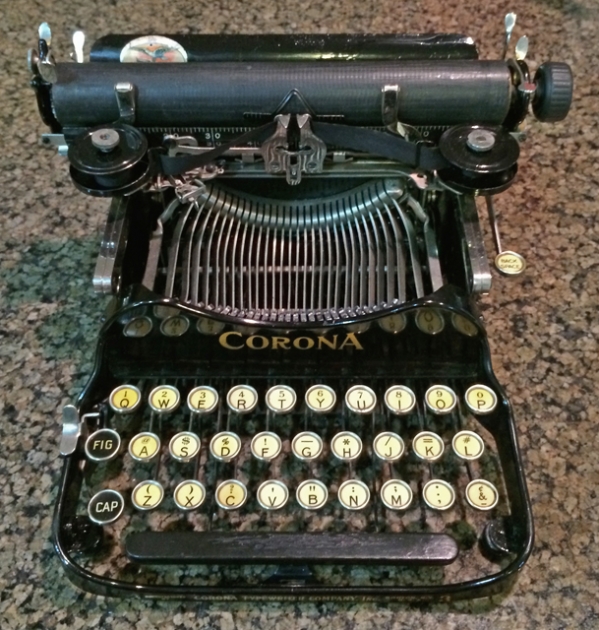 The front view doesn't do its cuteness justice!
Hunter: Dan Johnson (rdj)
Dan Johnson's Typewriter Galleries [ My Collection ] [ My Sightings ]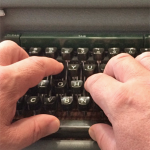 Status: Typewriter Hunter
Points: 935
I have always loved typewriters along with other kinds of well-engineered tools and devices such as slide rules, calculators (particular HP), radios, cameras (particularly Nikons), and microscopes. In addition to appreciating their intrinsic beauty and utility, they represent "things that need to be figured out to be understood". That's how I first learned about computers and programming in the 1970s, by figuring things out for myself. It's activity in which I never seem to tire of engaging.

Although communities have arisen around other collection interests, typewriters have the advantage that those who use them also typically enjoy communicating through words, whether those words are about the machines themselves or their lives, hopes, dreams, or expressions of beauty. There's much to be appreciated here.
---