1908 Pittsburg 11 #32343
Status: My Collection
Created: 06-02-2018 at 04:18PM
Last Edit: 10-20-2018 at 10:10PM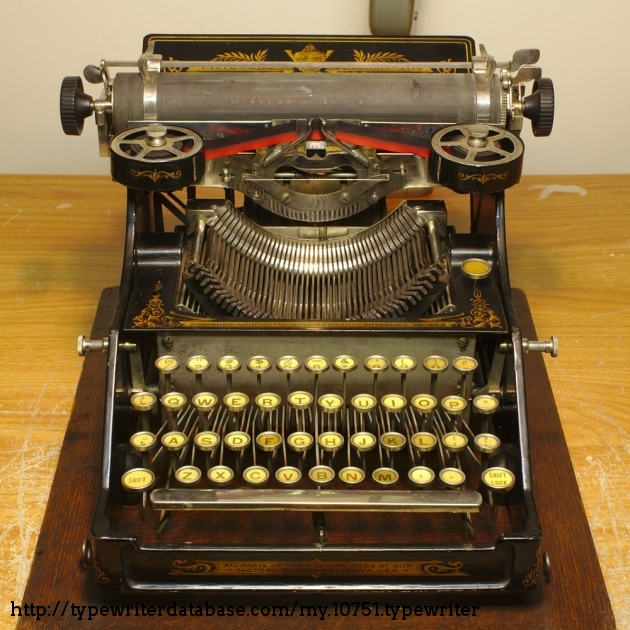 Description:
A descendant of the first fully-visible typewriter, the Daugherty. Like its other siblings, the type basket comes right out for easy changing of fonts or languages. This particular machine's serial matches that of its basket's. It also has its (quite dented) lid.

The No. 11 seems to have been made in two versions. Older 11's (like this one) have one lone Shift key on the left, one lone Shift Lock key on the right, no proper carriage return lever, and utilize the old "giant cog" escapement design of the No. 10 and predecessors. The newer No. 11 has a Shift key on both sides, a little Shift Lock on the left, a carriage return lever, and what appears to be a more compact escapement design. These improvements on later No. 11s became standard across the succeeding No. 12.

No typesample yet as this machine still has trouble typing; its typebasket sits a hair too high and can't release the escapement properly.

It's full proper model designation as printed on the machine is "Standard No. 11", but I left it as just "11" in the database for easier sorting.

Finally, it's worth noting that this machine apparently falls into a serial number black hole - the 1908 serial numbers are listed as "up to 30000", while the 1909 numbers start at 32500; this machine is number 32343 and doesn't qualify for either year!

UPDATE: 20181021: Won the beauty contest at Herman's 2018!
Typeface Specimen:

Photos: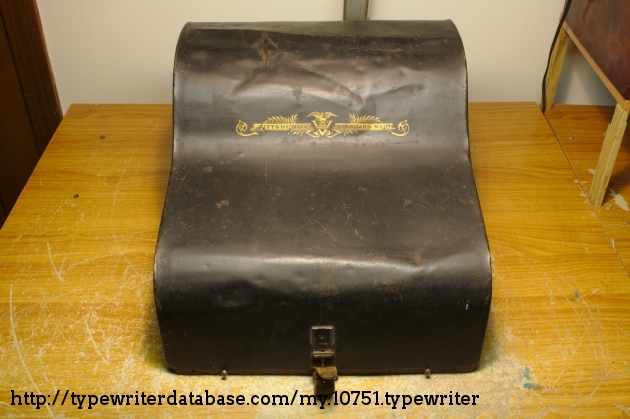 Like many of its contemporaries, this typewriter comes with a case that's little more than a glorified dust cover.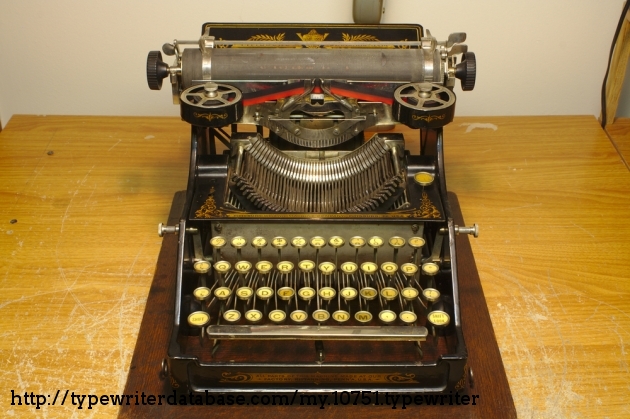 Beneath the lid sits the machine in all of its Art Nouveau glory.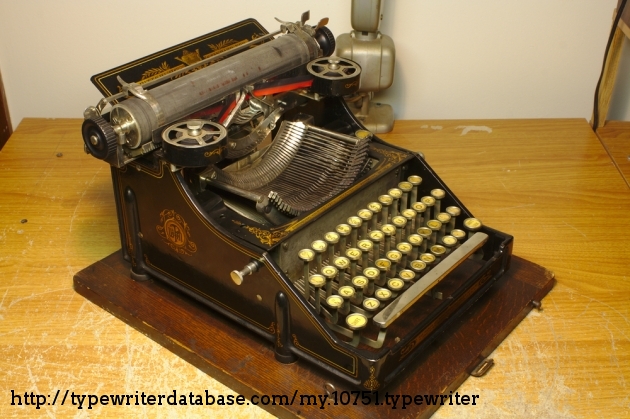 The machine features vivid pinstripe detailing and decals all over.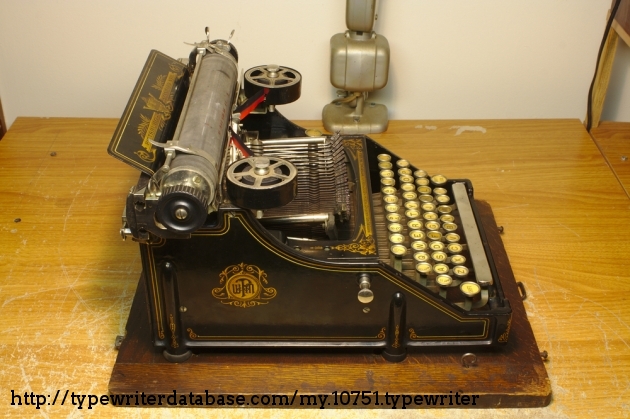 Even after 100 years, the decals are still vibrant! The plunger on this side is the backspace button.
Pinstripes run along the entire border of the typewriter.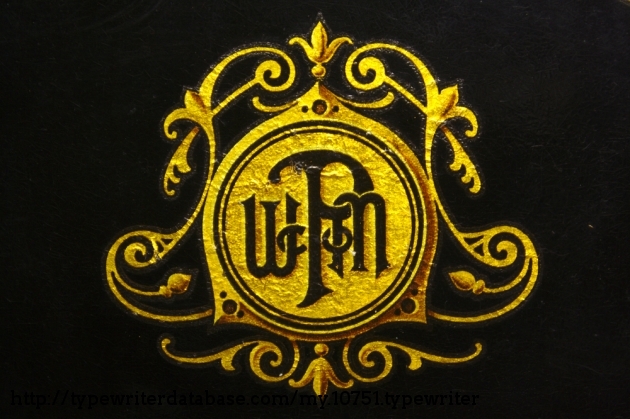 Probably one of the most ornate logos of its time.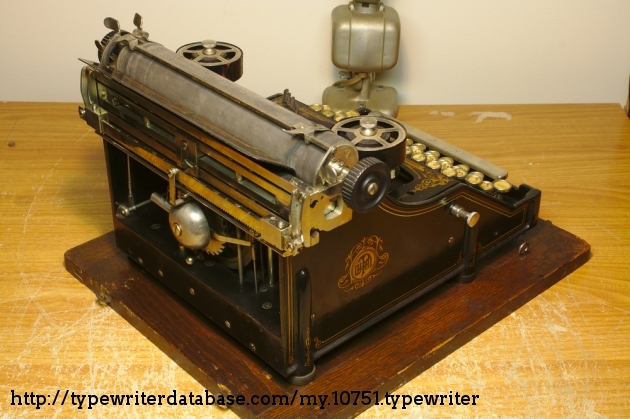 Turning further reveals the left and right margin blocks, bell, and the small carriage release lever.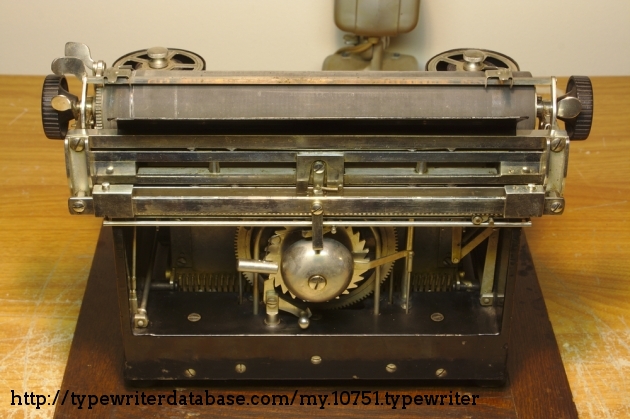 Nearly all of the mechanisms on the rear here are nickel plated. There is still some tarnish but all of the plating is physically intact.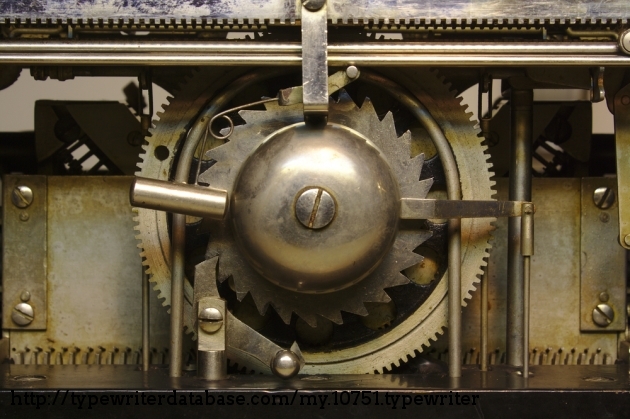 Instead of using a drawstring like nearly every other typewriter, this machine has a very simple direct drive system comprised of one giant gear attached directly to the escapement wheel.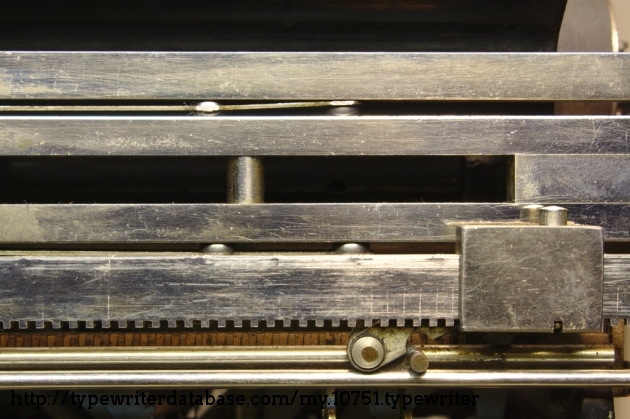 The margin blocks on the back are in perfect working order; it only needed a light cleaning to restore the functionality and shine.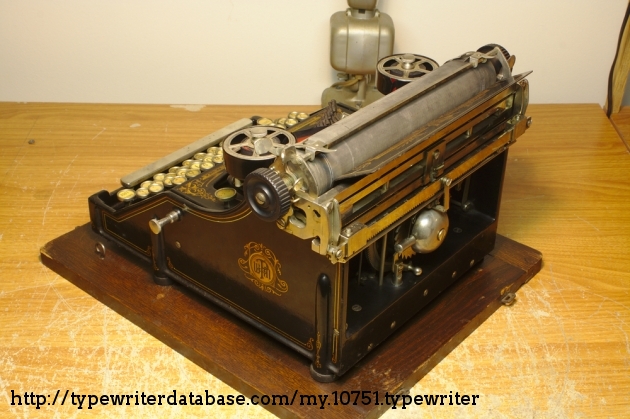 The line advance and paper release levers are found on this corner.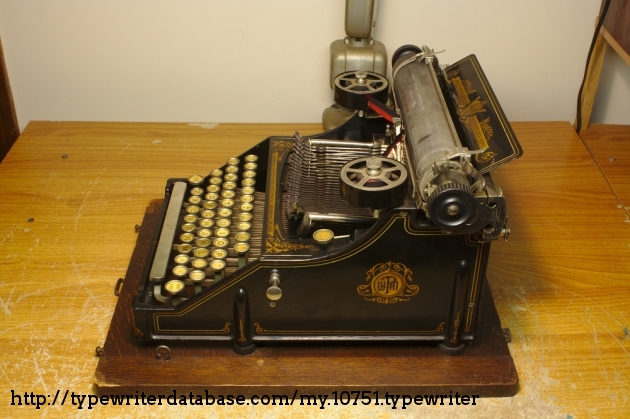 This side is just as vibrant as the left. The plunger here appears to be a primitive Tab button, though I'm not positive.
Upon is wooden bed it sits, awaiting an operator.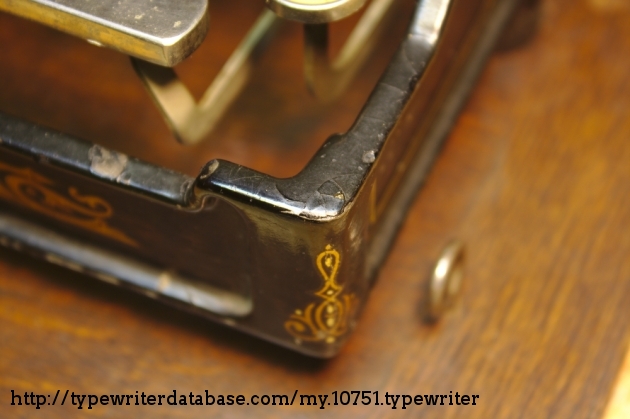 This typewriter survived shipping in one piece but did take a couple hits - the enamel on this corner had largely flaked off, but I was able to reattach the pieces using clear modelling enamel as glue!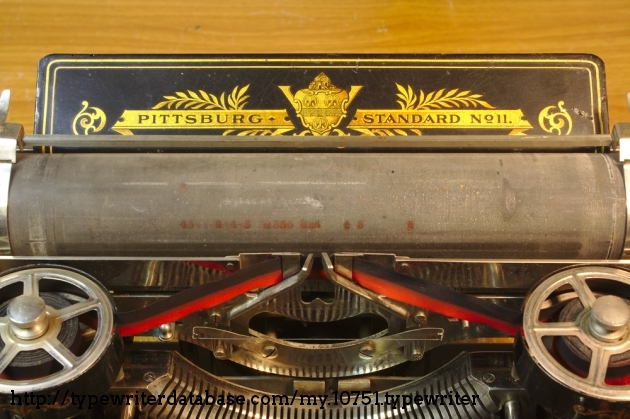 Clearly labelled just like on the front of the lid.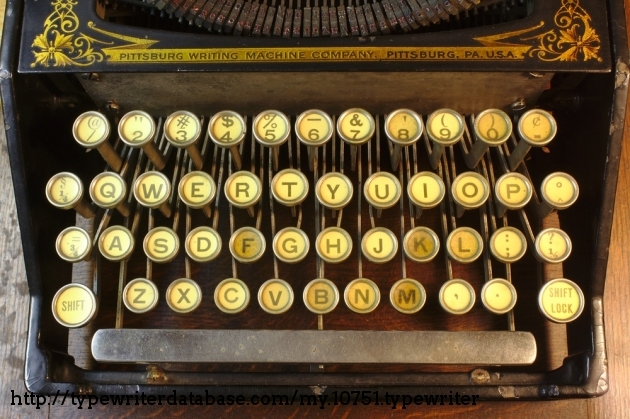 Glass and discolored paper inserts, a hallmark of very old typewriters. The spacebar is a fabulously nickel plated!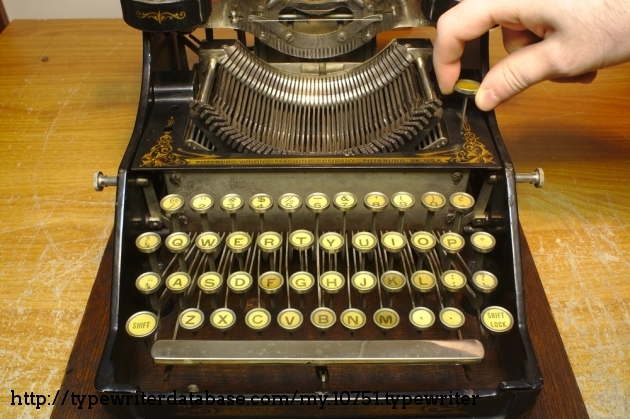 Pulling up this lever unlocks the typebasket assembly for removal.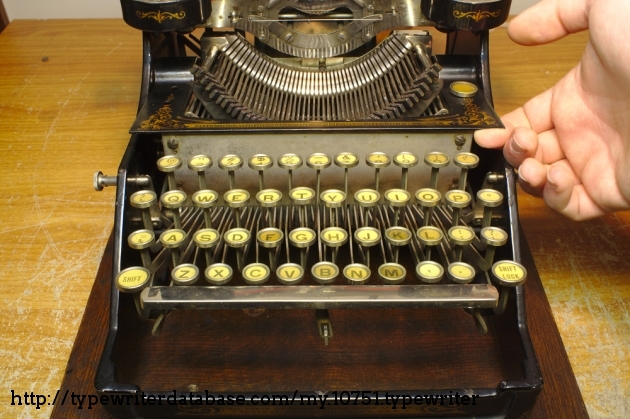 The basket can then be lifted out for maintenance or replacement.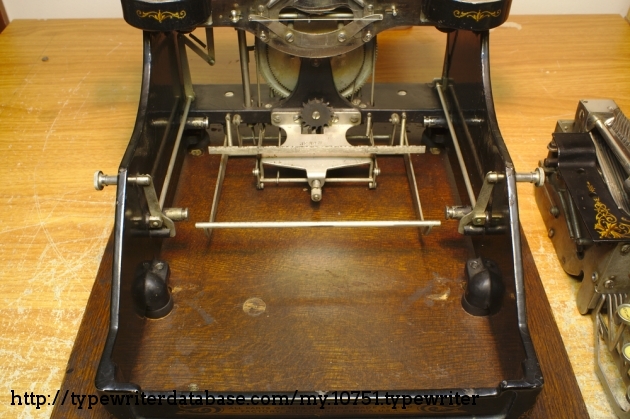 The type basket assembly easily makes up half the machine. It's the least cost-effective way of changing fonts I've ever seen.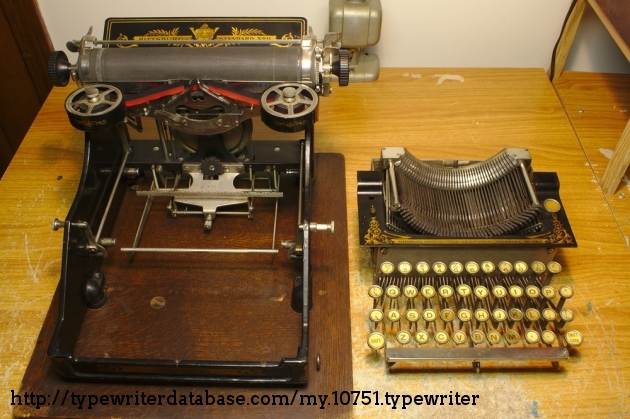 Apparently there were other typebaskets that could be bought for this machine, however I have yet to see one surface by itself. For $30 a different font was quite an investment.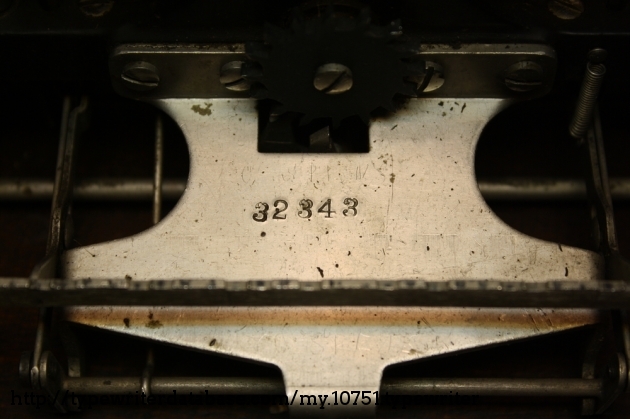 This machine and its brethren actually have two serial numbers. On this particular model, the first is stamped here on part of the escapement frame.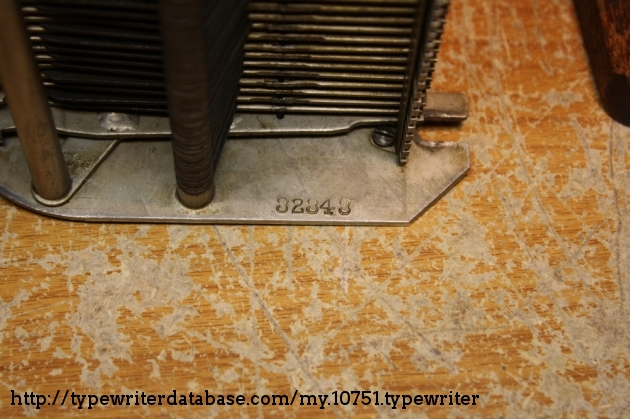 The second is stamped on the typebasket. Alternate typebaskets had their own unique serials without a matching frame, so if a Pittsburg's frame and basket have matching serials, then they were built specifically for each other.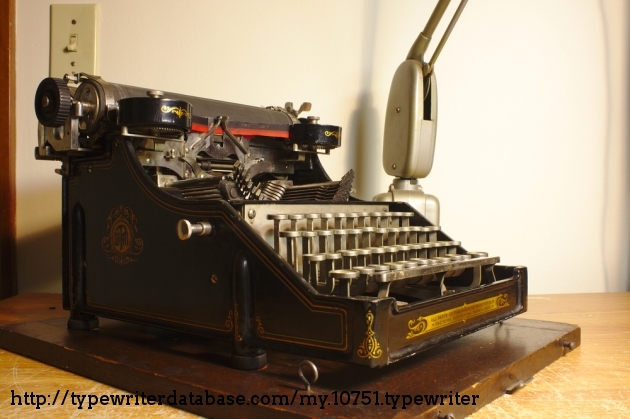 A handsome typewriter!
Hunter: Kyle Oelofse (SaladKing)
Kyle Oelofse's Typewriter Galleries [ My Collection ] [ My Sightings ]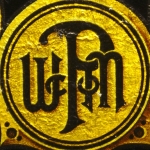 Status: Typewriter Hunter
Points: 381
I inherited two Royal KMMs as a kid. Over a decade later I started actively collecting and repairing in 2015 shortly after discovering the existence of "weird" typewriters like the Blickensderfer and Hammond, and finding a destroyed Super Sterling to experiment on.
---