This was my first typewriter purchase in 2015. I bought it from retired teacher who got it as a present from her parents at the day when she graduated from the high school. During the 58 years she used it rarely, so it is in pristine condition.
---

1 Hunter Likes this gallery.
---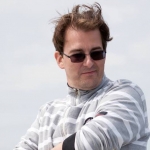 Kristians Luhaers
Username: clc
TYPEWRITERS...
Doesn't they look sexy to you? Such a number of different shapes, forms and colors.... All those complicated and not so complicated mechanisms, levers and arms, gears and sprockets... how they became alive and start dancing at your fingertip punches...
It started on December 2015 when I bought my second typewriter... Beaten, damaged, dusty... I took it apart, cleaned, repaired. Since then it became as an obsession... Now there are more than dozen.