50 Typewriter Galleries » Hunter: Sarah VanAllen
View: tpv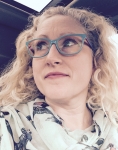 1218 Points, Typewriter Hunter

Stuck indoors since March 2020, on pandemic furlough from my usual occupation, I acquired my first machine, a gorgeous red Voss ST-24. It wasn't long before I picked up a 2nd machine, began to explore its' inner workings, and wanted to solve a tricky problem. It drew me in, and through the process of frustration and persistence, I fixed that second machine and truly became a typewriter enthusiast. I have since had the pleasure of working on dozens of machines.

Diving deeply into the hands-on repair, history, and reconditioning methods, I keep learning more each day. I love that this field of interest seems limitless. I've developed incredible friendships along the way, too. I'll admit that to preserve and collect, is now a passion.

From the moment I acquire a new machine, I am eager to assess its' condition and particular needs, with an eye to reconditioning whenever possible, and bringing it back to useful service. I believe in caring for these beautiful, historic relics, enjoying them, and placing them in the hands of people who will love them.

I keep careful records of each typewriter in a binder, collect typeface samples, photographs, and make journal entries. I love to read and now have many books on the subject. I hope to continually expand my knowledge through careful study and hands-on research. I use typewriters in my daily life, try to type at least a little bit each day. I collect some, sell some, have given some as gifts.

Like many here, I can't talk about this love without mentioning the example of Tom Hanks, and his wonderful documentary, California Typewriter.- I'm hooked.

In real life, at the computer keyboard, I type 80-100 words per minute, specializing in medical terminology for surgical pathology reports. At home, using typewriter keyboards, I estimate my typing speed is closer to 55 WPM, with variable accuracy.

I like how typewriters require us to slow down just enough to participate deliberately in the writing process. The tactile magic of striking each key and seeing letters appear on the page in real time, cannot be denied. I only wish I had found this hobby earlier. I'll always use technology, of course. Our world demands it. But I've fallen in love with typewriters, and I'm pretty sure I'll never recover.
---
---