Here are 3 of my 5 WW 2 German typewriters with the SS rune key. The Erika is the one with the manual laying on top. The desk model is a Torpedo 6.
The bottom one is a field portable in the wood carrying case.

Where is the Erika ser nr located? I don't find it on the outside or looking in the top. The bottom of the portable case is bolted to the bottom so I can't see if there is anything on the underside.
---

0 Hunters Like this gallery.
---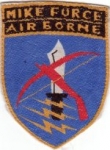 Dean B
Username: Sarge
I have collected WW 2 German militaria since 1955. I got my first typewriter in about(?) 1980.
I now have 5 - 4 portables, including a Czech with a brown bakelite body, and one desk model. Most have the SS rune key, which is why I bought them. The Czech one does not, but a good friend has the exact same model with the rune key.
Sarge