From the Virtual Typewriter Collection of Hans Boersma:
1986 Robotron 24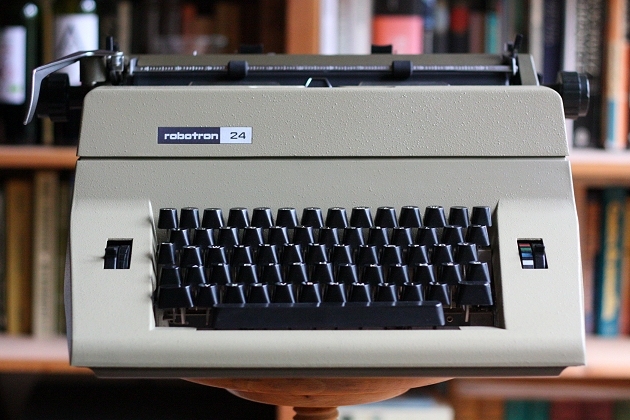 Typeface Specimen:

Links:
Schreibmaschine Robotron 24
...as used by the Stasi (Ministerium für Staatssicherheit der DDR)
Daro Optima M16, a predecessor
Optima M14, the predecessor of the M16
Optima M12, the predecessor of the M14
Optima M10, the first of the Optima standard typewriters
Letter written on this machine, published on The Typewriter Revolution Blog
Facit 1730, a possible influence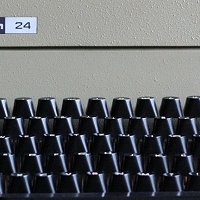 1986 Robotron 24
Serial #181371

Status: My Collection
Created: 02-16-2016 at 04:15AM
Last Edit: 09-26-2017 at 04:53AM

Robotron Serial Numbers
Robotron Typewriter Galleries
Robotron 24 Typewriter Galleries
Description:
A large and heavy, armour-plated standard, even slightly larger than the Hermes Ambassador (!). Built in the former German Democratic Republic by VEB Robotron-Optima Büromaschinenwerke in Erfurt, this is a fully functional, full-fledged relic of the Cold War era. Its previous user was a retired female school teacher in Erfurt.

German keyboard (qwertz), Kristall typeface (ten-pitch), five line-spacing settings, keyboard touch regulator, four-colour ribbon selector, keyset and decimal tabulator, s p e r r s a t z - key, typebar unblocking key, extending paper support with scale. Weight: 15,4 kg.

This model was produced from 1985 up to 1991, in which year the VEB (Volkseigener Betrieb) was privatised into Robotron Optima GmbH. The year of manufacture of this machine is an educated guess. The museum Technische Sammlungen in Dresden has two machines of this model: serial number 300642, dated 1987, and serial number 509307, dated 1989.

The Robotron 24 replaced the Robotron 18 and 20 models (also branded as Daro [Datenverarbeitung, Automatisierung, Rationalisierung, Organisation]). There is also a model 22, which has no decimal tabulator. It appears the Robotron 24 was available in this colour scheme only; the Robotron 22 apparently only in dark drab/white.

The similarities in design with the earlier Facit 1730 are remarkable, and it would not surprise me if there was a direct influence. If so, the East German designers have definitively surpassed their Swedish counterparts here.

In 1988 this typewriter costed ± M 990 (East German Mark [Mark der DDR]). The defunct currency of a disappeared communist country is difficult to translate in today's money. To give an idea, a labourer in the GDR earned ± M 700 per month, an engineer ± M 1100. Consequently most of these machines were employed in offices, factories etc.

This is a surprisingly pleasant machine to work with. The action of its nicely roomy keyboard feels ever so slightly gritty, but is very agreeable nonetheless — especially compared to the touch of the plastic-bodied Erika semi-portables of the same era, also produced by Robotron-Optima. The touch regulator has four settings and works perfectly, with the middle two settings being the best. A sheet of paper is fed straight and smoothly into the carriage. The machine is very easily disassembled: the carriage can be lifted off in seconds, and the outer housing is removed by releasing four screws.
Links:
---

7 Hunters Like this gallery.
---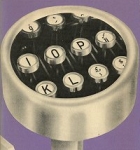 Hans Boersma
Username: Java68
I'm not a collector. Or well, I try not to be one anyway. Typewriters should be used IMHO, and how to choose from an increasingly anonymous multitude? There is much to say for having just one typewriter, and sticking to it.

But then again, there are so much beautiful and interesting typewriters out there, all with their own character and historical background... So I refer to my modest collection as "the machine park" and do my best to keep it from becoming a multitude.

I decidedly favour standard-size typewriters: large office workhorses that throw their considerable weight behind one's labours. Nicely over-dimensioned machines with a more than agreeable keyboard touch and a business-like appearance. Ready for any job.

I enjoy looking at "typewriter porn" on sites such as these, which provide an adequate substitute to having a larger collection myself. So... thank you for showing me yours!