Good machine out of the proverbial eBay box. The oldest was heard to say, "I can see why so many people love this machine!"

I sold this machine on Etsy. Moving to "sightings"
---

0 Hunters Like this gallery.
---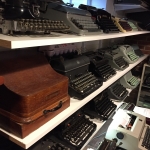 Brian Brumfield
Username: bsbrum
I love machines, machining, creating things from nothing. Typewriters have struck a romantic chord in me, thanks to my oldest son, and I am working with him and the rest of our family to acquire, restore, repair many machines.
Our collection grows in fits and spurts - as the seasons change. We make a lot of acquisitions at estate sales, yard and garage sales, thrift stores, online, and through personal connections.
The machines that we don't want to keep in our own collection, we are selling through various outlets - Etsy, Square Market, and eventually on eBay - and unlike some sellers, we KNOW how to pack a machine for shipment! :-)
Brumfield & Sons Typewriters, at your service.