From the Virtual Typewriter Collection of Hans Boersma:
1962 Facit T2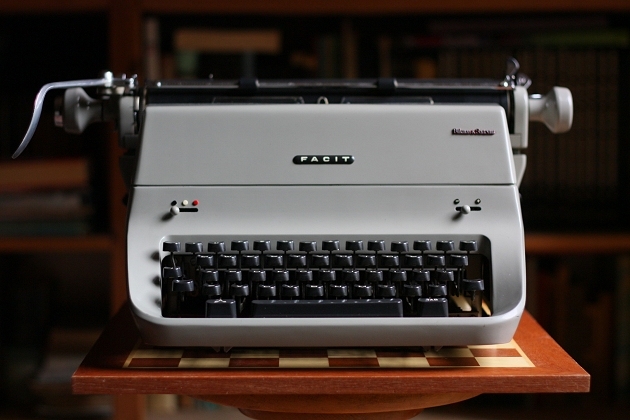 Typeface Specimen:

Links:
Article on the T2 at ozTypewriter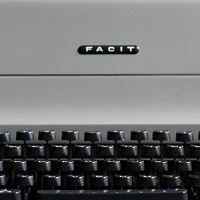 1962 Facit T2
Serial #T2-260833

Status: My Collection
Created: 09-26-2017 at 02:11AM
Last Edit: 09-30-2017 at 03:05PM

Facit Serial Numbers
Facit Typewriter Galleries
Facit T2 Typewriter Galleries
Description:
Made by Facit AB in Svängsta, Sweden.

Dutch keyboard (qwerty), half-spacing, five line-spacing settings, keyboard touch regulator, three-colour ribbon selector, keyset and pre-set tabulator, typebar unblocking key, paper support with scale. Weight: 15,2 kg.

The typeface, ten-pitch, was called Pica Esquire by Facit. The typeslugs are marked with the AR monogram (Albert Rodrian) of the German RaRo type foundry, and the number 88. In the RaRo catalogue of 1980 it is called Elite-Schatten "Bruxelles" Ro 88.

The T2 was introduced in 1959, and in terms of aesthetics it appears to have been at least ten years ahead of the competition. The exterior was designed by Sigvard Bernadotte, who was not only an industrial designer but also of Swedish royalty and a true to life great-grandson of Queen Victoria of Great Britain.

Noteworthy is the carriage, which runs very smoothly with its rod riding in a tube with ball bearings. Also unusual, to me anyway, is that the entire escapement and ribbon vibrator mechanisms are attached to the carriage. This has the minor disadvantage that the ink ribbon must be unbuckled before the carriage can be dismounted, but the larger advantage of having easy access to the escapement for maintenance. It also allows you to see up close exactly how the escapement interacts with the carriage rack. Once the ribbon is out of the way dismounting and remounting the carriage is a breeze, as there are no cogs that need to reconnect.

The tabulator is also a bit special, having both fixed and free stops, between which one can choose by operating the levers on both ends of the carriage.

The T2 sits on a thick rubber base pad fitted to its four rubber feet, which ensures that the machine will not waver during even the most animated typing barrages; it also prevents any spilled correction fluid or eraser macaroni to ruin your expensive mahogany desk.

The springiness of the keys has an addictive quality, but they do require a slightly more determined stroke.

The previous user was a wholesale textile trader in Amsterdam who used it in his home office in the 1970s and 80s. The machine appears to have seen some extensive use but it has been well preserved: all it needed was a bit of cleaning and light lubrication here and there.
Links:
---

1 Hunter Likes this gallery.
---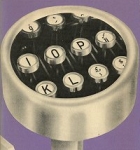 Hans Boersma
Username: Java68
I'm not a collector. Or well, I try not to be one anyway. Typewriters should be used IMHO, and how to choose from an increasingly anonymous multitude? There is much to say for having just one typewriter, and sticking to it.

But then again, there are so much beautiful and interesting typewriters out there, all with their own character and historical background... So I refer to my modest collection as "the machine park" and do my best to keep it from becoming a multitude.

I decidedly favour standard-size typewriters: large office workhorses that throw their considerable weight behind one's labours. Nicely over-dimensioned machines with a more than agreeable keyboard touch and a business-like appearance. Ready for any job.

I enjoy looking at "typewriter porn" on sites such as these, which provide an adequate substitute to having a larger collection myself. So... thank you for showing me yours!