Bought this machine at an estate sale. The machine was a little overpriced, but the touch and overall experience of using it made the cost worth it. It does need some degreasing to operate at its smoothest.
---

2 Hunters Like this gallery.
---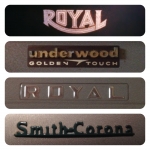 Ian Brumfield
Username: T1peM0nkey
I've been hunting for typewriters since 2012, but I've loved them for long before that... about 2003. In the short amount of time in which I've started seriously collecting I've amassed a collection of over 65 machines (now specializing in Royals), one of which is parts. At the ripe old age of 20, to boot!

In November of 2013 I participated in National Novel Writing Month and hit a pretty decent 105,991 words; all written on manual machines. I think that this is a new record, but there isn't any official record keeping in the Typewriter Brigade.

I also run The Daily Clipper, which while admittedly abandoned for 2 years is back up and running, soon to bring you articles on all sorts of history. Scheming and planning a website on the same domain.