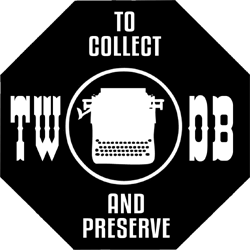 Hello, fellow Typewriter Hunters! We've started a Patreon page as a way to allow you, our fellow typewriter lovers, to help make the TWDB even better. Our first goal involves raising the monthly financing to allow us to remove the Google Adsense ads from the site. While they are providing important cashflow that helps the TWDB afford its monthly hosting fees, they can be obtrusive and take up valuable page real estate that we'd like to devote to actual content.
You can help us make that happen with a small monthly pledge that we can use to replace that ad-based revenue stream that helps pay the bills that keep The Typewriter Database online. Please sign up now and help us meet this goal.
Thank you!
T. Munk
Archivist, The Typewriter Database
Become a Patron!