From the Virtual Typewriter Collection of Jack B:
2006 Generation 3000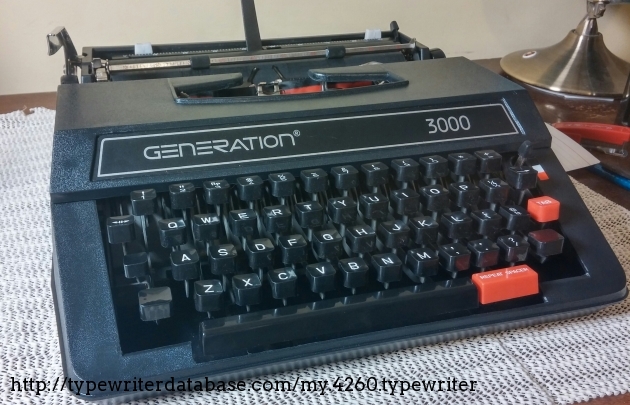 Typeface Specimen: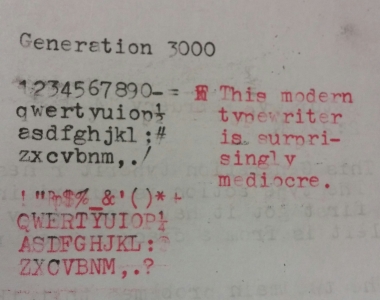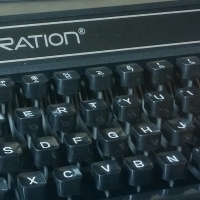 2006 Generation 3000
Serial #H 21878

Status: My Collection
Created: 02-14-2015 at 02:32PM
Last Edit: 11-15-2016 at 09:02PM

Generation Serial Numbers
Generation Typewriter Galleries
Generation 3000 Typewriter Galleries
Description:
Many of you have probably heard of this infamous machine, most of you probably haven't. For those that have never heard of or seen a Generation 3000 before, it was a very recent attempt at making a brand new portable typewriter in the 2000s. That's right, for once I own a machine that is younger than I am!

To fairly judge a machine like this, one needs to consider the circumstances in which it was made. Whereas most typers that were produced in the golden age of typewriter manufacturing would cost upwards of several hundred for even the most basic models in today's money, this was sold for, at most, (I may be wrong) around $150. That means there have been obvious budget cuts, and this machine shows it. The body is made of plastic and all the metal parts are thin and easily bendable, yet I am surprised by how I actually don't hate this typewriter. Sure, alignment is pretty awful, but it doesn't print horribly. Yes, it is very plastic-y, but typing on it is more reliable then 80% of Royal portables (if you are a very erratic typist!). Sure, the type action may be flimsy and cheap, but one can actually go a decent speed on one of these if properly situated.

I bought it for $16 on shopgoodwill because it is a nice oddity to have in my collection. I'm not planning on using it much at all, but it is historically significant as one of the last brand-new manual typewriters made and, due to poor construction, not many will survive in the following decades if not treated properly.

When I got it the lowercase alignment was way off but taking off the shell took two minutes (only 4 screws!) and finding the issue took even less time.

Check out the type sample for a very odd "Rp" character. Does anyone know what it is for? [EDIT] It appears to be an Indian Rupee symbol.