Machines that are very recent ofter has an impressed date on plastic or metal parts. It gives the decade (90 for 1990) and the month (7 points around the number "90" means July). This date just means that specific part and if they had an overproduction it could mean that the machine was probably build 1991 (but would be unlikely).
---

0 Hunters Like this gallery.
---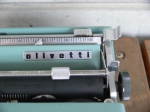 Carl H
Username: Olivetti48
Typewriter collector from germany. Born in the 90s. I collect all brands, but like Olivetti the most. I'm not that type of collector that buys the most expensive, old or rare pieces. I love and collect typewriters because it was an everyday product millions of people used. Much of them are well-made and were so expensive for there pre-owner – now, people want not to throw them away, but they don't want them anymore – and so, there are ridiculous cheap. When I see a typewriter, sitting there and costs so few, I cannot let it there. (I hope my english is at least understandable).