Snagged this behemoth for $5 on Facebook Marketplace. A very unusual competitor to the Selectric, but there are some design features that have already endeared me to it. Check out this blog post for my initial thoughts:

http://gutsofimagination.blogspot.com/2017/05/the-fox-and-hound-and-whale-named.html
---

1 Hunter Likes this gallery.
---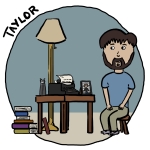 Taylor Harbin
Username: THarbin328
I am a professional historian and writer. I have been collecting typewriters since 2013, and use them for all of my work (novels, short stories, poetry, non-fiction, and personal letters). I have a passion for all things antique, but hold a special place for these tools. Some of my collection is up for sale or trade, so if you see something you want, let me know!

Don't forget to check out my blog, Guts of Imagination, for more!