Almost a perfect little portable with a nice low profile and a curious (to me, anyway) European keyset. One of my favourites.
---

0 Hunters Like this gallery.
---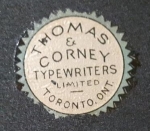 James Gifford
Username: giffer
I have suddenly become a typewriter collector. It started with one purchase and has ballooned to a collection of more than forty in less than a year. I'm learning fast but I'm still a novice compared to others in the typosphere, including here in Toronto, where I haunt thrift shops and antique markets, and even the occasional basement. I'm a former magazine writer and published author, and a professional book editor by trade, and I learned to type on manuals despite the proliferation of electrics, so I like to think I come by my sudden and rather manic passion honestly.