From the Virtual Typewriter Collection of Ian Brumfield:
195X Smith Corona Pacemaker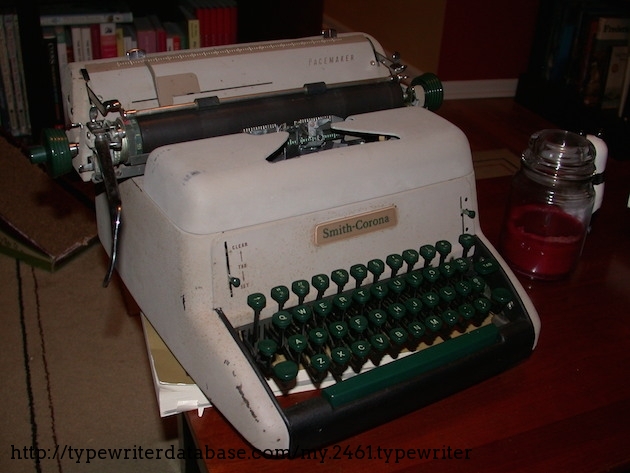 Typeface Specimen:

Links:
The copyright year for the user's manual was 1956.
The idea for a typewriter called the 'Pacemaker' had been floating around Smith-Corona since 1937.
A 1958 Ad for the Pacemaker.
A 1961 Ad for the Pacemaker.
A 1962 Ad for the Pacemaker.
A 1963 Ad for the Pacemaker.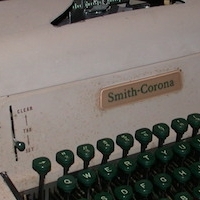 195X Smith Corona Pacemaker
Serial #PB5037731-11

Status: My Collection
Created: 04-26-2014 at 06:57PM
Last Edit: 09-03-2014 at 04:17PM

Smith Corona Serial Numbers
Smith Corona Typewriter Galleries
Smith Corona Pacemaker Typewriter Galleries
Description:
I got this machine in a trade with Richard Polt. A '64 Adler Tippa 1 for a '5X Smith-Corona Pacemaker, with the added guarantee that the Pacemaker is pretty much the same machine as the Smith-Corona or L.C. Smith Super Speed.

After reading Mark Petersen's comments about this machine being relatively uncommon, I did some digging. From copyright dates and advertisements, I can safely say that this machine was produced from 1956 to 1963. '63 is the latest mention of this machine in any Smith-Corona documents that I could find, so it is conceivable that it could have been manufactured after 1963. During that time, the ads championed the 'cheap', 'bargain' pricing that the machine was listed for. Oddly enough that price varied quite a bit. From $147 up to $280, and back down to a lower price. Go figure. I have also determined that the '-11' after the serial number is the width of the carriage, since the Pacemaker was only equipped with an 11 or 15 inch. When you went to order one, you could specify which carriage width you wanted and either the Pica or Elite type size. And for those Smith-Corona-ites who have wondered what Smith-Corona called the green color on this machine, I can give the answer of 'Spruce Green'. It was in the advertising.

UPDATE: (9/3/14) I got this machine on April 26th 2014 at the Cincinnati Spring Type-In.
Links:
---

1 Hunter Likes this gallery.
---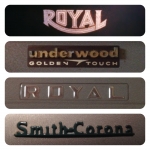 Ian Brumfield
Username: T1peM0nkey
I've been hunting for typewriters since 2012, but I've loved them for long before that... about 2003. In the short amount of time in which I've started seriously collecting I've amassed a collection of over 65 machines (now specializing in Royals), one of which is parts. At the ripe old age of 20, to boot!

In November of 2013 I participated in National Novel Writing Month and hit a pretty decent 105,991 words; all written on manual machines. I think that this is a new record, but there isn't any official record keeping in the Typewriter Brigade.

I also run The Daily Clipper, which while admittedly abandoned for 2 years is back up and running, soon to bring you articles on all sorts of history. Scheming and planning a website on the same domain.