With the manual and guarantee. Sold May 1956.

Made by Keller und Knappich, Augsburg. Today they built roboters (look here: https://upload.wikimedia.org/wikipedia/commons/5/5e/KUKA_Industrial_Robots_IR.jpg) The KUKA on the roboter stands for Keller Und Knappich Augsburg.
---

0 Hunters Like this gallery.
---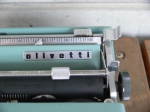 Carl H
Username: Olivetti48
Typewriter collector from Germany. I collect all brands, but like Olivetti the most. I'm not that type of collector that buys the most expensive, old or rare pieces. I love and collect typewriters because it was an everyday product millions of people used. Much of them are well-made and were so expensive for there pre-owner – now, people want not to throw them away, but they don't want them anymore – and so, there are ridiculous cheap. When I see a typewriter, standing around and being so cheap, I cannot abandon it. (I hope my english is at least understandable, feel free to correct me).