Black, in the lovely Hammertone which makes it look like a giant sugary licorice gumdrop. Spanish layout.
---

1 Hunter Likes this gallery.
---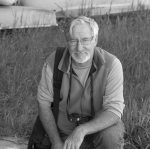 David Wing
Username: deedub
Living in So. Calif. USA. Bought a mint SC flattop at an estate sale for $5 some years ago, and enjoyed the tactility of typing after using computers since 1968, the punch-card era. I gave it to my mother-in-law to exercise her arthritic fingers. After she passed away last year I found it among her things. I wanted something newer, so bought an Olympia SM3. I am not a collector, but seem to have acquired more than 30 machines since March 2016, and have passed several on to family and friends, and bartered with others.