Acccording to the stickers the machine is built after 1910. The stickers on the front are about Expo 1910.
On the back are the patent dates. The first is unreadable (July 189X). The second says Feb 1896. The last is Oct 1908.

There is a second serial number on the bottom of the machine saying #472678

Produced August/September 1911 according to the Underwood list. Link below.
Links:
---

0 Hunters Like this gallery.
---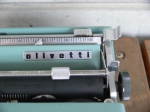 Carl H
Username: Olivetti48
Typewriter collector from Germany. I collect all brands, but like Olivetti the most. I'm not that type of collector that buys the most expensive, old or rare pieces. I love and collect typewriters because it was an everyday product millions of people used. Much of them are well-made and were so expensive for there pre-owner – now, people want not to throw them away, but they don't want them anymore – and so, there are ridiculous cheap. When I see a typewriter, standing around and being so cheap, I cannot abandon it. (I hope my english is at least understandable, feel free to correct me).